Sustainable Environment for Quality of Life
Environmental Decision Toolkit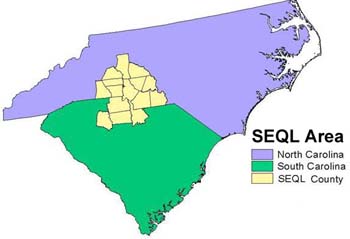 More Information


Introduction
The greater Charlotte/Gastonia/Rock Hill region encompasses 15 counties in North & South Carolina, has over 117 political jurisdictions, and has a population of roughly 2.1 million people. The region is projected to grow by an additional 1.8 million people by the year 2030 (85% growth). This growth is projected to bring many challenges: sprawl, air quality problems, and associated concerns of decreased quality of life. Because these challenges are common to many areas, they offer the opportunity to develop and demonstrate a regional integrated planning strategy. SEQL will address these challenges by:
Allowing local governments the opportunity to work across jurisdictional lines in regional cooperation and collaboration, setting a standard for the nation.
Providing implementation assistance to local governments on environmental "commitment action items" developed under the Charlotte/Mecklenburg Sustainability Demonstration Project.
Analyzing air quality issues including ozone, particulate matter, and air toxins, while also addressing transportation, water, land use, energy use, and economic development
How has ReVA supported local decision making ?
As part of the SEQL partnership, ReVA is actively researching topics of interest to decision makers in the SEQL region. ReVA has tailored the Environmental Decision Toolkit (EDT) to fit the local conditions found within the 15 counties encompassing the SEQL region, and named this version of the toolkit the Regional Growth Decision Toolkit (RGDT). In addition, ReVA:
helped to integrate the pieces. ReVA tools allowed insights into cumulative impacts associated with alternative patterns of growth and land development by explicitly considering factors such as air quality, amenities, water quality, infrastructure costs, and human health factors.
developed new methods and models. New methods and models developed by ReVA further characterize the implications of change and tradeoffs associated with different choices.

ReVA described major drivers of change
ReVA developed likely future scenarios - Many of the region's environmental concerns such as air quality, will be driven by options chosen for future transportation needs. For this reason, SEQL partners envisioned an alternative future scenario that would encourage both mass transit and distributed economic development built around city centers. ReVA worked closely with its partners to develop a spatially detailed model of land use change that reflected realistic challenges and options.
ReVA evaluated outcomes
ReVA-SEQL Projects