Willamette Environmental Decision Toolkit
Environmental Decision Toolkit
Introduction
The Willamette Ecosystem Services Project Environmental Decision Toolkit (WESP-EDT) will be a linked, validated ecosystem model with a user-friendly interface that will be used by decision makers like those in EPA Region 10 to evaluate possible outcomes affecting ecosystem services based on their decisions regarding issues such as TMDLs and/or landuse changes. The WESP-EDT is part of a larger EPA "place-based" study in the Willamette River Basin.
As part of EPA's core mission "To protect human health and the environment", EPA is identifying ecosystem services as the outputs of ecosystem processes that contribute to human well-being. EPA is focusing this research on informing trade-offs among ecosystem services that would provided under alternative management and policy decisions.

The WESP-EDTis one of several EPA place-based projects which allows research results to be relevant to the stakeholders, issues, and landscapes in an explicit geographic area.
Objectives
Identify critical knowledge gaps in the ecological processes underlying ecosystem services in the Willamette Ecosystem Service District (WESD)
Develop an approach to inventory and map ecosystem services in the WESD based on current conditions and available data.
Quantify the response of ecosystem services to current and projected conditions and stressors
Quantify linkages and trade-offs among bundles of ecosystem services in response to land use, climate and other forcing variables.
Provide a model-based approach that values and projects future responses of bundled ecosystem services to probable future conditions.
Data & Methods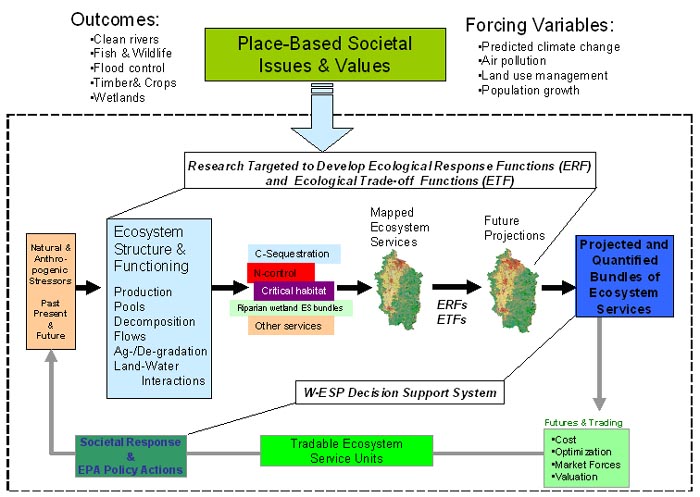 The research supporting the development of W-EDT is focused on building an understanding and quantification of the ecological processes that underlie the ecosystem services that are most important to the Willamette River Basin which are based on societal issues and values (see figure).
The ReVA team will also be developing methods to determine the impact on these services of those stressors most likely to occur within this basin.
Once the relationships between specific ecological services and the forcing variables are quantified, ecological response functions (ERFs) will developed.
In this way, ecological effects of anthropogenic and natural forcing variables are translated into effects on ecological services.
Next, linkages and trade-offs among bundles of ecological services will be established.
Finally, anticipated changes in ecosystem services resulting from future policy changes or changes in stressors, such as air pollution, global climate change and land use, will be evaluated for the study area as a whole.
The end result will be a model based system that projects quantifiable future changes in ecosystem services for use in economic and policy analyses.
These quantified bundles of ecosystem services can also form the basis for trading by establishing the ecological metrics for benefit-cost analyses.
The research will be conducted within and among three key land use categories (Coniferous Forests, Agricultural Land, and Riparian Wetlands) comprising approximately 87% of the Willamette Basin.

Partners
National Health and Environmental Effects Research Laboratory – Western Ecology Division in Corvallis, Oregon

USEPA Region X office in Seattle, WA