What is ReVA?
Basic Information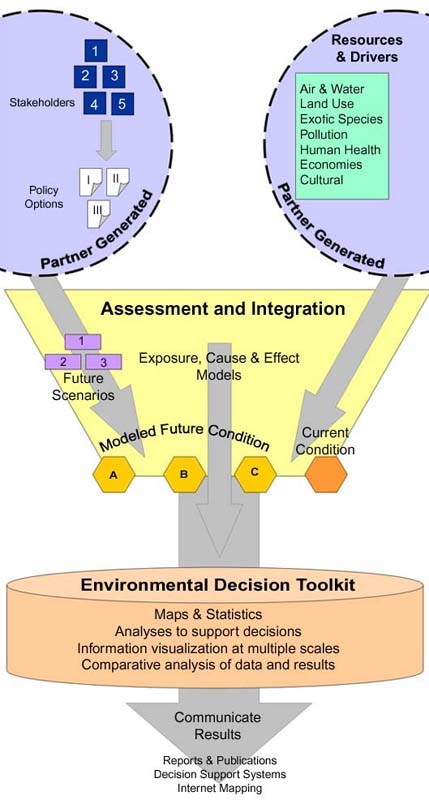 How can policy makers, resource managers, and citizens better use available data and information in making decisions related to environmental issues? This basic question is at the core of the EPA's Regional Vulnerability Assessment (ReVA) Program.
One of ReVA's goals is to proactively assess decisions that may impact multiple outcomes or involve tradeoffs in a transparent, defensible fashion.
To achieve this goal, the ReVA Program conducts research on innovative approaches for evaluating and interpreting large and complex datasets and uses models to assess the current conditions and likely outcomes of environmental decisions, including alternative futures (see figure).
ReVA works with select decision-maker groups (States, EPA Regions, National Programs and/or smaller regional partners) to map and understand the current conditions of an area of interest.
ReVA then conducts research on likely stressors influencing those conditions, develops future scenarios that describe how stressors may look in the future, and applies future scenarios to understand possible future outcomes for natural resources and communities.
A final step of ReVA is to build a suite of tools to communicate the results of the research to State & Regional decision-makers.