ReVA's Relationship to Other Programs
Basic Information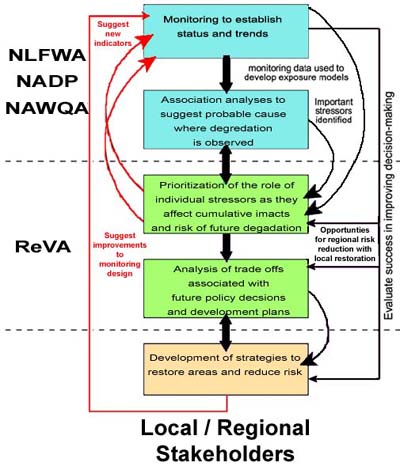 ReVA is designed to develop and evaluate methods to synthesize available information on the distribution of sensitive ecological resources and stressors to them. By design, ReVA is a consumer of data providers at the national, state and local levels and is a provider of research products to regional stakeholders.
ReVA integrates other program data with spatially explicit models of stressor distributions and surrogate indicators of exposure (developed from monitoring data) to map multiple exposures that affect regional resources and the sustainability of ecological goods, services, and other benefits. Using this information, ReVA develops the tools and approaches to assess the current and future ecological vulnerability of systems within the region.
ReVA has found that five distinct, iterative steps to improving environmental decision-making can be used:
1) monitoring to establish status and trends;

2) conducting association analyses to suggest probable cause where degradation is observed;

3) prioritizing the role of individual stressors as they affect cumulative impacts and risk of future environmental degradation;

4) analyzing trade-offs associated with future policy decisions; and

5) developing strategies to restore areas and reduce risk.
The US Geological Survey, US Fish & Wildlife Service, US Forest service and others are developing approaches to steps one and two, ReVA is developing approaches for addressing steps three and four, and local and regional stakeholders who have partnered with ReVA are developing approaches to step five.
ReVA uses data from partners such as:

Current Condition
| | |
| --- | --- |
| | National Land Cover Data (NLCD) and Multi-Resolution Land Characteristics (MRLC) Consortium |
| | USGS Gap Analysis Program (GAP) |
| | USFWS National Wetlands Inventory (NWI) |
| | US Census Bureau |
Stressors
EPA Environmental Monitoring and Assessment Program (EMAP)
USDA Forest Health Monitoring (FHM) Program
USGS National Water Quality Assessment (NAWQA) program