ReVA Tools and Projects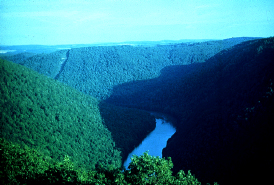 EPA's Regional Vulnerability Assessment (ReVA) program is designed to create the methods needed to understand a region's environmental quality and its spatial pattern. Impacts of human activities are not uniformly distributed across landscapes and regions (defined here as a multi-state area) and are often interacting in complex ways.
Better planning requires that we step back and get an overview of the environmental condition of our regions and how ecological resources are likely to change as a result of society's actions.
The objective of ReVA is to assist decision-makers in making more informed decisions and in estimating the large-scale changes that might result from their actions.
Environmental Decision Toolkit - A web-based application, the Environmental Decision Toolkit (EDT), provides a flexible means for visualizing and exploring data about current conditions, possible future conditions, and integrating stressors and conditions.
Projects using the Environmental Decision Tookit - Since it's inception, ReVA has been partnering with other EPA Regions and Offices, States, Tribes and regional alliances (e.g. Councils of Government, regional planning authorities or alliances) to understand how to better manage ecological resources using research and tools developed by ReVA.