Environmental Decision Toolkits under development
Environmental Decision Toolkit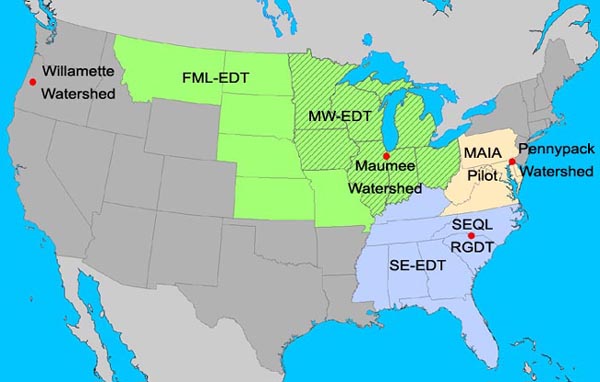 National
ReVA is developing a National Ecosystem Assessment Toolkit (NEAT) which is an outgrowth of the Southeast Region EDT project. NEAT will identify critical ecosystems exposed to high levels of criteria air pollutants, hazardous air pollutants (HAPs), and point sources in close proximity to threatened and endangered species. It will also assess aggregate and cumulative stressors on critical ecosystems that increase their vulnerability to air pollutants and toxins.
Regional

ReVA has been developing new methods to analyze the potential effects and impacts of Hazardous Air Pollutants (HAP) in the Southeast (EPA Region 4). Current work is focusing on ecological impact and human health effects on vulnerable populations (for example the young, the old, and pregnant women).

ReVA is working with the EPA Region 5 and a Midwest Partnership for Spatial Decision Support Systems to develop the Midwest Environmental Decision Toolkit (MW-EDT) for EPA Region 5. The prototype EDT currently includes basic data on current conditions and vulnerability for EPA Region 5 and the US side of the Great Lakes Basin, and impacts of landuse practices within watersheds on hypoxia issues in the Great Lakes.

ReVA is cooperating with partners across the Midwest to develop tools which help evaluate policy choices and land-use decisions regarding biofuel production affect on ecosystem services. Spatially explicit analyses of potential changes in land uses associated with feedstock production, and the resulting changes in ecosystem services will be analyzed.

In its first project, ReVA used the Mid-Atlantic region as a focused pilot area to develop a set of methods that were applicable to the range of data available at a regional scale (e.g., physiography, land use/cover change, change in climate, air pollution, non-indigenous species (NIS), the distribution and condition of resources, and others) and provide information to facilitate decision-making at the regional, watershed, and local scales. The pilot program was part of the Mid-Atlantic Integrated Assessment (MAIA) (a federal, state and local partnership led by U.S. EPA, Region 3).
Place Based

Maumee Watershed

ReVA worked with local partners to apply ReVA methodologies to a watershed located in Michigan, Ohio, and Indiana that drains into Lake Erie.

The Center for Sustainable Communities (CSC) at Temple University was engaged by the Pennsylvania Department of Environmental Protection to apply ReVA's approach on a much smaller scale for watersheds in Pennsylvania.

ReVA has been assisting SEQL (Sustainable Environment for Quality of Life) in a larger effort to plan for an expected doubling of the population in the 15 counties surrounding Charlotte, North Carolina. Projects include developing a Regional Growth Decision Toolkit, analyzing fiscal impacts of growth, and using traffic demand models to develop future scenarios.

ReVA is developing landscape tools in support of the EPA's place based study in the Willamette River Valley to help possible outcomes affecting ecosystem services based on their regulatory decisions