Reduce Waste
Most people don't realize that reducing, reusing, and recycling can help slow climate change. How? To begin with, every product has a life cycle, and every step—from manufacturing to disposal—leads to greenhouse gas emissions. Reducing, reusing, and recycling means you buy (and throw away) less stuff, and that helps reduce the amount of greenhouse gases we're adding to the atmosphere. Learn more about product life cycles.
You can reduce greenhouse gas emissions if you:
Reduce. Reduce the amount of new stuff you buy. To reduce waste, buy things that have less packaging.
Reuse. Try to borrow or rent things you'll only need for a short amount of time, and reuse the things you already have. When you have things you no longer need, give them to others who can use them. Use reusable bags when you go shopping.
Recycle. Remember to recycle whatever materials you can, like bottles, cans, and paper, so they can be collected and remade into new products.
Buy recycled. Choose products made from recycled materials whenever you can.
Teach your school the three R's. Schools can save energy, preserve natural resources, and prevent greenhouse gas emissions by reducing, reusing, and recycling.
Learn more about ways to reduce, reuse, and recycle at school.
The Life Cycle of a Product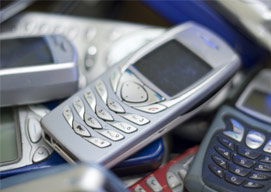 Every product you use goes through a life cycle:
Raw materials (like trees, metals, and oil) are harvested or extracted from the Earth.
Raw materials are transported and processed in a factory.
The materials are used to manufacture and package a product.
The product is transported to a distribution center or warehouse.
The product is transferred to a store.
Every one of these steps uses energy and creates greenhouse gases. So does disposing of products when you're done with them. The trucks that pick up your trash have to burn fuel, which produces greenhouse gases. In some parts of the country, trash ends up getting burned (often to produce energy), which also produces greenhouse gases. Landfills also emit greenhouse gases—particularly methane and carbon dioxide—which are given off by decomposing waste.
Learn how much energy is used and how much waste material is created for each cell phone (PDF) (2 pp, 651K,About PDF), CD or DVD (PDF) (2 pp, 413K), and soccer ball (PDF) (2 pp, 4.28MB) that you buy.
The Three R's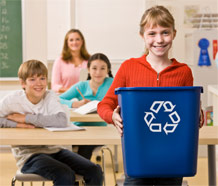 Schools can set an example for the whole community by reducing the amount of waste they produce.
To reduce the amount of materials used, your school can...
Have students view information on a computer screen or projector instead of printing paper copies.
Purchase supplies that come in as little packaging as possible.
Host "waste–free" lunch days. See https://www.epa.gov/osw/education/lunch.htm for more information.
To reuse things instead of throwing them away, your school can...
Set up boxes to collect scrap paper that has only been used on one side.
Always print, copy, and write on both sides of a piece of paper.
Create a school exchange where students can share supplies they no longer need with one another.
To promote recycling, your school can...
Start or expand a recycling program.
Contact community officials or a local recycling center to find out which items they will accept.
Provide containers for collecting items like paper, bottles, cans, electronic equipment, and batteries.
Keep track of how much is recycled.
Hold a recycling competition.
Start a volunteer program that picks up recyclables in parks or apartment buildings.
Check out these resources for more help: