Home»
More Ways to Make a Difference
More Ways to Make a Difference
You can take many other actions to help reduce greenhouse gas emissions and global climate change. For example:
Plant a tree. Trees help to slow climate change because they absorb carbon dioxide during photosynthesis. Trees also provide shade, which helps keep streets and houses cooler in the summertime and reduces the need for air conditioning.
Consider buying locally grown food. The further your food travels, the more greenhouse gas emissions are produced in transporting the food from the farm to your plate. You can find locally grown food at a farmers market and even at some grocery stores.
Reduce your carbon footprint. Find out how big your own carbon footprint is, and explore ways you can reduce it.
Spread the word. Give a presentation to your family, school, or community group that explains how their actions can cause or reduce climate change. You can use EPA's "Create a New Climate for Action" presentation (full–screen slides (PDF) (50 pp, 4.44MB, About PDF); presenter notes (PDF)

(50 pp, 4.22MB)

) or develop your own. Get creative, and think of more ways to help others make a difference! Learn how schools can work together to make a difference.
When Schools Work Together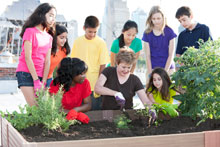 If one school can make a difference, then lots of schools working together can make a huge difference. Learn what others are doing and share ideas by getting involved with some of these green programs: