Home»
Putting the Pieces Together
Putting the Pieces Together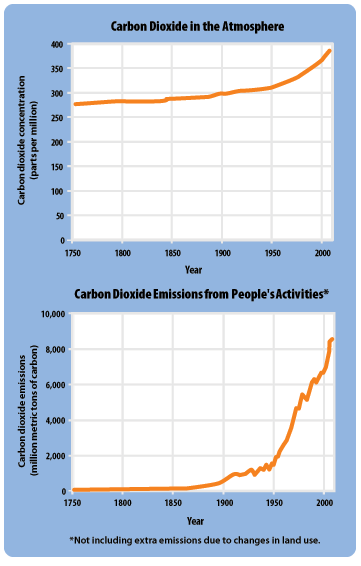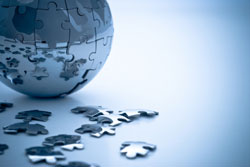 By piecing together the evidence, scientists can say that extra greenhouse gases building up in the atmosphere are the main reason for global climate change. But how do they know where the extra greenhouse gases are coming from?
To find out, let's look at carbon dioxide, the most common greenhouse gas. The top graph shows the actual amount of carbon dioxide in the atmosphere from the year 1750 until today. The bottom graph shows how much extra carbon dioxide people around the world have been putting into the atmosphere since 1750. Can you see the connection?
The amount of carbon dioxide started to increase a few hundred years ago during the Industrial Revolution, when people started burning a lot of fossil fuels like coal, oil, and natural gas for energy. You can also see that people are burning even more fossil fuels today, which explains why the amount of carbon dioxide in the atmosphere has continued to rise.
Other major greenhouse gases, such as methane, nitrous oxide, and fluorinated gases, are increasing in a similar way.
The Missing Pieces
Scientists know a lot about climate change, and they know that the Earth will continue to get warmer as people add more greenhouse gases to the atmosphere. But there's still more to learn.
Here are some of the questions that scientists are still investigating: