The Three R's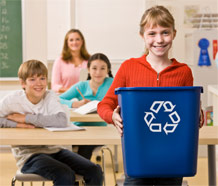 Schools can set an example for the whole community by reducing the amount of waste they produce.
To reduce the amount of materials used, your school can...
Have students view information on a computer screen or projector instead of printing paper copies.
Purchase supplies that come in as little packaging as possible.
Host "waste–free" lunch days. See https://www.epa.gov/osw/education/lunch.htm for more information.
To reuse things instead of throwing them away, your school can...
Set up boxes to collect scrap paper that has only been used on one side.
Always print, copy, and write on both sides of a piece of paper.
Create a school exchange where students can share supplies they no longer need with one another.
To promote recycling, your school can...
Start or expand a recycling program.
Contact community officials or a local recycling center to find out which items they will accept.
Provide containers for collecting items like paper, bottles, cans, electronic equipment, and batteries.
Keep track of how much is recycled.
Hold a recycling competition.
Start a volunteer program that picks up recyclables in parks or apartment buildings.
Check out these resources for more help: