Pacific Southwest, Region 9
Serving: Arizona, California, Hawaii, Nevada, Pacific Islands, 148 Tribes
You are here: EPA Home
Clean & Safe Water
Tribal Accomplishments in 2010
Clean & Safe Water
On this page:
---
EPA and tribes have worked together for more than two decades to achieve clean and safe water by building water infrastructure projects, protecting underground sources of drinking water, and implementing water quality monitoring and restoration projects.
Building Water Infrastructure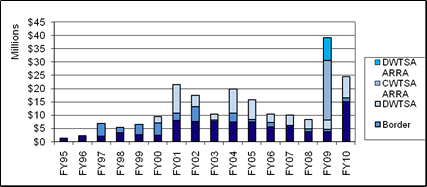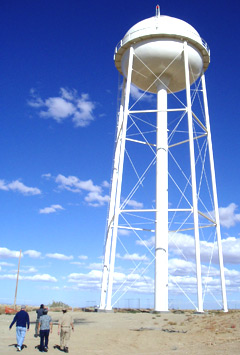 In 2009, the Clean Water Act Indian Set-Aside Program awarded $3.8 million and through the American Reinvestment and Recovery Act (ARRA), EPA awarded an additional $22.3 million for multiple wastewater projects that serve 19,741 homes. The Drinking Water Tribal Set-Aside program awarded $3.5 million and an additional $8.4 million was awarded through the ARRA for multiple drinking water infrastructure projects to address high priority public health needs for 8,490 homes. Several projects were successfully completed in 2010, including projects at the Hopi Reservation and Tohono O'odham Nation.
The Hopi Water Resources Department and Village of Shungopavi on the Hopi Reservation received Drinking Water Tribal Set-Aside grants in 2000 and 2001 totaling $1.91 million to develop a new well water source, elevated water storage tank, and upgrades of water distribution facilities in the Village of Shungopavi. The cost of the water storage tank exceeded original estimates and an ARRA Drinking Water Tribal Set-Aside grant provided Hopi an additional $276,400 to complete the tank. The water storage tank went online in spring 2010 and provides additional water storage for 225 homes.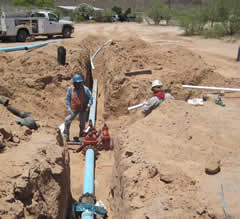 The Tohono O'odham Nation received Drinking Water Tribal Set-Aside grants in 2004 and 2005 for a project that serves 20 homes in Gunsight, a small community on the western edge of the Nation. The grants were to fund a new water storage tank and 4-inch water pipes to replace deteriorated and under­sized pipelines. However, after further analysis, 6-inch water pipes were determined to be the preferred size to reduce friction losses. Due to this change as well as inflation and rapid increases in fuel costs, funding was insufficient to complete the original project. In 2009, an ARRA Drinking Water Tribal Set-Aside grant provided Tohono O'odham Nation supplemental funds to upgrade the water main and connect the new tank to the community. The project was completed in summer 2010.
---
Assessing Water Quality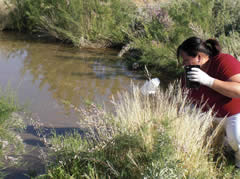 In 2010, 99 tribes were eligible to develop and carry out water quality monitoring programs under the Clean Water Act Section 106 Water Pollution Control Program. EPA provided more than $8.5 million in grant funding to tribes to monitor, conduct studies and assessments of surface and ground water quality conditions and track water quality trends. More than 50 tribes are implementing their water quality monitoring strat­egies and 40 tribes are providing water quality data to EPA electronically.
In 2010, the Timbisha Shoshone Tribe began monitoring and assessing their water quality for multiple parameters at six sites on the reservation following their EPA-approved Quality Assurance Program Plan (QAPP). The tribe submitted their water quality data to EPA and shared their findings with tribal members through outreach and education activities, including articles in the tribe's newsletter. They are also using the water quality data findings to assist with the development of their man­agement plan to address polluted runoff.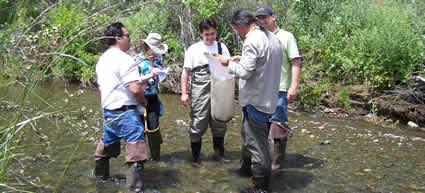 Throughout 2010, tribes have been training other tribes on water quality monitoring and assessment activities on Indian reservations, providing real hands-on practice. In May, staff from the Pyramid Lake Paiute Tribe Water Quality Department held a training on biological monitor­ing with the Pinoleville Pomo Nation for tribes in the Clear Lake area of Northern California. The training was tailored to local conditions and allowed for hands-on learn­ing in local waterways.
---
Improving Water Quality
Using results from water quality monitoring and assessments conducted over the years, tribes have addressed water quality issues of concern under the Clean Water Act Section 319 Nonpoint Source Pollution Control Program. Tribes use CWA Section 319 funds to develop and carry out polluted runoff control programs, addressing critical water quality concerns and achieving positive environmental results on the reservations and in the watersheds. In 2010, 81 tribes were eligible to carry out their nonpoint source programs.
In 2009, the Bishop Paiute Tribe Water Quality Control Program installed 1230 feet of fencing along the south fork of Bishop Creek in the Owens Valley to restrict livestock access to the creek, in an effort to stabilize the streambank, and improve downstream water quality. CWA Section 319 funds were used to purchase materials and install the fence. The project is expected to lessen sedimentation and turbidity downstream of the site, which will benefit aquatic invertebrates and fish by providing healthy streambed habitat and a clearer water column, making it easier for fish to see their food.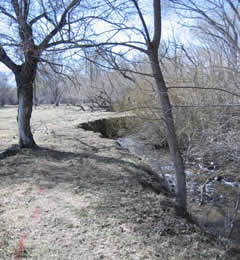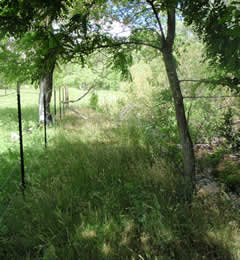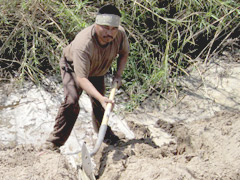 In 2010, the Quechan Indian Tribe implemented a habitat conservation and riparian restoration project with a CWA Section 319 grant supplemented with funds from U.S. Bureau of Reclamation, Natural Resource Conser­vation Services, and U.S. Fish and Wildlife Service. A four-man crew cleared sixty acres which consisted mainly of invasive tamarisk (salt cedar) by hand at the Bee Wash area next to a trailer park. The crew restored the site with native species including cotton-wood, sandbar willow, and honey mesquite to provide a riparian habitat for endangered birds such as the Southwestern willow fly­catcher and Yuma clapper rail.
---
Protecting Sources of Drinking Water on Tribal Lands
In 2008, the Tribal Source Water Assessment and Protection Program provided more than $300,000 to seven tribes for projects to be carried out through 2010. The funding is used to assess human health risks to drinking water supplies and develop methods to protect, prevent, or reduce contamination of drinking water sources.
EPA issued a Direct Implementation Tribal Cooperative Agreement (DITCA) grant to Santa Rosa Rancheria in Central California to carry out a four-step assessment of the tribe's drinking water supply. The project included mapping source water protection areas, a potential contaminant source inventory, a susceptibility analysis, and a public education campaign. Santa Rosa Rancheria also worked to educate tribal members about the importance of protecting water sources.