Pacific Southwest, Region 9
Serving: Arizona, California, Hawaii, Nevada, Pacific Islands, 148 Tribes
Tribal Accomplishments in 2010
Building Tribal Capacity to Achieve Results
On this page:
---
In 2010 we have seen increased EPA support of tribal programs, with greater resources available for tribes to address environmental issues in Indian country. Soon after taking office in 2009, former EPA Administrator Lisa Jackson announced "Building Strong State and Tribal Partnerships" as one of her top priorities. In January 2010, she directed Agency staff on this important partnership:
States and tribal nations bear important responsibilities for the day-to-day mission of environmental protection, but declining tax revenues and fiscal challenges are pressuring state agencies and tribal governments to do more with fewer resources. Strong partnerships and accountability are more important than ever. EPA must do its part to support state and tribal capacity and, through strengthened oversight, ensure that programs are consistently delivered nationwide. Where appropriate, we will use our own expertise and capacity to bolster state and tribal efforts.
This support has brought increased funding to tribal programs. The Fiscal Year (FY) 2010 budget increased Indian Environmental General Assistance Program (GAP) funding by 3.4% nationally. Funds available through EPA's tribal set-asides for water infrastructure projects reached an all-time high in FY 2010, thanks to a 33% increase in tribal set-aside funds and a doubling of State Revolving Funds (which went from $1.5 billion in 2009 to $3.5 billion in 2010). In the Pacific Southwest Region, tribal water infrastructure funds tripled, from $7.4 million available in FY 2009 to $22.9 million in FY2010.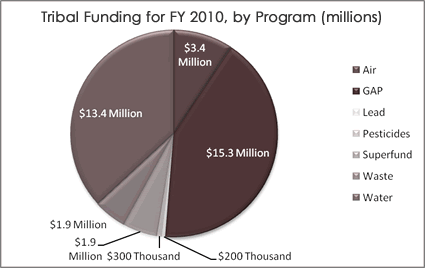 Capacity Building in Action
The Kaibab Paiute Tribe began its environmental program 13 years ago. The tribe used EPA funding to improve administration, management and decision-making regarding reservation resources; to increase coordination with tribal, federal, state and local governments; to implement a solid waste management program, and build capacity to assume responsibilities for managing its environment. The tribe credits EPA grants with helping build a viable Tribal Environmental Program that is recognized by environmental organizations throughout the Southwestern U.S. for its ability to collect scientifically defensible data.
This year the Kaibab Paiute Tribe collaborated with the Paiute Indian Tribes of Utah, Moapa Band of Paiute Indians, Bureau of Land Management, and National Park Service to fund and organize the first-ever Southern Paiute Youth Camp in Grand Canyon-Parashant National Monument. The focus of the camp was to teach tribal youth about the connections between environmental science and the Southern Paiute way of living. The event gave both youth and tribal elders an opportunity to visit areas of Southern Paiute territory they seldom see, to share knowledge, and to encourage young people to experience the ties between their Southern Paiute traditions and culture alongside environmental preservation.
Efforts to protect the health and environment of more than 315,000 residents in Indian country in the Pacific Southwest, consisting of over 27 million acres, have improved significantly through the collaboration between tribal environmental programs and EPA. However, there are still significant environmental and human health issues that need to be addressed in Indian country. We are continuing to put our resources to work addressing these challenges. Nineteen percent of homes lack complete plumbing, more than 1,300 open dumps can still be found on tribal lands in the region, and more than one-third of tribal lands in the region are in areas that do not meet federal air quality standards.