Pacific Southwest, Region 9
Serving: Arizona, California, Hawaii, Nevada, Pacific Islands, 148 Tribes
You are here: EPA Home
Healthy Communities
Tribal Accomplishments in 2010
Healthy Tribal Communities
On this page:
---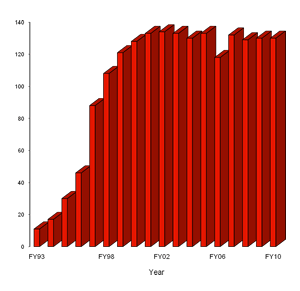 Indian Environmental General Assistance Program (GAP) FY2010 Accomplishments
Congress provides funding through the Indian Environmental General Assistance Program (GAP) to support tribes as they increase capacity to plan, develop, and establish environmental programs. Tribes are creating innovative environmental education programs, developing environmental programs, working collaboratively with other tribes to solve problems that multiple tribes nearby face, and striving to improve the health of tribal members and Indian lands. In 2010, 126 of the 147 tribes in the Pacific Southwest, and four inter­tribal consortia in the region, received GAP funding.
Navajo Nation EPA Public Information Officer
From 1944 to 1986, nearly 4,000,000 tons of uranium ore was extracted from Navajo lands. Although these mines are currently closed, the legacy of uranium contamination from more than 500 abandoned mines remains. In 2008, EPA worked with the Navajo Nation and multiple federal agencies to develop an aggressive Five Year Plan to address the ongoing environmental and health impacts of uranium mining. Lillie Lane, a Public Information Officer with the Navajo Nation Environmental Protection Agency (NNEPA), has been a vital partner in carrying out this plan. Lillie meets with families at their homes, translates tech­nical information to Navajo-speaking residents, and provides assistance to U.S. EPA's field teams. In order to reach affected residents, she drives to distant areas of the Navajo Nation, which encompasses three states and is roughly the size of West Virginia, to conduct door-to­door outreach in extremely remote, nearly inaccessible places to ensure that Navajo families are not drinking water contaminated with radionuclides. Lillie has built strong relationships based on trust with many Navajo Nation community members. This has been critical to minimizing health impacts associated with abandoned uranium mines and helping EPA meet the Five Year Plan's ambitious goals.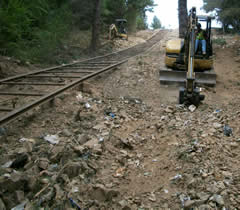 Closing Open Dumps
In October 2009, the Yurok Tribe met the many challenges posed by a remote and inaccessible illegal dump site when the tribe closed the Johnsons Road dump. Due to its large size and position on an extremely steep slope, closing the dump was a major effort. Tribal staff joined forces with a contract crew and members of the California Department of Resources Recycling and Recovery (Cal-Recycle) to construct a rail track on the site. Excavators were cabled to winches and lowered down the slope to load waste into rail cars, which were winched up and down on the rails. Hand crews, sometimes roped and harnessed for safety, rappelled down the slope to collect debris that could not be reached by excavators. The project took more than six weeks to complete, but was finished under budget and removed approximately 138 tons of waste.
Using Digital Mapping as an Educational Tool
The environmental office of the Federated Indians of Graton Rancheria combined native plant identification and mapping to teach youth how to use GPS and identify native plants. Prior to holding an environmental youth camp, staff created a pamphlet of native plants found at the camp site. Tribal youth used the pamphlet to identify the plants and recorded data points with GPS units. Environmental staff created a map with the information the young tribal members had collected. On the last day of the event, each participant was given a copy of the map they helped to create. The students learned about six native coastal plant species, how to identify them in the field, and surveying techniques using maps and GPS technology.
Environmental Education
During August 2009, the Yomba Shoshone Tribe Office of Environmental Protection hosted "Yomba Nature Days," a youth outdoor education campout. Participants camped in the Columbine Campground in the Toiyabe Range for three days. During the camp they learned the history of the Reese River Valley, wildfire safety, identification of birds and plants, plant and range health, explored the Reese River watershed's wetlands, water quality, and aquatic insects, and had a special visit from Smokey Bear. This hands-on approach increased the young people's know­ledge of their surrounding environment and raised aware­ness regarding safety and hazards in the area.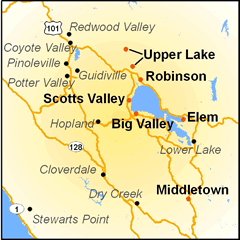 Building Consortia – Maximizing Resources
Six tribes in Lake County, California formed the Hinthil Environmental Resources Consortium (HERC) in 2001. Environmental directors from Big Valley Rancheria Band of Pomo Indians, Elem Indian Colony, Habematolel Pomo of Upper Lake, Scotts Valley Band of Pomo Indians, Middletown Rancheria, and Robinson Rancheria meet monthly to discuss environmental issues and collaborate on projects. HERC is currently implementing a tribal water quality monitoring program for Clear Lake, which has been used by tribes for thousands of years and has been severely affected by pesticide runoff and con­tamination from the Sulphur Bank Mercury Mine (a Super­fund site). HERC members collect monitoring data on a quarterly basis on Clear Lake and are using the data to develop a Tribal State of the Waters Report by 2011. This report will be used to provide data that can be evaluated and used for decision making by the HERC member tribes. HERC is a model for tribal collaboration on issues that affect tribes on a regional basis.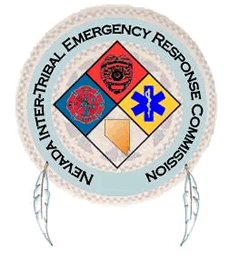 Emergency Planning
In 2010, several Nevada Tribal Emergency Managers, along with the Tribal State Environmental Liaison, Indian Health Board of Nevada and Inter-Tribal Council of Nevada, formed the Nevada Inter-Tribal Emergency Response Commission (ITERC). The purpose of the ITERC is to perform duties specified in the Superfund Amendments and Reauthorization Act of 1986 (SARA), and to increase Tribal Emergency Management capacity through an all-hazards approach. ITERC's biggest accomplishment has been to provide a single avenue for State/Tribal collaboration, giving a unified voice for all Nevada Tribal Emergency Management programs.This has meant that all tribes are included in the planning, regardless of whether they have the funding to have a fully functioning emergency management program.
Energy Efficiency Outreach
The Gila River Indian Community's Department of Environmental Quality (DEQ) Waste Team developed a pamphlet with energy efficiency tips as part of a climate change outreach effort. The pamphlet has been distributed among tribal members. As part of the outreach effort, DEQ staff gave several presentations and conferences to low-income commu­nity residents on reducing the tribe's dependence on fossil fuels and lowering the community's carbon footprint.
---
U.S.-Mexico Border 2012 Program
San Francisquito O'odham Community Celebrates Completion of Drinking Water Project
This EPA Border 2012-funded project includes a new solar-powered well pump, refurbished water storage tank, and distribution system to deliver safe drinking water to the San Franciscquito Community, on the south side of the U.S.-Mexico Border. The binational project was built in part­nership with the Tohono O'odham Nation, the Border Environment Cooperation Commission, and Mexican Government agencies.
Gu Vo Regional Water System
The Tohono O'odham Nation, Tohono O'odham Utility Authority, EPA, and the Tucson Area IHS cooperated to complete the $1.1 million Gu Vo Regional Water System intertying two independent community water systems into one larger system serving 91 homes in the Tohono O'odham communities of Gu Vo and Pia Oik. The system also has sufficient capacity to support the neighboring Meneger Dam community.
EPA and the Tucson Area IHS jointly funded the project under the Border Infrastructure Tribal Set-aside Program. It upgraded seven miles of existing water main and was completed in January 2010. As a result, the communities have a safe water supply. Arsenic and fluoride levels comply with the Safe Drinking Water Act.
Tribal Feedback on Future Border Program
EPA, in collaboration with the Native American Environmental Protection Coalition (NAEPC), organized a meeting with Arizona and California border tribes to discuss the next generation of the Border 2012 Pro­gram. Suggestions included protecting aboriginal territory; conducting assessments in preparation for cli­mate change adaptation and mitigation; engaging the Department of Interior in natural resources protec­tion; Department of Homeland Security assistance with undocumented migrant waste issues; more focus on alternative energy and energy efficiency programs; addressing water quality and water quantity issues; and working with SEMARNAT (EPA's Mexican counterpart agency) to conduct a needs assessment of indigenous Mexican communities and coordination with stakeholders on cross-border public health issues.
---
Pesticide and Hazardous Waste Collection Program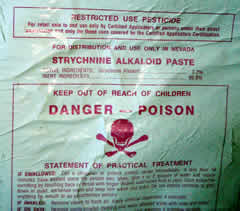 On May 5 and 6, 2010, the Shoshone Paiute Tribes of the Duck Valley Reservation held a pesticide and hazardous waste collection and disposal pilot project for residents, the local school, and tribal depart­ments. The Duck Valley Tribal Environmental Protection Office worked with the Tribal Council to inform the community about the event and encourage participation through meetings and postings. EPA's Superfund Program took the lead on arranging for the collection and disposal of the waste. As a result of the project, 1,575 pounds of pesticides (including DDT and strychnine), and more than 31,000 pounds of hazardous and nonhazardous waste were removed from the reservation. This project was a collaborative effort that included Shoshone Paiute Tribes of the Duck Valley Reservation, the Inter Tribal Council of Nevada, and EPA's Superfund, Tribal, Solid Waste and Pesticide Programs.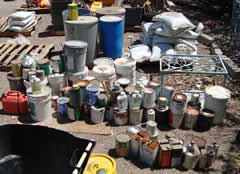 At the Salt River Pima Maricopa Indian Community, the Senior Environmental Specialist for Pesticides and Hazardous Substances organized a hazardous waste collection for tribal government departments. Approximately 400 pounds and 100 gallons of various pesticides, including four full canisters of deadly phosphine gas, were removed from the reservation.
The Pesticide Inspector at Colorado River Indian Tribes (CRIT) organized a pesticide container recycling event held on December 12, 2009. The effort removed a total of 7,125 pounds of pesticide containers from the reservation. Since the program started in 2007, about 35 tons of pesticide containers have been recycled.
Collaborative Effort Results in Federal Pesticide Enforcement
Based on investigations conducted by the Fort Mojave Indian Tribe, the Navajo Nation, U.S. EPA, and the states of Arizona and Idaho, EPA took a $99,600 penalty action against Wilbur-Ellis Corp. for 21 alleged violations of the Federal Insecticide, Fungicide and Rodenticide Act (FIFRA). Evidence collected by tribal, state and federal pesticide inspectors indicated that applicators working for Wilbur-Ellis did not wear per­sonal protective equipment required by pesticide labels, and that the company distributed a restricted use pesticide to a non-certified applicator, and distributed and sold a misbranded pesticide. Through the coop­eration of tribal and state pesticide inspectors on this enforcement action, EPA was able to bring some serious problems to the attention of this large corporation.
The Navajo Nation Pesticide Program conducted an inspection that resulted in an EPA penalty action against Dollar Store, a California company, for sale and distribution of two unregistered pesticides.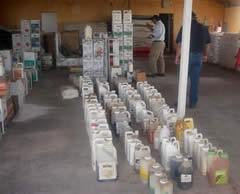 Tribal Pesticide Enforcement Actions
Tribal pesticide programs continue to take enforcement actions against violators of tribal pesticides codes and ordinances. In FY10, Gila River Indian Community, Colorado River Indian Tribes, Shoshone Paiute Tribes of the Duck Valley Reservation and Salt River Pima-Maricopa Indian Community all issued enforcement actions, some of which included penalties, against violators of tribal pesticide ordinances.
Worker Safety
In February, 2010, the Colorado River Indian Tribes (CRIT) held a 3-day training on the federal Worker Protec­tion Standards for tribal pesticide inspectors from the Rocky Mountain and South Central Regions. The agenda, devel­oped by the CRIT pesticide inspector, included inspection planning, inspection procedures and report writing. As part of the training, EPA staff provided real-time feedback on draft inspection reports written by trainees.
The Gila River Indian Community developed an annual Worker Safety Newsletter in English and Spanish that cov­ers pesticide safety and the dangers of heat stress to field workers. The tribe's pesticide program staff distributes the newsletter to agricultural workers and handlers in the field, growers, and the Community, creating a positive image for the tribe's pesticide program.
---
Tribal Lead Accomplishments
Tribes in the Pacific Southwest Region achieved significant progress in meeting the national strategic goal of eliminating childhood lead poisoning as a major health threat. Among the accomplishments:
Four tribes completed EPA-approved training to assess lead hazards at pre-1978 tribal housing and child-occupied buildings, enabling tribal staff to become EPA-certified to conduct lead hazard evaluations.
Three tribes assessed and remediated lead hazards at tribal housing and child-occupied facilities, including removal of lead-contaminated soil at tribal homes and remediating lead hazards at child-occupied facilities.
Tribes conducted outreach to tribal members, building maintenance workers, school and nursing staff, and daycare workers on lead's health risks, and how to avoid exposure to lead hazards.
Tribes shared technical expertise on lead's hazards and applicable requirements with other tribes, and conducted lead hazard outreach with non-tribal neighbors at county health forums and local Earth Day events.
Lead-related work was conducted by Big Valley Rancheria, Buena Vista Rancheria, Colorado River Indian Tribes, Fallon Paiute-Shoshone Tribe, Fort Bidwell Indian Community, Graton Rancheria, Hoopa Valley Tribe, Hopi Tribe, North Fork Rancheria, Soboba Band, South Fork Band, Torres Martinez Tribe, and the Inter-Tribal Council of Arizona.
For more details, visit "EPA Grants Helping to Eliminate Childhood Lead Poisoning in Indian Country."