Pacific Southwest, Region 9
Serving: Arizona, California, Hawaii, Nevada, Pacific Islands, 148 Tribes
Tribal Accomplishments in 2010
Protecting Tribal Lands
On this page:
---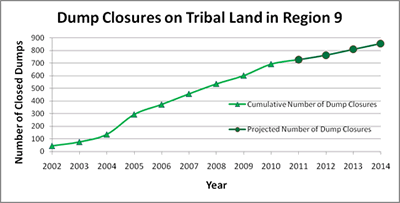 Pollution Prevention and Solid Waste
Improper disposal of both household trash and hazardous waste threaten tribal lands in the Pacific Southwest Region. In 2010, tribes tackled these hazards by developing household hazardous waste, composting, and recycling programs; improving solid waste infrastructure by building transfer stations; conducting outreach and community cleanup events; and developing green building strategies. Additionally, in 2010, tribes in the region had closed 91 open dumps, significantly improving the health and well-being of their communities.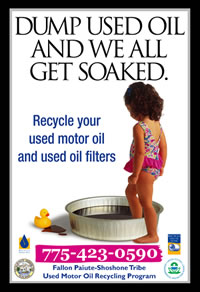 Fallon Paiute-Shoshone Tribe Used Oil Recycling
Last year the Fallon Paiute-Shoshone Tribe's (FPST) Environmental Protection Department (EPD) started a Used Oil and Oil Filter Recycling program with funds from EPA's Hazardous Waste Management grant program. This recycling program was developed to accept used oil and oil filters from tribal "do-it-yourself" oil changers and to dispose of the used oil by burning it in a used oil furnace, which now provides heat for the tribal auto shop. This year EPD has worked to develop partnerships with neighboring tribes in Nevada to recycle their used oil. These partnerships could help reduce the cost of hazardous waste disposal for the other tribes, and further reduce heating costs for the Fallon Paiute-Shoshone Tribe.
Hualapai Tribe Collaborates with Federal Agencies on Remediation
In early 2007, staff from the Hualapai Tribe's Department of Natural Resources discovered an abandoned cistern containing a creosote-like substance near one of their drinking water wells. Given the cistern's proximity to a railway line, the tribe initially contacted the railway company to determine ownership of the cistern. Upon learning that the cistern did not belong to the railway, the tribe contacted U.S. EPA for assistance in determining responsibility and assessing clean up options. Over the next two years, through a series of investigations and collaborative efforts between the Hualapai Tribe, U.S. EPA, Indian Health Services, Bureau of Indian Affairs (BIA) and Burlington Northern Santa Fe Railroad, BIA agreed to assume responsibility for the abandoned cistern and clean up the site. In March 2010, with oversight by the tribe, BIA completed the cistern removal and site remediation. They removed more than 10 tons of contaminants and contaminated soil from the site.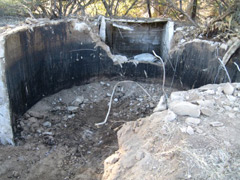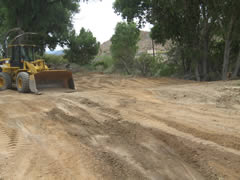 North Central Project Wins National Achievement Award
EPA's project team for the joint Gila River Indian Community and U.S. EPA Resource Conservation and Recovery Act (RCRA) groundwater investigation and cleanup project won a National Achievement Award for their highly innovative and flexible approach to Corrective Action on tribal lands. At Gila River Indian Community's re­quest, EPA assisted in addressing groundwater contamination beneath a community-owned industrial park. EPA has facilitated source removal at two locations in the industrial park, including Romic Southwest. Romic is a closed hazardous waste Treatment, Storage, and Disposal Facility (TSDF). Starting from a firm commitment to tribal sovereignty and federal trust responsibility to the tribe, the team took a highly collaborative approach that maximizes tribal participation and decision-making in all areas of the project. EPA continues to work closely with the community, potentially responsible parties, and other stakeholders to better characterize the nature and extent of the contamination.
Green Building Partnership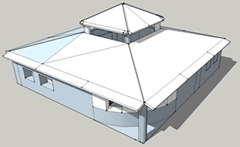 In early 2008, the Pinoleville Pomo Nation developed a partnership with the University of California at Berkeley (UCB) to create culturally inspired and environmentally sustainable designs for their tribal housing. Through this partnership the tribe guided the housing design process to plan for construction of sustainable buildings on their lands. This partnership also laid the foundation to establish the new Native American Community Assessment of Renewable Energy and Sustainability Center, or NAtive CARES, at UCB in 2010. This center focuses on many aspects of sustainability that tribes in the Pacific Southwest Region are pursuing: green building, renewable power generation, indoor air quality, water conservation, and economic business models.
EPA and Tribes Partner with BioCycle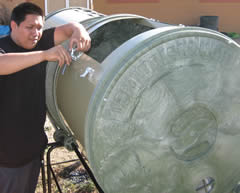 EPA assisted in developing a Tribal and Rural Communities track for the 25th Annual BioCycle West Coast Conference held in April 2010. Tribal and rural communities often have an intense interest in adopting smaller scale sustainable waste management practices, but are limited in their access to financial resources, end markets, and information on how to start. The new track focused on food scrap and yard waste composting and included seven tribal presentations, including one by Brian Adkins of the Bishop Paiute Tribe on their innovative food waste composting project.
The goal of the Bishop Paiute Tribe's project was to demonstrate a simple way to transport food waste from the tribe's commercial and institutional kitchens (casino, daycare, education center, and elders' center) by bicycle trailer to the tribal gardening projects and then use composting and vermicomposting to convert the food waste into soil-building compost. This project provides after-school employment to the community's high school students. By using bicycles this program is sustainable, non-polluting, low cost, and promotes a heart-healthy lifestyle. See presentations by other tribal speakers by going to the BioCycle Conference web site. .

Underground Storage Tanks Program Office (USTPO)
EPA's Underground Storage Tank program had a very successful year, raising the bar for compliance levels at operating UST facilities. EPA and the tribes conducted 55 joint compliance and leak detection inspections in 2010; the two Navajo Nation UST EPA-Credentialed Inspectors conducted 40 additional inspections. These inspections resulted in a total of 10 field citations issued to non-compliant facilities. UST field citations are issued on the spot at the end of the inspection – like a traffic ticket. The owner or operator obtains immediate feedback on the violations, and the actions needed to correct the problems. The typical field citation ranges from $600 to $1,000 per site. EPA also had a very successful year closing a total of 38 disused or abandoned UST facilities, using federal funding for some of them, and in other cases overseeing cleanup actions funded by private parties.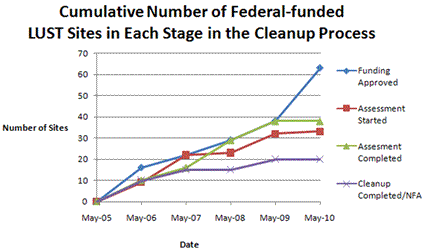 Tribal LUST Cleanup in Pacific Southwest Received $3.1 Million in "Stimulus" Funding
In 2010, EPA's Pacific Southwest Region received $3.1 million in American Recovery and Reinvestment Act (ARRA) funding through EPA's Indian lands cleanup contract to address eligible Leaking Underground Storage Tank (LUST) sites. In June, EPA initiated work at 25 LUST sites on tribal lands. Project tasks using ARRA funding are required by law to be completed in September 2011. EPA is responsible for managing each project assigned to the National contract, and works in cooperation and partnership with the tribes on all project tasks. With the addition of ARRA funding, EPA greatly expanded its efforts to address more sites and speed up remediation efforts at some of the most contaminated sites.
EPA Funding Eligible Cleanups on Tribal Lands for Leaking Under-ground Storage Tanks
In Fiscal Year 2010, EPA completed two federal-funded LUST site cleanups and over­saw cleanups at 13 additional sites. Since 2005, EPA's Pacific Southwest Regional Office has provided direct federal funding to over 60 LUST sites on tribal lands and has completed cleanup work at 20 of these sites. Others are still underway. The chart (right) highlights the various phases of each project currently receiving direct federal funding for site assessment and cleanup.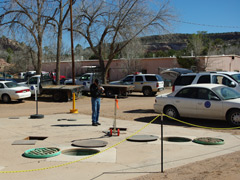 Award Winning Navajo Nation UST Inspection Team
In 2010, three EPA employees and two inspectors from the Navajo Nation were awarded a National Notable Achievement Award from EPA's Office of Solid Waste and Emergency Response. Warren J. Roan and Henry Haven, Jr. of the Navajo Nation were recognized for their successful implementation of the Navajo Nation Field Citation Pilot Program. This program was a precedent-setting effort that resulted in the first issuance of EPA UST field citations by federally-credentialed tribal inspectors in the U.S. Over the past two years, the Navajo Nation UST inspection team has conducted 82 inspections and written 16 field citations. Federal UST credentials have greatly enhanced the credibility and effectiveness of the Navajo Nation's UST compliance program.
Leaking Tank Prevention Grant to Washoe Tribe's Federal Credential Program
In September 2009, EPA issued a two-year grant for $170,000 to the Washoe Tribe of Nevada and California, funding two tribal staff and the formation of a tribal UST coalition program. Ultimately, these inspectors will be issued federal UST Inspector Credentials. The inspectors will provide more compliance assistance, education, and training to under­ground fuel tank owners and operators for 10 tribes. The federally-credentialed UST inspectors will greatly decrease EPA's carbon footprint by having the inspections done by tribal inspectors rather than by EPA inspectors traveling thousands of miles from the San Francisco office and back. In addition, tribal inspectors can provide more frequent compliance assistance to owners and operators. The Washoe Tribe's inspectors are scheduled to receive their federal UST Credentials in 2011.
---
Superfund
Northeast Church Rock Site, New Mexico
The Navajo Nation EPA and U.S. EPA conducted oversight of a large, complex, and highly effective interim cleanup for the residential area of the mine site at the Northeast Church Rock Site (NECR). The action required effective coordination between Navajo Nation EPA and U.S. EPA, negotiations with General Electric, and attention to concerns of local residents. As a result, over 100,000 cubic yards of contaminated material were removed over several months at a cost of over $5 million, and complex issues related to cleanup levels, historic preservation, and legal jurisdiction were resolved. This action significantly reduced the health risk to residents and was a huge step forward in the long-term cleanup of the site.
Sulfur Bank Mercury Mine Site, California
U.S. EPA has spent $1 million in American Reinvestment and Recovery Act ("Stimulus") funds to initiate a removal action to address mercury, arsenic and antimony-contaminated mine wastes that were used in 1970 to construct Bureau of Indian Affairs (BIA) Road 120, the primary access road to the Elem Indian Colony in Lake County, California. EPA plans to spend an additional $4.5 million by January 2011 to complete the cleanup. The agency will cap the mine wastes with clean soil, rebuild the asphalt roadway, and install segments of the water and sewer utility pipelines in the clean soil cover to facilitate future maintenance.
Leaders of the Elem Pomo Tribe have been consulted throughout the planning and initiation of this important removal action. The tribe has had many concerns regarding the historical preservation of their land and has worked diligently with EPA to resolve those issues. The agency has signed a Memorandum of Agreement with the Elem Pomo Tribe and the State Historic Preservation Officer to assure the protection of Elem Pomo cultural resources.
Tuba City Open Dump, Arizona
In June 2009, the BIA provided approximately $1.7 million to EPA to investigate suspected dumping of uranium-rich waste that may be contaminating groundwater in the area of the Tuba City Open Dump (TCOD). EPA did not identify uranium in the waste materials, but did further define the extent of groundwater contamination. The Agency completed this work in December 2009.
EPA and BIA are now negotiating an Administrative Order on Consent for oversight of a Remedial Investigation and Feasibility Study (RI/FS) to develop a full range of cleanup options for the site. Under the order, BIA will perform the RI/FS with EPA oversight. BIA will start the RI/FS field work in late 2010. Following completion of the RI/FS, a final remedy will be selected for the site with input from the Navajo Nation, Hopi Tribe, and the public.
Leviathan Mine Superfund Site, California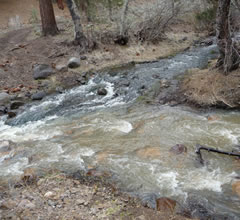 The major cleanup effort to prevent acid drainage from Leviathan Mine Superfund Site has progressed to a stage involving critical coordination between EPA and the Washoe Tribe of California and Nevada. Temporary treatment systems capturing the metal-laden acidic drainage from the abandoned sulfur mine have substantially improved water quality, benefiting fish and wildlife along nine miles of streams in the Sierra Nevada. These creeks flow from the 7,000-foot-elevation mine in California, through the Toiyabe National Forest and Washoe Tribe lands, into the Carson River upstream of the tribe's office in Dresslerville, Nevada. Atlantic Richfield Company (ARCO) operated a biological treatment system throughout the winter on one portion of the mine. For a second consecutive year, they treated another major acid source before the end of the snow melt. This maintained good water quality from early spring, as biological activity increases, and through the entire summer. This state-of-the-science High Density Sludge treatment system is shut down in the autumn when heavy snowfall prevents safe access to the power supply at the remote site.
As EPA develops detailed plans for the long-term cleanup, the Washoe Tribe has a major role in assessing risks faced by tribe members in their cultural uses of resources that may be contaminated by decades of acid mine drainage releases. EPA and the tribe are also arranging community meetings this year to report on the project and discuss the next steps.
Yerington Paiute Tribe Superfund Support Agency Cooperative Agreement
Through a Superfund Support Agency Cooperative Agreement with EPA, the Yerington Paiute Tribe has been providing technical input on the investigation and cleanup of the former Anaconda Copper Mine in Yerington, Nevada.
This past year the tribe has been involved in commenting on groundwater issues and on a proposed interim cleanup action for the former evaporation ponds at the north end of the site.
The tribe has contracted with technical experts to review work plans for investigation and cleanup produced by the potentially responsible party (PRP), Atlantic Richfield Company (ARCO), a British Petroleum (BP) affiliated company.
Cyprus Tohono Corp. Mine Alternative Superfund Site, Arizona
After cleanup operations that involved moving approximately one million cubic yards of mine waste into a new lined repository at a cost of $50 million were completed in 2008, Tohono O'odham Nation and EPA have turned their focus to groundwater. Earlier, they found that uranium-contaminated fluids had migrated to groundwater. The community of North Komelik is located approximately two miles down gradient from the groundwater flow from the mine. In 2002, the North Komelik drinking water supply wells were replaced by Cyprus Tohono Corp. (CTC) because sampling indicated uranium and sulfate contamination significantly above background groundwater levels.
EPA entered into an Administrative Order on Consent with CTC, now owned by Freeport McMoRan, on September 30, 2009 to investigate groundwater coming from the mine. CTC has been very cooperative, and in 2010 started the remedial investigation, as well as installing additional monitoring wells in the Plant Study Area.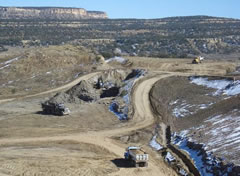 Navajo Nation EPA and U.S. EPA Employees Receive OSWER Environmental Justice Team Award
U.S. EPA and Navajo Nation EPA staff led the development and implementation of the first coordinated plan to address uranium contamination on the Navajo Nation. This five-year plan was developed in conjunction with the U.S. House Committee on Government Oversight and Reform, the BIA, Indian Health Service, Centers for Disease Control, Department of Energy, Nuclear Regulatory Commission, and the Navajo Nation.
A key element of the plan is to identify and clean up contaminated structures, including homes, hogans (traditional Navajo structures) and storage buildings made of materials from nearby uranium mines. Building mate­rial sources include rocks, gravel, and aggregate from mine spoils which were used in concrete mixing. Structures were also contaminated by the presence of radio­logical materials in outdoor soils and by dust brought into the homes on shoes and clothing.
The U.S. EPA-Navajo Nation EPA team worked closely with Navajo families, local Navajo Chapter officials, and the Navajo government to identify, demolish, and rebuild homes built during Cold-War-Era uranium mining. Since the project began in 2008, the team has screened nearly 200 structures for potential contamination, and completed demolition and excavation of 27 contaminated structures and 10 residential yards. The team completed the construction of 14 new homes, and provided compensation to families wishing to rebuild structures themselves.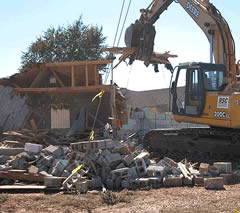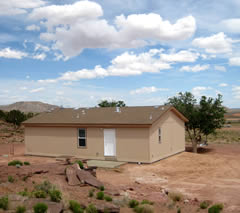 ---
Brownfields
Salt River Pima-Maricopa Indian Community Assessment Completion, Arizona
Under a Brownfields Assessment Grant, the Salt River Pima-Maricopa Indian Community completed the investigation of a 160-acre former feedlot, and will begin cleanup this year using funds from a Brownfields Cleanup Grant. The site, which has been sitting dormant for more than 17 years, will eventually be redeveloped for housing, recreation and gardens.
Targeted Brownfield Assessment (TBA) at Hopland Band of Pomo Indians Reservation California
EPA awarded the Hopland Band of Pomo Indians funds to conduct an assessment of a 460-foot deep drinking water well. Because of naturally occurring arsenic, other metals, and high Total Dissolved Solids levels, the water is not safe for drinking without treatment. Therefore, the tribe needed to know if the well could be salvaged or if there were other options for using the water. When the tribe found that they did not have sufficient funds under their existing Brownfields Assessment Grant to complete the work, they requested a TBA (performed by an EPA con­tractor) to supplement the initial assessment. Due to the corrosiveness of the water, the artesian flow of the well and the associated high treatment costs under any reuse scenario, the Targeted Brownfield Assessment Report recommended that the well be abandoned by plugging it. The well was safely abandoned by the tribe, using a Brownfields Cleanup Grant. This well is no longer needed for drinking water.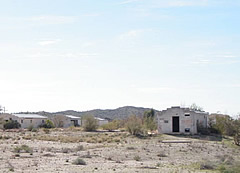 Targeted Brownfields Assessment at Gila River Indian Community, Arizona
The Gila River Indian Community requested an assessment at a former ordnance and munitions factory. The tribe is interested in siting a solar power array in that area and needed to know if the location was suitable. The assessment found that the site is suitable for renew­able energy, including the proposed solar farm, without doing any cleanup work. The solar generating station could even be expanded if some old buildings and earthen mounds were removed. The assessment report also provided a comparative cost data analysis, to show the feasibility of developing this land as a renewable energy site.