Pacific Southwest, Region 9
Serving: Arizona, California, Hawaii, Nevada, Pacific Islands, 148 Tribes
Tribal Accomplishments in 2010
Clean Air
On this page:
---
Tribes and EPA share the goal of cleaner, healthier air quality. As tribal air programs mature, tribes are using their knowledge to monitor air quality on reservations, deploy technology that harnesses wind and solar energy, educate their communities, and participate in regional air quality groups.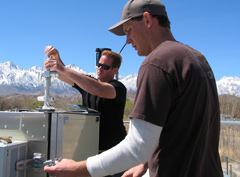 Tribal Air Funding for FY10
To improve air quality in Indian Country, EPA provides funding for tribes to assess and address air pollution problems. In 2010, EPA awarded 31 tribal air grants for a total of more than $3 million.
Tribal Collaboration
EPA continues to encourage collaboration between tribes, and many are sharing air quality information and consultants. The Bishop Paiute Tribe sponsored a specialized training for Owens Valley tribal air programs conducting audits of air quality and meteorological instruments. Participating tribes included the Bishop Paiute Tribe, the Big Pine Paiute Tribe, the Fort Independence Reservation, and the Lone Pine Paiute Shoshone Tribe. Each tribe received individual training on the instruments at their site, as well as an audit report for each tribe.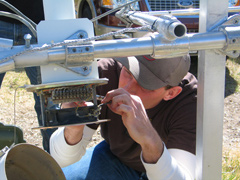 Tribal Air Monitoring
With EPA funding, 26 tribes are currently monitoring for either particulate matter (PM), ozone, or air toxics. Tribes are also working to enter their monitoring data into EPA's national Air Quality System (AQS). Eighteen tribes are now successfully submitting data – two more than the previous year. Because these tribes are submitting data, EPA has a better understanding of air quality in Indian Country. EPA uses this data to set national air standards, and to determine whether states and tribes meet those standards.
Tribal Diesel Emission Reduction Act
(DERA) Grants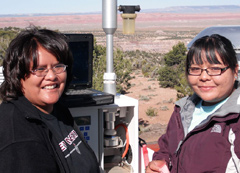 2010 was the first year EPA awarded Clean Diesel grants to tribes under DERA. Two of the selected tribal grantees are in the Pacific Southwest Region – both in Southern California. The Morongo Band of Mission Indians received $250,000 to replace two diesel school buses with compressed natural gas buses, and to retrofit five buses and two pieces of construction equipment with diesel particulate filters. These retrofits and replacements will reduce particulate matter emissions from these vehicles by 85-95%. The Soboba Band of Luiseno Indians received $78,000 to retrofit six diesel school buses with diesel particulate filters or low nitrogen oxide filters. These retrofits will reduce particulate matter emissions from the tribal school bus fleet by 85 percent.
---
Gila River Tribal Implementation Plan
As tribal air programs mature, some tribes are working on regulatory development. In October 2009, EPA approved the Gila River Indian Community's treatment as a state eligibility for many parts of the Clean Air Act. This determination paved the way for EPA to act on the tribe's previously submitted Tribal Implementation Plan (TIP) which delegates parts of the Clean Air Act (CAA) to the tribe and makes the tribe's air quality regulations federally enforceable. EPA proposed to approve the TIP in July, 2010.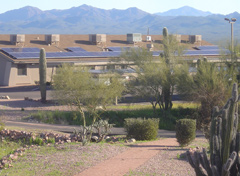 Fort McDowell Solar Project
In May 2010 the Fort McDowell Yavapai Nation completed installation of their 12-kilowatt photovoltaic power plant. It is composed of 54 solar panels on the roof of the building that houses the tribe's environmental program. Annually, the system is expected to generate more than 25 megawatt-hours of electricity, provide 15-20% of the building's power, and offset more than 60,000 pounds of carbon dioxide emissions. This project was funded with CAA Section 103 money and a rebate from the Salt River Project.
Salton Sea Air Quality Monitoring Network
The Torres Martinez Desert Cahuilla Indians Environmental Department has collaborated with several state agencies to build and maintain a monitoring network to measure airborne particulates resulting from a drying lake. They will collect baseline data from six stations on the tribe's land at the north end of the Salton Sea. The tribe is a large stakeholder in this project, since some of its reservation was submerged under the Salton Sea in the early 1900s.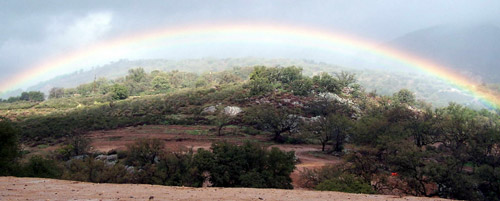 Salt River Air Quality Outreach
The Salt River Pima Maricopa Indian Community has installed flagpoles and signs that visually display the reservations air quality data on a daily basis. The flagpoles have been installed at a senior center, community center, government offices, and a school to ensure that sensitive groups in the community will know about current air quality conditions, and take precautions if necessary.