Pacific Southwest, Region 9
Serving: Arizona, California, Hawaii, Nevada, Pacific Islands, 148 Tribes
Tribal Program
Tribal Green Building Toolkit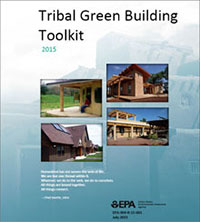 Learn About the Tribal Green Building Toolkit
You will need Adobe Reader to view some of the files on this page. See EPA's PDF page to learn more about PDF, and for a link to the free Adobe Reader.
Tribal News
EPA Funding for Tribes: Modesto Bee: $43 Million for Southwest Tribes

Tribal Public Water System Drought Response Information Packet (PDF) (9 pp, 309K)
23nd Annual Tribal/EPA Conference
This year marks the 23nd anniversary of the Annual Tribal/EPA Conference. For the past 23 years, the annual conference has been an important opportunity for partnership and ongoing collaboration between Tribes, U.S. Environmental Protection Agency, and other federal, state, and local agencies. The Tribal/EPA conference will be held in Reno, NV on October 27—29, 2015. The Regional Tribal Operations Committee (RTOC) meeting and RTOC Tribal Caucus will be held on October 26 at the Grand Sierra Resort. 

You can register and find more conference information on the R9 Tribal/EPA Conference Website.

More information will be posted as we approach the conference date. If you have any questions about the conference, please contact Gilbert Pasqua (pasqua.gilbert@epta.gov) or Mariela L. Lopez (lopez.mariela@epa.gov).
---
FY 2015 General Assistance Program (GAP) Grant Funding Announcement
EPA, Region 9, is requesting Indian Environmental General Assistance Program (GAP) grant proposals from federally recognized tribal governments and intertribal consortia for FY2016 work plan program development activities.
Full Announcement »
---
EPA Finalizes Approval of Air Quality Regulations
See full details for Gila River Indian Community air action »
---
Final Report: Increasing Recycling and Related Green Business Opportunities for Northern Nevada Tribes | Full Story »
Archived News and Feature Stories

Regional Information
Documents
Other Resources
Historical Documents
Public Service Announcements
Fight Childhood Asthma (MP3 audio files)
Household articles that might trigger attacks:


Navajo/English (mp3)


Lakota/English (mp3)
2nd Hand Smoke:


Anishnabe/English (mp3)
---