Pacific Southwest, Region 9
Serving: Arizona, California, Hawaii, Nevada, Pacific Islands, 148 Tribes
You are here: EPA Home
Tribal Green Building Toolkit
Tribal Program
Tribal Green Building Toolkit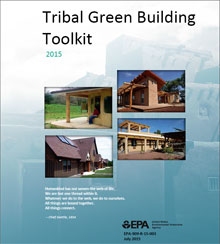 Green Building Web Resources

Find Green Building Materials: Building Material Reconstruction and Reuse Map
You will need Adobe Reader to view some of the files on this page. See EPA's PDF page to learn more about PDF, and for a link to the free Adobe Reader.
Tribal Green Building Toolkit

A new EPA publication, the Tribal Green Building Toolkit (PDF) (167 pp, 5.8MB), provides information on how tribes and other communities can prioritize and implement green building codes, policies and practices. This toolkit summarizes priorities identified by the Tribal Green Building Codes Workgroup, a group of tribal and federal leaders working to advance tribal green building.
The toolkit includes checklists and tribal case studies to support tribes, which are not covered by state or local government building codes, to adopt or adapt green building codes or other policies that meet tribal environmental, cultural and economic priorities.
Download the Toolkit (PDF) (167 pp, 5.8MB)
Contact Us About the Tribal Green Building Toolkit
Email

Mailing Address

Attn:  Tribal Green Building Toolkit
U.S. EPA Region 9
75 Hawthorne St. (LND 3-1)
San Francisco, CA 9410