Pacific Southwest, Region 9
Serving: Arizona, California, Hawaii, Nevada, Pacific Islands, 148 Tribes
Tribal Successes and Challenges: Fiscal Year 2002
Note: EPA no longer updates this information, but it may be useful as a reference or resource.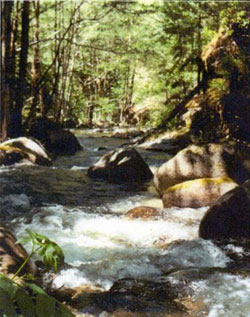 Of the 146 Indian tribes in the Pacific Southwest Region, more than 130 are now working with EPA to meet the unique challenges of environmental protection in Indian Country. Indian lands account for 11% of the region's land area and are home to about 400,000 people.
The tribes range from the Navajo Nation, largest in the U.S., with over 200,000 members and over 27,000 square miles, to tribes with less than a thousand members and under 50 acres.
Tribes Take the Lead
Ninety percent of the region's tribes receive EPA Indian Environmental General Assistance Program (GAP) grants, and more than half have EPA-approved authority, equivalent to that of a state, to carry out one or more federal environmental programs. In 2000, the Navajo became the first to receive enforcement responsibility for the Public Water System Supervision Program under the Safe Drinking Water Act.
Where the tribes' environmental programs are not yet sufficiently developed, EPA retains primary responsibility. Working as partners, the tribes and EPA have made significant progress in protecting tribal lands, waters, and cultural resources (see links below). The tribes have also forged productive partnerships with other agencies and neighboring communities.