Pacific Southwest, Region 9
Serving: Arizona, California, Hawaii, Nevada, Pacific Islands, 148 Tribes
You are here: EPA Home
Hazardous Waste Cleanup
Tribal Successes and Challenges: Hazardous Waste Cleanup
Note: EPA no longer updates this information, but it may be useful as a reference or resource.
Tribes, EPA oversee over 100 underground tank cleanups; progress at Superfund sites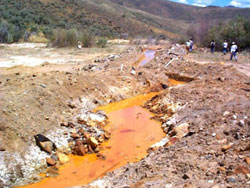 Tribes and EPA have overseen over 100 cleanups of leaking underground fuel storage tanks on tribal lands in the Pacific Southwest. In 2002, EPA and tribal staff inspected 94 underground tanks. Work progressed at five Superfund sites affecting tribal lands.
EPA worked with the Navajo Nation and the Hopi Tribe to order Thriftway Marketing, a non-tribal facility, to construct the second of three soil and groundwater cleanup systems in Tuba City, where underground fuel tanks had leaked.
The Duck Valley Shoshone-Paiute Tribes used EPA funding to assess the impact of contaminated runoff from the abandoned Rio Tinto Mine Site on the health of tribe members using local streams for traditional cultural practices.
EPA's enforcement action against a mining company for breach of an agreement to clean up part of the Leviathan Mine Superfund Site in the Sierra Nevada resulted in the company paying for a pristine 480-acre conservation area to be managed by the Washoe Tribe and the Nature Conservancy.
EPA's Superfund Program worked with the Navajo Nation to demolish and replace two hogans built with waste rock from uranium mines. The hogans had levels of radioactivity that made them unsafe for human occupancy.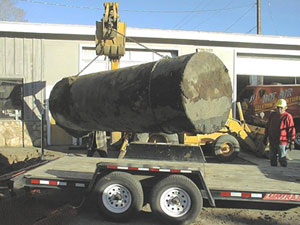 Remaining Challenges
Five hazardous waste sites affecting tribal land are in the Superfund remedial investigation/cleanup process.
As of 2002, Some forty leaking underground fuel storage tank sites are in the process of cleanup.