Pacific Southwest, Region 9
Serving: Arizona, California, Hawaii, Nevada, Pacific Islands, 148 Tribes
You are here: EPA Home
Safe Drinking Water, Clean Waterways
Tribal Successes and Challenges: Safe Drinking Water, Clean Waterways
Note: EPA no longer updates this information, but it may be useful as a reference or resource.
EPA funds tribal drinking water, wastewater projects and helps prevent polluted runoff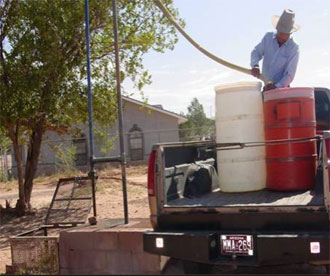 EPA's Drinking Water Infrastructure Program has supported 46 tribal drinking water projects in the Pacific Southwest since 1999, providing safe water to 3,298 tribal homes. EPA funding for tribal drinking water and wastewater treatment projects totaled more than $50 million (see graph). Over 100 additional EPA grants funded water monitoring, wetlands protection, and preventing polluted runoff.
Forty-four tribes, covering over 80% of all tribal lands in the Pacific Southwest, have conducted assessments of polluted runoff.
Ten percent of tribal communities in the Pacific Southwest have improved their wastewater systems under EPA's Clean Water Tribal Set-aside program.
The Trinidad Rancheria, on California's North Coast, used EPA funds to evaluate wastewater alternatives and tribal funds to build a wastewater treatment plant.
The Washoe Tribe of Nevada and California, the Moapa Band of Paiute Indians, and the Chemehuevi Tribe of the lower Colorado River carried out watershed restoration projects that reduced sediment pollution in streams and improved fish and wildlife habitat.
Remaining Challenges
As of 2001, according to the federal Indian Health Service, 62,000 homes – 47% of homes on tribal lands in the Pacific Southwest -- needed improvements in drinking water or wastewater infrastructure.
In 2003, EPA is working with tribes and the Indian Health Service to improve drinking water systems serving 15,000 tribal homes.