Pacific Southwest, Region 9
Serving: Arizona, California, Hawaii, Nevada, Pacific Islands, 148 Tribes
You are here: EPA Home
Solid Waste Management
Tribal Successes and Challenges: Solid Waste Management
Note: EPA no longer updates this information, but it may be useful as a reference or resource.
Tribes closing and cleaning up open dumps, abandoned cars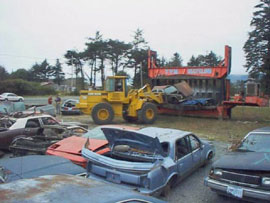 In 2003, tribes in the Pacific Southwest closed and cleaned up over 45 open dumps, removed abandoned cars from six areas of tribal land, and initiated 10 new recycling programs. Among the successes:
The Smith River Tribe, on California's North Coast, recycled over 200 tons of scrap metal from 80 abandoned vehicles and 30 junked refrigerators. The tribe also started a recycling program that took in over 900 lbs. of materials in its first three months.
The Tule River Tribe, located southeast of Fresno, Calif., cleaned up several open dumps and removed 140 abandoned vehicles from their land.
The Shoshone Paiute Tribes of Duck Valley, in north central Nevada, closed all open dumps on their land and opened a recycling center.
The Table Bluff Rancheria of the Wiyot Tribe, on California's North Coast, cleaned up hazardous and solid wastes that were threatening to pollute waterways and drinking water wells. The tribe also cleaned up many open dumps.
The Tuolumne Band of MeWuk Indians removed 850 old tires and over 1,000 cubic yards of scrap metal from their land.
The Ely Shoshone Tribe, in northeastern Nevada, used an EPA Brownfields grant to investigate the environmental impacts of an existing trash landfill, resulting in further grants to close the landfill and find a better disposal site.
Remaining Challenges
The Tohono O'odham Tribe, located along the U.S.-Mexico Border, has begun a five-year, $6.2 million project to clean up over 100 small open dumps.
Many more open dumps on tribal lands still await closure, cleanup, and development of better alternative solid waste disposal and recycling facilities.