Region 3: RCRA State Programs Branch
You are here: EPA Home
Pennsylvania RCRA Authorization Records
Pennsylvania RCRA Authorization Records
Current Pennsylvania Documents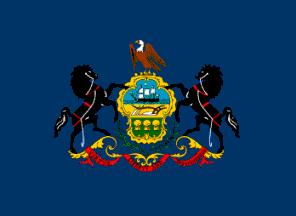 The following represent the current versions of key documents that were submitted by the Commonwealth to support its most recent program revision application.
EPA Region 3 Contact for Pennsylvania
Andrea Barbieri
phone:(215) 814-3374
e-mail: barbieri.andrea@epa.gov
PENNSYLVANIA AUTHORIZATION RECORDS
(SUMMARY OF KEY RULES INCLUDED IN PROGRAM REVISION APPLICATIONS)
The EPA RCRA State Authorization Website provides a detailed list of Authorization Activity for Pennsylvania (PDF) (21 pgs, 73k)
01/15/86 FR Notice
(51 FR 1791)
(PDF) (3 pgs, 357K)

The initial final authorization for Pennsylvania includes the Commonwealth's authorization for the Federal program as of November 21, 1984 (i.e., including the final rules addressed by Revision Checklists 1-8 and 10). The Pennsylvania Base Program includes:
identification and listing, hazardous waste lists, characteristics of hazardous waste, generator requirements, transporter requirements, facility requirements, interim status requirements, permitting requirements, biennial report, settlement agreement, manifest.

PROGRAM REVISION 1
(MW, BB, SI, Revision Checklists 9, 11-17K, 17M-s, 18-A, 18-43, 44D-G, 45-50, 52-90, 92, 94-100, 102-111, 113-116, 117A-B, 118-120, 123-129, 131-137, 139-141, 142A-E, 144, 145, 150-164, 167A-E, 168-181

09/26/00 FR Notice
(65 FR 57734)
(PDF) (6 pgs, 141K)

The program revision addresses the requirements for radioactive mixed waste (MW), exceptions to the burning and blending of hazardous waste (BB), sharing of information with ATSDR, and federal final rules published between November 13, 1984 through July 6, 1999, including:
household waste, corrections to test methods manual, satellite accumulation, definition of solid waste, amendments to identification and listing, amendments to interim status, HSWA codification rule, small quantity generators, delisting, waste minimization, location standards, liquids in landfill, dust suppression, double liners, groundwater monitoring, cement kilns, fuel labeling, pre-construction ban, permit life, omnibus provision, research and development permits, hazardous waste exports, exposure information, closure/post-closure financial responsibility, liability coverage, hazardous waste storage and tank systems, land disposal restrictions (LDR), permit modifications, permit as a shield, permit conditions to protect human health and environment, post-closure permits, amendments to permit requirements, miscellaneous units, farmer exemptions, treatability studies sample exemption, amendment to the Bevill exclusion, mining waste exclusion, reportable quantities, toxicity characteristics (TC), organic air emission standards for process vents and equipment leaks, wood preserving listings, burning of hazardous waste in boilers and industrial furnaces (BIF), hazardous debris, recordkeeping instructions, financial assurance letter of credit, recyclable materials used in a manner constituting disposal, mixture and derived-from rule, universal waste rule, removal of legally obsolete rules, organic air emission standards for tanks, surface impoundments and containers, military munitions rule, hazardous waste combustors, HWIR media, petroleum refining process wastes.

Note that the authorization Federal Register notice for this Program Revision also lists Revision Checklist 152 (Imports and Exports of Hazardous Waste: Implementation of OECD Council Decision); however, import and export notification functions are not delegable to states.

PROGRAM REVISION 2
(Revision Checklists183-185, 187, 189, 190, 192A-B, 193

01/20/04 FR Notice
(69 FR 2674)
(PDF) (4 pgs, 53K)

The program revision addresses selected federal final rules published between October 20, 1999 and June 28, 2001, including:
amendments to the requirements for land disposal restrictions, wood preserving wastes, metal wastes and zinc micronutrients fertilizer, wastewater treatment sludges from metal finishing industry, organobromine production wastes, reportable quantities, mixture and derived-from rules revisions, change of EPA mailing address.

PROGRAM REVISION 3
(Revision Checklists 182, 188, 194-202, 205 206, 208, 211

04/29/09 FR Notice
(74 FR 19453)
(PDF) (6 pgs, 133K)

The program revision addresses selected federal final rules published between September 30, 1999 and October 12, 2005, including:
MACT rule (NESHAP), corrections to HWIR media and mixture and derived-from rules, CAMU amendments, hazardous air pollutant standards for combustors, vacatur of mineral processing spent materials, zinc fertilizers, amendments to the land disposal restrictions, NESHAP, surface coating of automobiles and light-duty trucks, SW-846 corrections, headworks exemption.