Pacific Southwest, Region 9
Serving: Arizona, California, Hawaii, Nevada, Pacific Islands, Tribal Nations
You are here: EPA Home
Wastewater Treatment
Turning Food Waste into Energy at the East Bay Municipal Utility District (EBMUD)
Wastewater Treatment Facilities Taking Food Waste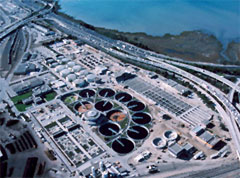 Excess Capacity
Solids from sewage sludge are anaerobically digested at many wastewater treatment facilities to generate methane and a solid residual. The methane gas can be used as a source of energy and the solid residual can be composted to produce a natural fertilizer. If there is excess capacity in the anaerobic digesters, food waste can be added to generate more energy. In California alone there are almost 140 wastewater treatment facilities that utilize anaerobic digesters, with an estimated excess capacity of 15-30%. An excess capacity at a wastewater treatment facility can occur when utility districts overestimate development or when large industries leave the area. For example, EBMUD's main wastewater treatment plant has an excess capacity because canneries that previously resided in the Bay Area relocated resulting in the facility receiving less wastewater than estimated when it was constructed.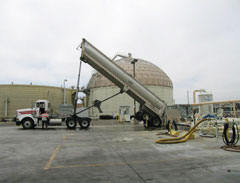 Benefits to Co-digestion of Food at Wastewater Treatment Facilities
Co-digesting food waste with sludge at wastewater treatment plants has many benefits.
Many wastewater treatment facilities already have existing anaerobic digesters.
Facilities already have the on-site expertise of how to operate a digester.
Facilities are often located in dense, urban areas where the food waste is generated, therefore reducing transportation costs.
Anaerobically digesting food waste prior to composting reduces the emissions of volatile organic compounds (VOCs) which contribute to air pollution.
More information about the benefits of co-digesting food waste at wastewater treatment facilities (PDF)