Pacific Southwest, Region 9
Serving: Arizona, California, Hawaii, Nevada, Pacific Islands, Tribal Nations
Waste Feature Stories

Protecting Boats and Water Quality
A new study explores alternatives to copper anti-fouling paints.
Feature Story
---
I-710 Corridor Initiative
Progress toward abandoned gas station cleanup in the Interstate 710 (I-710) Corridor of Southern California.
Feature Story
---

EPA and partners are working to manage habitat for the endangered Moorhen, found only on Guam. Feature Story
---

A new standard brings transit-specific sustainability guidance to the development, building, and operations of trains, buses, and ferry systems.  Feature Story
---

Saskia van Gendt of EPA's Pacific Southwest Region received one of eight prestigious Service to America Medals awarded to federal employees nationwide each year by the non-profit Partnership for Public Service.
Feature Story & Video
---

Reusable Packaging EPA Region 9 provided a grant to StopWaste.Org, Alameda County's Waste Management Authority, to help companies integrate reusable packaging into their product supply chains. Read about the project in this Reusable Packaging (PDF) (2 pp, 151K) factsheet.
---

East Bay Municipal Utility District (EBMUD) was recognized by EPA for its innovative pilot program to help local schools and colleges remove dangerous mercury thermometers and similar devices from school buildings.
Feature Story & Photos
---

The La Jolla Band of Luiseño Indians was recently awarded two grants from the EPA to assist in the further development and management of the Tribe's transfer station.
Feature Story & Photos
---

The Yurok and Karuk Tribes in Northern California will use Resource Conservation Fund grant funds to increase material reuse and recycling, and improve solid waste management practices on their lands.
Feature Story & Photos
---

EBMUD Helps Mitigate Climate Change Through Anaerobic Digestion
EBMUD is pioneering an innovative method of reducing the amount of food waste reaching landfills while simultaneously producing renewable energy.
Feature Story/Video/Social Media Links
---
EPA honors Contra Costa County for pledging to remove nearly 2,000 pounds of lead from its vehicle fleet
Contra Costa County sets an example of responsible environmental stewardship.
News Release/Video
---

Nevada Tribal Community Transforms Contaminated Property
EPA and the Reno-Sparks Indian Colony partnered to clean up a former industrial site in Reno, Nevada.
Feature Story & Video
|
Reno-Sparks Indian Colony

|
Region 9's Brownfields Program
|
Nevada's Brownfields Program

---
Protecting People from PCBs
Shipping companies fined for alleged illegal distribution and export of PCBs. News Release/Video
---

Revitalizing Old Maui High
With the aid of an EPA Congressional Special Purpose grant the once beautiful and buzzing Old Maui high school is restored. Feature Story | Green Building
---
Fort Ord Redevelopment
Nearly 3,300 acres of the former Army base will be developed for residential, commercial and educational purposes.
Feature Story & Photos
|
Superfund Site
|
Media Advisory
---

Green Building in Nevada
High school students build straw bale classroom.
Feature Story
|
Green Building
---
Protecting Drinking Water Near Colorado River
Lost Lake Resort was fined $55k and must clean up contamination from leaking underground fuel tanks.
Feature Story & Video
|
Press Release & Soundbite
---

Partnership Supports Cleanup and Reuse of Land
The California Department of Toxic Substances Control (DTSC) committed to rapid investigation and cleanup of a Fullerton, California site, and delivered on its promise.
---

Golden Opportunity for Abandoned Gold Mines In Nevada City
Nevada City and its partners are assessing five major mine tailings areas located in the heart of the city.
---

Rio Dell - Innovation Used to Clean Up Business District
Rio Dell's innovative approach to redevelopment is allowing the city to promote economic growth in spite of its small size and limited budget.
---
Land Revitilization in Hawai´i
Land revitalization projects preserve Hawai´i's precious natural resources and is key to sustainable living within this island state.
---

Innovative Green Building Challenge Winners were selected in three categories: Building, Component, and Service and each category has Student, Professional - Built, and Professional - Unbuilt winners. A People's Choice Award based on online voting was also recognized.
---

Restoring the Romic Property for a Cleaner Future
EPA has proposed a remedy to clean up soil and groundwater contamination at the Romic Environmental Technologies Corporation. facility in East Palo Alto, California.
---

MTBE Removed from Groundwater at Martinez Terminal
The Regional Water Quality Control Board and Tesoro Refining Corporation, in cooperation with EPA, have removed 4,100 pounds of MTBE from the groundwater at a Martinez refining terminal.
---

Riding the Rails to Land Revitalization
EPA will manage a $200,000 Brownfields grant to revitalize a former railyard in Fremont, California. Feature story & photos
---

Green Building Demonstration Project - City of Fresno
The City of Fresno made a big step towards a greener city with the February 26th unveiling of their Green Building Demonstration Project.
---

California 50% Solid Waste Reduction Achieved!
California now diverts more than 50% of the municipal solid waste that it generates yearly, thanks to the efforts of cities, counties, businesses, nonprofit organizations, and residents across the state.
---

Fort Independence
Indian Reservation in Owens Valley, California has built a successful, nationally recognized solid waste program from the ground up with Tribal leadership and grant support from U.S. EPA.
---

Halaco Engineering Co.
is a bankrupt smelting firm which generated a large amount of waste solids; over a 35 years approximately 28 acres of waste solids were created. The EPA has already determined that a time-critical removal action is necessary to stabilize the site and reduce immediate concerns about site contamination.
---

Hualapai uses discarded waste to create "Earthship," environmentally-friendly office space
Earthships are buildings made from recycled and recovered material. They are so well integrated into the landscape that they remain naturally warm in the winter and cool in the summer.
---

How did 70 billion pounds of manure become a valuable resource?
California dairies produce more milk – and more waste – than any other state in the nation. Dairies are the leading agricultural enterprise in California, with raw milk production valued at nearly $4 billion annually.
---
U.S. EPA honors Northrop for voluntary efforts to reduce chemicals in semiconductor manufacturing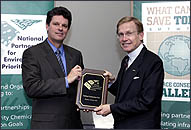 LOS ANGELES – The U.S. Environmental Protection Agency recently honored Northrop Grumman Space Technology for participating in the National Partnership for Environmental Priorities Program, which will help reduce trichlorobenzene use at its Redondo Beach, Calif., microelectronics manufacturing facility.
The EPA created the National Partnership for Environmental Priorities Program to reduce 30 high priority chemicals - including dioxins and mercury - by 10 percent by the year 2008. The EPA selected these chemicals because they persist in the environment for many years.
"Northrop Grumman Space Technology has taken steps to go above and beyond environmental compliance. They've pledged to reduce highly toxic chemicals while improving their bottom line - that's no small effort," said Jeff Scott, Director of U.S. EPA's Hazardous Waste Program for the Southwestern U.S.
For more information, please vist the National Partnership for Environmental Priorities Program on the Web.
---

Genentech Development in South San Francisco
A new biotechnology campus will rise where a decrepit century-old paint factory once stood in South San Francisco, thanks to a recent RCRA brownfields agreement.
---

Recycled Products Cooperative (RPC)
Recycled Products Cooperative aims to reduce waste and conserve natural resources by stimulating markets and making recycled paper more affordable.
---
University of California
UC's participation in EPA's Compliance Incentive Program demonstrates the benefits of this creative way of achieving greater environmental and human health protection.
---

Fort Independence Awards
Fort Independence awarded solid waste grants and the WasteWise 2004 Program Champion Award.
---

First Border 2012 Binational Site Stabilization Action
The US EPA, Mexican Secretary for Environment & Natural Resources, and State of Baja California partnered to demonstrate a cleanup.
---
HP Pavilion at San Jose/Shark Tank: An arena recycling success
In 2001, the HP Pavilion's event managers developed a plan with Waste Management – the Pavilion's trash contractor – to improve the recycling program at the arena.