Pacific Southwest, Region 9
Serving: Arizona, California, Hawaii, Nevada, Pacific Islands, Tribal Nations
You are here: EPA Home
Protecting Boats and Water Quality
Protecting Boats and Water Quality
Related Information
Project Report
Safer Alternatives to Copper anti-fouling Paints: Nonbiocide Paint Options (PDF) (85 pp, 4.0M)

---
Additional Information
In California, and in coastal communities throughout the United States, water quality is significantly impacted by the copper used to coat boat hulls, large and small. The California Department of Toxic Substances Control (DTSC), a grantee of EPA, identified cost-effective methods for boat owners to protect both their boats and water quality. EPA's grant assisted DTSC in identifying boat hull coatings that can reduce copper pollution in marinas, while boosting boat performance and cost-effective maintenance over the long-term. Like its predecessor EPA grant, implemented by the Unified Port of San Diego, this project successfully established the viability of non-copper anti-fouling boat hull coatings for both performance and cost-effectiveness. However, while the San Diego project looked at both biocide and non-biocide coatings, in this DTSC project, the grantee solely studied the effectiveness of non-biocide coatings, as well as alternative painting and stripping methods.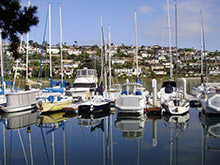 A biocide is a chemical agent capable of killing living organisms. They often contain heavy metals, such as copper, and are frequently used in boat hull paint to repel marine organisms. When marine organisms attach themselves (known as "fouling") to boat bottoms, they can cause damage to the boat's structural integrity and reduce the vessel's fuel efficiency. Biocides can leach into water bodies from boat hull coatings. As a result, coastal areas nation-wide are experiencing myriad water quality challenges.
In numerous California cities there is growing concern about the water quality impacts from copper, for which state water quality standards have been established. These water quality standards, known as Total Maximum Daily Loads, have found that a number of California marina basins suffer from overloading of copper, virtually all of which is caused by passive leaching of the copper from anti-fouling coatings and periodic hull cleaning by divers. Because copper is a biocide, it can harm the marine life living in and around marina basins. According to the California Regional Water Quality Boards (RWQB), the removal of copper accumulation in marine sediments, via dredging and disposal, is costly both to fisheries and to state budgets, on the order of $40-$60 per cubic yard.  For these reasons, the RWQB is requiring boat owners, marina owners/operators, and underwater boat hull cleaners in San Diego's Shelter Island Yacht Basin to reduce copper loading by using alternative boat hull coatings.  
Testing Alternative Paints in San Diego, San Francisco and Orange County
To find and promote the use of safer, non-biocide alternatives to copper anti-fouling coatings on marine vessels, EPA awarded the DTSC with $96,000 in grant funding to test a variety of innovative non-biocide boat hull paints in San Diego, San Francisco and Newport Beach. The project occurred from November 2009 through December 2012. The results of these findings are transferable nationally, to both warm and cold-water regions.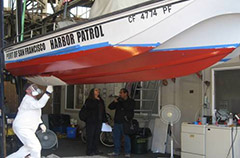 DTSC provided oversight for this grant, while Los Angeles-based Institute for Research and Technical Assistance took the lead on implementing  the project.  The Port of San Francisco, the Orange County Coastkeeper, the San Diego Diving Service, the California Department of Fish and Wildlife, a private copper recycler, and numerous private boat owners participated in the project by making their boats available, engaging in boat hull cleaning, and testing copper recycling methods.
The grantee tested the non-biocide coatings on panels and boats, and evaluated their performance and cost effectiveness. Non-biocide coatings are typically composed of silicon compounds and/or fluoropolymers whose smooth surface makes it difficult for marine organisms to attach, without compromising water quality.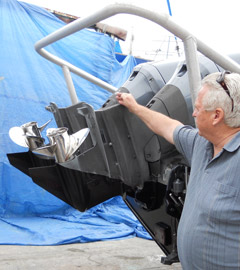 Because this project also focused on cost-effectiveness, the grantee addressed factors that can make paint jobs more expensive for non-biocide paints, compared to copper-based paints. Specifically, boat hulls normally need to be stripped before applying a non-biocide coating the first time, which can be expensive. Additionally, non-biocide coatings normally need to be sprayed onto the boat hull, and spraying can be costly. This project specifically analyzed alternative paint stripping methods, applying non-biocide paints over copper paints, applying the paint via rolling techniques, and assessing the feasibility of recycling the waste copper resulting from the stripping process. The findings for these alternative methods were positive, resulting in cost-effective means of using non-biocide coatings.
The grantee started the project by testing 19 non-biocide coatings (and two copper control coatings) on floatable, fiberglass panels which were left in the water for one year. Periodically, the panels were pulled out of the water where they were assessed for fouling, cleaning, and coating condition. After determining the best performing coatings, the grantee then tested seven of the coatings on ten different boats. The paints were left on the boats between two and twenty months. Four of the coatings performed well throughout the project. Because the coatings were tested in three different climate zones throughout California, the grantee was better able to determine any differences in coating performance as a result of different aquatic temperatures.
All said, non-biocide coatings show particular promise due to their ability to provide cost-effective, high-performing anti-fouling protection while ensuring the well-being of aquatic life and human health.
While non-biocide paints perform well in all water temperatures, they do especially well and more cost effectively in the cold water temperatures of northern California, since they incur less marine fouling and, therefore, require less boat hull cleaning frequency. Furthermore, while copper-based paints last on average two years, non-biocide coatings can last as long as ten years.
Conclusion
The project concluded that the best combination of options for reducing the cost of non-biocide paint jobs is to apply the paint over the existing copper paint, rather than stripping the boat, and to roll the paint on rather than spraying it. Additionally, the overall cost of using non-biocide paints can be significantly reduced by cleaning the boat hulls less frequently. In addition to their environmentally-friendly qualities, the preferred non-biocide paints demonstrated cost-effectiveness due to their longevity (up to ten years) and cleaning frequency similar to copper-based paints.