Pacific Southwest, Region 9
Serving: Arizona, California, Hawaii, Nevada, Pacific Islands, Tribal Nations
Turning Food Waste into Energy at the East Bay Municipal Utility District (EBMUD)
EBMUD Helps Mitigate Climate Change Through Anaerobic Digestion
Watch Anaerobic Digestion Video Below
Join the Discussion
Greenversations Question:
How do you handle food waste?
Share your thoughts, follow the story, see more photos:

Fact: Food Waste Contributes to Climate Change
Food waste is one of the least recovered materials in the municipal solid waste stream and is one of the most important materials to divert from landfills. Food that is disposed of in landfills decomposes to create methane, a potent greenhouse gas that contributes to climate change.
Fact: Food Waste Can Be Transformed Into A Natural Fertilizer
Of the less than 3% of food waste recovered from the waste stream, composting is the prominent diversion method. Composting, either in your backyard or in a commercial facility, creates a natural fertilizer with many beneficial qualities.
Fact: Food Waste Can Be Used to Generate Renewable Energy
In order to decrease food waste and mitigate climate change, East Bay Municipal Utility District (EBMUD) is pioneering an innovative method of reducing the amount of food waste reaching landfills while simultaneously producing renewable energy.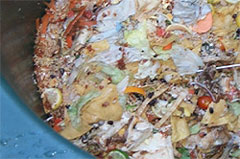 In Oakland, California, EBMUD's main wastewater treatment plant was the first sewage treatment facility in the nation to convert post-consumer food scraps to energy via anaerobic digestion. Waste haulers collect post-consumer food waste from local restaurants and markets and take it to EBMUD. In an anaerobic digester, bacteria break down the food waste and release methane as a byproduct. EBMUD then captures the methane and uses it as a renewable source of energy to power the treatment plant. After the digestion process, the leftover material can be composted and used as a natural fertilizer.
If 50% of the food waste generated each year in the U.S. was anaerobically digested, enough electricity would be generated to power over 2.5 million homes for a year.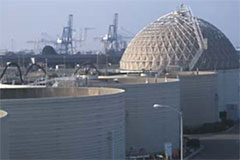 To further study this technology, the EPA awarded EBMUD with a grant to investigate the benefits and limitations of anaerobically digesting food waste from restaurants, grocery stores, and other food handling facilities. EBMUD bench-scale digesters were fed only food wastes, but were operated under a variety of conditions to determine the optimal operating conditions.