Pacific Southwest, Region 9
Serving: Arizona, California, Hawaii, Nevada, Pacific Islands, Tribal Nations
You are here: EPA Home
Reducing Food Waste
Turning Food Waste into Energy at the East Bay Municipal Utility District (EBMUD)
Reducing Food Waste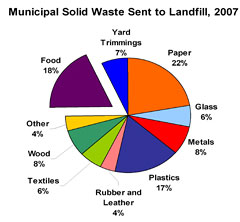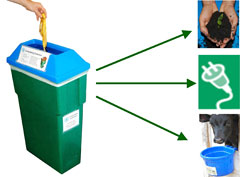 Food Waste: The Second Largest Component of Your Trash
Food waste is the second largest category of municipal solid waste (MSW) sent to landfills in the United States, accounting for approximately 18% of the waste stream.That is over 30 million tons of food waste that the U. S. sends to the landfills each year. Of the less than 3% of waste currently being diverted from landfills, most of it is being composted to produce a fertilizer.
Food Waste and Climate Change
Diverting food waste from landfills not only conserves limited landfill space, but also helps to reduce greenhouse gas emissions. In landfills, organic materials, like food scraps and yard trimmings, are broken down by bacteria to produce methane. Methane, a potent greenhouse gas, is shown to have a warming potential of 21 times that of carbon dioxide. As we try to combat global climate change, we need to reduce methane emissions to the atmosphere.
Food Waste as a Resource
By putting food waste into a landfill, we are wasting a valuable resource. When properly processed, food scraps can generate renewable energy, enhance the soil as a fertilizer, and feed animals. Composting food waste produces a natural fertilizer, which can create healthier soil and reduce the need for synthetic fertilizers. Through anaerobic digestion, bacteria can digest the food waste to produce methane, a valuable energy source when captured.
Composting » Natural Fertilizer
Anaerobic Digestion » Renewable Energy
Processing » Animal Feed
How Can I Reduce My Food Waste?
There are many ways to reduce the amount of food waste that is sent to the landfills. Here are a couple of ways that individuals can reduce their own food waste impact:
Eat your leftovers! Reduce the amount of food waste created!
Start a backyard compost bin or a worm composting bin. Read other ideas at EPA's Food Waste Basics page.
If your city offers food waste collection, ensure that the food waste is placed in the proper bin
Encourage restaurants and supermarkets to start composting programs