Pacific Southwest, Region 9
Serving: Arizona, California, Hawaii, Nevada, Pacific Islands, 148 Tribes
You are here: EPA Home
Tribal Successes 2004
Successes in 2004: EPA and Tribal Environmental Results
Note: EPA no longer updates this information, but it may be useful as a reference or resource.
---
Tribes Get Results!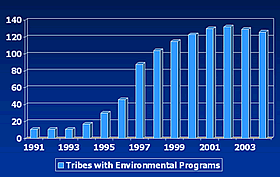 EPA's Pacific Southwest Region has 146 federally-recognized Indian tribes – more than any comparable area of the U.S. Tribal lands are subject to federal as well as tribal environmental laws but many tribes, until recently, have lacked the capacity or funding to carry out environmental programs. This is changing. In 2004, 126 tribes are developing environmental programs and 72 tribes (nearly half) are monitoring the environment.
Environmental conditions on many reservations in the Pacific Southwest Region are challenging. More than one third of reservation homes are at or below the poverty level. Nineteen percent of homes lack complete plumbing. More than 800 open dumps are found on tribal lands. Over a third of the region's tribes are located in areas that do not meet air quality standards.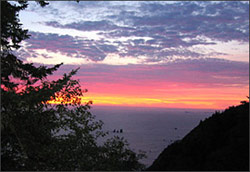 EPA is working with tribes to face these challenges head-on, and together, we are achieving results! Almost ninety percent of tribes are developing environmental programs with EPA assistance. A decade ago, only 10% had environmental programs. Work funded by 527 EPA grants, totaling over $111 Million, was underway in the region in 2004.
Where a tribe's environmental programs are not yet sufficiently developed, EPA retains primary responsibility for implementing federal environmental programs. Working as partners, the tribes and EPA have made significant progress in protecting tribal lands, waters, air and resources. Tribes have also forged productive partnerships with other agencies and neighboring communities.
Together, we are making progress in many areas.
EPA and tribes worked together to improve drinking water for 4,411 tribal homes and to improve wastewater infrastructure serving 2,000 tribal homes in 2004.
Tribes are operating air monitoring stations at 32 sites in California, Arizona, and Nevada.
Tribes closed 60 open dumps, built 19 recycling projects, and performed 11 metal waste cleanup projects.
Tribal pesticide inspectors conducted over 800 inspections of pesticide spraying.
EPA and tribes conducted pollution prevention assessments at seven tribal medical and dental facilities.
EPA and tribal regulators inspected 69 gas stations and other tank facilities and completed 5 underground tank-site cleanups.
Tribes informed residents of health hazards from exposure to deteriorated lead-based paint in tribal housing and screened blood-lead levels of young children and expectant mothers.
Success detail pp
Plan for 2005
Every year, EPA's Pacific Southwest Tribal Program designs a plan (called an "operating plan") for the upcoming year. Highlights of the plan are viewable at the bottom of each "Tribal Results" Web page.