Pacific Southwest, Region 9
Serving: Arizona, California, Hawaii, Nevada, Pacific Islands, 148 Tribes
You are here: EPA Home
Protecting Tribal Lands
Tribal Successes 2004: Protecting Tribal Lands
Note: EPA no longer updates this information, but it may be useful as a reference or resource.
---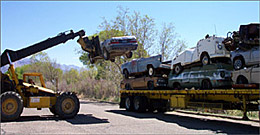 Both ordinary trash and hazardous waste threaten tribal lands across the Pacific Southwest. For example, tribal lands host over 800 open dumps, 175 abandoned or un-addressed leaking underground storage tanks, and six Superfund-caliber mine sites.
In 2004, EPA was able to help more tribes close dumps, clean up metal waste, dispose of household hazardous waste, deal with abandoned vehicles and develop recycling programs. Tribes closed 60 dumps, organized 19 recycling projects, created four household hazardous waste pickup projects, finished 11 metal waste cleanup projects, and held eight abandoned auto and trailer pickup events.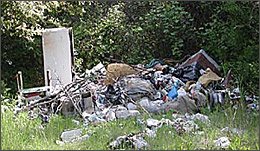 EPA and tribes conducted seven pollution prevention (P2) assessments at seven tribal medical/dental facilities in California, Arizona and Nevada. P2 projects help minimize environmental impacts, reduce operating costs and maintain – even enhance – high patient care standards.
Tribes are also protecting their groundwater from leaking underground storage tanks. In 2004, working with EPA, tribes completed five leaking underground storage tank (LUST) cleanups, bringing the total to 106 LUST site cleanups in Indian country. Tribes and EPA also conducted 69 inspections of underground storage tank facilities, and distributed a Comprehensive Compliance Assistance for Gas Station Owners and Operators booklet.
EPA and the Navajo Nation Environmental Protection Agency inspected more than 50 underground storage tank sites. Federal and Tribal environmental regulators issued 11 field citations to facilities violating federal underground storage tank regulations. A Navajo Nation/EPA joint field citation form was developed.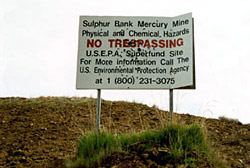 In 2004, the EPA Superfund Site Assessment and Remedial Programs made significant progress on several projects including the Sulphur Bank Mercury Mine Superfund site, the Leviathon Mine Site, the Rio Tinto Mine Site, the Anaconda Yerington Mine Site and abandoned uranium mines across the Navajo Nation.
Responding to emergencies
The October 2003 Paradise Fire burned approximately 93% of the San Pasqual Reservation and destroyed more then 85 structures. Three crews of clean up workers including 23 volunteers from the Navajo Nation Tribal Community Civilian Corps were organized beginning in early November to take on the enormous task of cleaning up and re-building. Restoration required removal of burned home site debris, car removal, metal debris removal, and erosion control. Funding from EPA GAP and 319 Programs were instrumental in getting the project underway.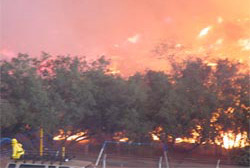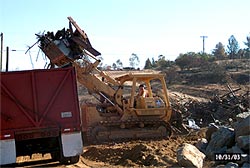 Brownfields
EPA provided Brownfields funding for tribal response programs to the Navajo Nation, the Gila River Indian Community and the Tohono O'odham Nation.
In 2004, the Ely Shoshone tribe completed the final clean up of the Old Ely Landfill Brownfields Site. The Tribe hopes to place a sports complex on a portion of the cleaned-up site.
In Fall 2004, Gila River Indian Community completed construction on their Diabetes Education and Research Center following assessment and cleanup from UST contamination at the historic St. John Mission site. Funding was provided through EPA USTfield and Brownfield grants.
Solid Waste - 2005 Goals
Close 81 open dumps.
Assist nine tribes in developing integrated waste management plans.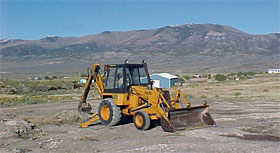 Underground Tanks - 2005 Goals
Inspect 55 tanks.
Begin six new LUST cleanups.
Implement final cleanup at Tuba City site, Navajo and Hopi reservations.
Hazardous Waste - 2005 Goals
Review Westates and Romic TSD permit applications.
Complete risk assessment and National Historic Preservation Act processes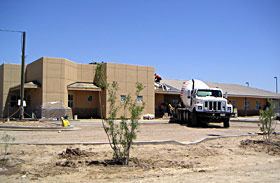 Superfund - 2005 Goals
Complete Gila River Toxaphene cleanup.
Complete cleanup plan for Sulphur Bank Site.
Construct year-round acid treatment for Leviathan Mine Site.
Oversee closure of Cypress Tohono Mine ponds.
Work with Navajo EPA to prioritize abandoned uranium mines.
Issue Yerington Anaconda Mine 106 order.
Initiate two Brownfields cleanups.