Pacific Southwest, Region 9
Serving: Arizona, California, Hawaii, Nevada, Pacific Islands, 148 Tribes
You are here: EPA Home
Healthy Tribal Communities
Tribal Accomplishments, 2009
Healthy Tribal Communities
In 1992, Congress enacted the legislative authority for the Indian Environmental General Assistance Program (GAP). This grant is intended to build tribal environmental protection capacity and allow tribes to develop programs to protect the environment and human health on tribal lands. Many tribes have used their GAP grants to pilot recycling, clean water and clean air monitoring programs. After piloting a program, tribes often take the next step to apply for Clean Water Act (CWA) and Clean Air Act (CAA) program grants. In the following chapters you can read about how several tribes have implemented CWA, CAA and solid waste programs.
The number of tribes and tribal consortia in the Pacific Southwest Region receiving GAP grants has grown from 11 in 1993 to 130 in 2009.
Developing Solid Waste Management Programs
In 2000 the authorizing legislation for the GAP was amended to allow funding for solid and hazardous waste programs. The number of tribes implementing solid and hazardous waste programs has grown from 33 in 2001 to 93 in 2009.
The Lone Pine Paiute-Shoshone Tribe of California has been developing its solid waste management program with GAP funding since 2003. The program now includes collecting electronic waste, Christmas trees to be chipped and used for mulch on the reservation, and white goods (appliances like washers and dryers).
The Gila River Indian Community (GRIC) in Arizona began its solid waste management program in 1994. One of GRIC's major solid waste accomplishments was starting a curbside garbage collection program in 1999 to prevent burning of waste. GRIC leveraged funding from the tribal government and several federal agencies to purchase garbage trucks and containers to start the collection program. The community is currently looking into expanding its curbside collection program to include recyclables. The tribe also surveyed more than 100 open dump sites and committed to cleaning up three one-acre sites per year. To date, the tribe has cleaned and closed approximately 50 sites.
The Washoe Tribe of Nevada and California adopted its Environmental Protection Department (WEPD) in 1998. The tribe has used GAP and Solid Waste Management funding to develop several plans including an Integrated Waste Management Plan (IWMP), Recycling Plan, Household Hazardous Waste Plan, Waste Stream Analysis Report, Preliminary Engineering Report for a Recycling Transfer Station, and Engineering Evaluation and Schematic Design for a Recycling Transfer Station. These plans have assisted the tribe with applying for additional funding from state and federal agencies to further expand its program. The tribe's planning process established the foundation it needed to expand its recycling services to a curbside collection program and to start a green waste collection program. The WEPD has recycled over 600 vehicles and thousands of white goods and tires through its auto/metal recycling program. The WEPD continues to look for ways to make its waste management program more sustainable through building partnerships with local and tribal entities.
Environmental Education
Environmental education is a key component of tribal environmental programs in the Pacific Southwest. The Kaibab Paiute Tribe in Arizona started its environmental youth outreach program in 1999 to raise awareness among tribal youth of environmental issues both on and off the reservation. The core program activities include camping, hiking and community service, such as helping clean the community park and tribal villages. This outreach program has helped establish good working relationships with local, state, and federal government agencies, nearby community organizations, as well as within the tribe's own departments and programs.
Earth Day Celebrations
Many tribes hold annual Earth Day Celebrations to bring together community members and celebrate environmental stewardship. The following photos demonstrate the diversity in celebrations among tribes in the Pacific Southwest.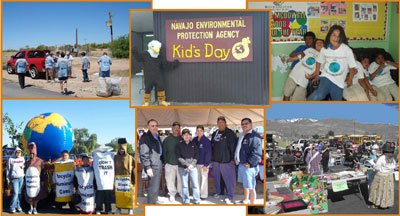 Regional Tribal Operations Committee
The Regional Tribal Operations Committee (RTOC) was formed in 1995 to guide EPA in a variety of efforts such as working effectively with tribal governments, budget and programmatic recommendations, and developing policy. The RTOC has played a significant role in shaping programmatic rules, regulations, focus, as well as focusing limited Agency resources to priority areas.
Since its inception, the RTOC has developed regional approaches for consultation, enforcement, Freedom of Information Act (FOIA), and dispute resolution regarding tribal grants. Each of these documents has been affirmed and signed by the Regional Administrator. To address the lack of enforcement against people who dump waste on tribal lands, the RTOC worked with EPA to amend section 4005(c)(2) of the federal Solid Waste Disposal Act, which authorizes EPA to use the tools in Sections 3007 and 3008 of the Act at those open dumps that have certain types of hazardous waste, including household hazardous waste (which is often found in trash). Under this authority, EPA may inspect for compliance with the federal prohibition on open dumps, as well as compliance with federal hazardous waste rules.
Capacity Building
The Morongo Band of Cahuilla Mission Indians' Environmental Protection Department used its EPA Performance Partnership Grant to conduct a multi-media reconnaissance evaluation at the Arrowhead water bottling facility in southern California. The purpose was threefold: 1) identify the processes and materials that are on site, 2) determine applicability of federal statutes, and 3) determine future media-specific evaluations. These objectives were accomplished by reviewing documentation, interviewing and using a comprehensive checklist, and by conducting a site tour.
The Compliance Assistance Component ensures that tribal enterprises are in compliance with federal statutes including: the Clean Air Act (CAA), the Clean Water Act (CWA), and the Resource Conservation and Recovery Act (RCRA).
U.S.-Mexico Border 2012 Program
In 1983, the U.S. and Mexico governments signed the Agreement for the Protection and Improvement of the Environment in the Border Region (the La Paz Agreement). The Border 2012 Program, which carries out the agreement, is led by U.S. EPA, Mexico's Secretariat of Environment and Natural Resources (SEMARNAT), 10 border states, and the 26 federally-recognized tribes in the U.S. The border region is approximately 2000 miles long and spans 62 miles (100 km.) north and south of the U.S.-Mexico border.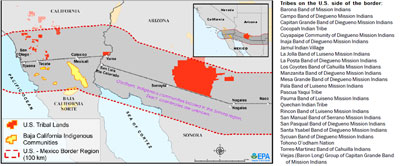 Border 2012 Program Goals
Reduce water contamination
Reduce air pollution
Reduce land contamination
Improve environmental health
Enhance joint readiness for environmental emergency response
Improve environmental performance through compliance, enforcement, pollution prevention,and promotion of environmental stewardship
Tribal governments play an integral role in identifying priorities and participating in Border 2012 activities, while also hosting tribal caucus meetings to foster involvement in the program. Active tribal leadership and participation in the program has led to the successful completion of projects that have provided thousands of tribal border residents access to safe drinking water and wastewater infrastructure, and removed tons of solid waste.
To date, EPA's Tribal Border Infrastructure program has provided $34 million for 47 water infrastructure improvements projects that serve nearly 10,000 homes. With this funding, many tribal homes received access to piped drinking water and basic sanitation for the first time. The first tribal border project was the completion of the Cocopah Indian Tribe's East and West Sewers in 1999 and 2000.
Indigenous communities in Baja California and Sonora, Mexico also benefited from the U.S./Mexico Program. In Baja California, the indigenous communities of San Antonio Necua and San Jose de la Zorra received drinking water infrastructure improvements through a unique partnership among the U.S. and Mexico governments, U.S. and Mexico tribes, grassroots organizations, and volunteers on both sides of the border.
The Tohono O'odham Nation led efforts to address the need of its indigenous communities in Sonora, Mexico. With EPA border program funds, the O'odham indigenous community of Quitovac received a new drinking water system to serve the community and a boarding school for 100 indigenous children. Another project for the O'odham indigenous community of San Francisquito is currently underway.
History of EPA's Pesticide Program
The EPA regulates pesticides under the Federal Insecticide, Fungicide, and Rodenticide Act (FIFRA), and the Federal Food, Drug & Cosmetic Act (FFDCA) as amended by the Food Quality Protection Act (FQPA). Congress passed FIFRA in 1947 and amended it in 1972 and 1996 to add provisions including: a prohibition against pesticide misuse; penalties for violations of FIFRA; a requirement that pesticides be registered with EPA prior to sale or distribution; and a single health-based standard for pesticides in all foods to better protect infants and children.
EPA Region 9 first provided pesticide program funding under FIFRA in 1981 to the Gila River Indian Community. In 1982, EPA extended funding to the Inter Tribal Council of Arizona and in 1984 to the Navajo Nation. Currently, the Region 9 Pesticides Office funds 10 tribal programs and one tribal consortium. Other tribes, such as the Pala Band of Mission Indians and the Blue Lake Rancheria, are operating tribally-funded pesticide programs. Some tribes, like the Tohono O'odham Nation, are monitoring pesticide use with GAP funding.
Periodically, EPA also supports pesticide projects. Examples of project grants in the Pacific Southwest include:
Supporting the use of Integrated Pest Management by the Salt River Pima-Maricopa Indian Community and the Hopi Tribe to successfully reduce the amount and toxicity of pesticides used.
Funding for a circuit rider (hosted by Big Valley Rancheria) for six tribes around Clear Lake, California to help the tribes create infrastructure to minimize pesticide exposure from adjacent lands, and to become better informed about historical and current pesticide use within tribal boundaries. The circuit rider has completed pesticide assessments and action plans, and developed invasive species control and pesticide applicator programs for participating tribes.
Funding to the United Indian Health Service to provide pesticide safety education to member tribes and visitors to their basketry garden.
Pesticide Container Recycling
The Colorado River Indian Tribes (CRIT) Environmental Programs Office (EPO) held another successful pesticide container recycling event for farmers on the reservation, collecting approximately 8,500 pounds of empty plastic pesticide containers. After the containers were inspected and triple-rinsed, they were chipped on-site and then transported to the recycler's facility off the reservation. By setting up these multifarmer events, recycling set-up costs normally charged by the recycler to individual farmers are eliminated. Since the start of this recycling effort, over 24 tons of plastic containers have been recycled. The EPO regulates pesticide use on approximately 85,000 acres of agricultural land on the CRIT reservation.
Tribal Pesticide Enforcement Actions
Tribes in the Pacific Southwest Region continue to conduct pesticide inspections under their own authorities. As a result of these inspections, Navajo Nation and the Salt River Pima-Maricopa Indian Community, respectively, issued 12 and six Notices of Violation (non-monetary actions) based upon their tribal pesticide codes. In addition, the Gila River Indian Community and the Colorado River Indian Tribes successfully took penalty actions against pesticide violators. Tribes in the region are responsible for 57% of the pesticide enforcement actions taken nationwide in Indian country. Tribal enforcement actions are bringing increased compliance with tribal laws, and better protecting tribal communities and resources from pesticide exposure.
Tribal Inspections and EPA Enforcement Action
In 2009, based upon pesticide inspections conducted by Navajo Nation EPA, EPA's Region 9 Pesticides Office took three separate penalty enforcement actions against companies which allegedly misused pesticides. In one case, an applicator applied a pesticide in a child care facility where children were present. The other cases involve failure of hired applicators to use the required personal protective gear.
Pesticide Inspector Residential Training (PIRT) for Tribes
In partnership with EPA Region 9, the Inter Tribal Council of Arizona coordinated the first PIRT course ever hosted specifically for tribes. The training was held at the Fort McDowell Resort and Casino in Fort McDowell, Arizona from October 20-23, 2008. Twenty-two participants from 14 tribes and two tribal organizations attended the three-and-a-half-day training. The course focused on how to inspect pesticide applications in structural settings, including pre-construction use of pesticides to control termites. In addition to formal presentations, the training included practical exercises and a mock inspection of a local exterminator. Feedback from tribal participants was very positive and tribal attendees recommended continuing tribal-specific PIRT trainings in the future.
Navajo Nation EPA Inspects Non-BIA Schools
In support of EPA's National Indian Country Compliance Priority, the NNEPA pesticide program conducted four inspections of non-BIA schools on the Navajo Nation. EPA Region 9 Pesticides Office staff worked with NNEPA to select targets that have not previously been inspected by other EPA programs. The inspections included a review of records to ensure that only properly trained and certified applicators are applying pesticides on school grounds, and that all pesticides are stored in properly ventilated and secure locations.
Tribal Lead Hazard Accomplishments
Tribes in the Pacific Southwest have achieved tremendous progress in helping to meet the national strategic goal of substantially eliminating childhood lead poisoning as a major health threat by 2010. EPA grants enable tribes to accomplish three primary goals.
inform tribal community members on the health hazards of lead;
screen children between 18 months and six years old to identify elevated blood lead levels; and
conduct lead hazard evaluations at tribal housing and child-occupied tribal facilities built before
1978
During 2000 through 2008, 15 tribes received tribal lead grants. Tribes' successes in meeting the national strategic goal include:
Informing Community Members About Lead Hazards
The Pyramid Lake Paiute Tribe published, "Lead Poisoning and You," in their September 2004 newspaper Numuwaetu Nawahana (Telling Indian People's News) which described how people are exposed to lead hazards and how to prevent lead poisoning.
Sharing Lead Hazard Information with Other Tribes and Nearby Communities
In 2008, five tribes shared technical expertise and lead hazard accomplishments during the "Eliminating Childhood Lead Poisoning in Indian Country" panel presentation at the Annual Tribal/EPA Conference. The information was valuable in helping tribal representatives understand lead hazards in Indian Country and publicizing practical tools to eliminate childhood lead poisoning.
Conducting Lead Hazard Evaluations at Pre-1978 Tribal Housing and Facilities
The Hoopa Valley Tribe conducted lead hazard evaluations at a tribal housing complex built by the Bureau of Indian Affairs (BIA), and determined that lead in the soil exceeded safe levels. They then applied for and received BIA funding to remediate the soil, removing the potential hazard from the reservation. The Fort Bidwell Indian Community used General Assistance Program (GAP) grant funding to assess lead hazards at tribal housing units.
Screening Young Children to Determine Blood Lead Levels
Building upon a very successful lead outreach program that involved many community residents, the Colorado River Indian Tribes screened 169 young children and 14 pregnant women to determine their blood lead levels. Fourteen children were found to have elevated blood lead levels. For children with elevated blood lead levels, appropriate follow-up was done with the children's parents or guardians and tribal health staff to ensure that lead levels were reduced to meet guidelines set by the American Academy of Pediatrics.
To learn more, go to: EPA Grants Helping to Eliminate Childhood Lead Poisoning in Indian Country.