Science/Technology
Background | Innovative Uses for Scrap Tires | Other Innovative Uses in the News
Background
In recent years, research on uses for scrap tires and advances in technology have created many new markets and innovative applications. New uses for ground rubber and advances in civil engineering keep millions of tires out of landfills and stockpiles every year.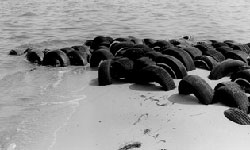 EPA performs research and development to identify, understand, and solve current and future environmental problems. EPA's Office of Research and Development has conducted research projects on scrap tires through EPA's National Center for Environmental Research. Research topics have included rubberized asphalt, bridge erosion protection, air emissions from scrap tire combustion, and pyrolysis.
One EPA funded project investigated the use of scrap tires to form a protective system for mitigating local scour around bridge piers. Local scour is the erosion of the riverbed around bridge piers. Bridge failure caused by this phenomenon has long been an important issue with respect to both public safety and maintenance costs. Nearly half a million bridgesnationwide are potentially affected by local scour. A honeycomb structure of scrap tires can mitigate local scour by modifying the water flow in the vicinity of a bridge pier and adjacent riverbed (more information on this project).
The US Department of Energy (DOE) also conducts research on innovative scrap tire uses. One project, sponsored by DOE's Office of Energy Efficiency and Renewable Energy, investigated the development of a method for treating rubber from scrap tires so that it can be used in various applications such as carpet underlay, automotive seals and gaskets, caulks, sealants, and adhesives. The treated rubber requires much less energy to produce than the polymers it replaces. More information on scrap tire research at DOE.
Innovative Uses of Scrap Tires
Highway Sound Barriers – Many states are turning to absorptive sound barriers—structures that soak up sound—to reduce highway noise. The "Whisper Wall" used in Northern Virginia, starts as a mixture of concrete aggregate, cement, water, and small pieces of shredded rubber from scrap tires. The wall deflects sound waves among its nooks and crannies until they lose energy.
Railroad Ties – Highly durable, rubber-encased railroad ties are being produced using scrap tires. These railroad ties have a steel-beam core filled with concrete that is then encased in 80 pounds of ground-up scrap tires and discarded plastic bottles, held together with a special binder or glue. These railroad ties are over 200% stronger than creosote-soaked wooden ties, enabling railroads to use fewer ties per mile. Moreover, rubber-encased railroad ties could last 60 to 90 years versus 5 to 30 years for wood.
Other Innovative Uses in the News