Publications
EPA Publications | Other Publications | Additional EPA Publications
You will need Adobe Reader to view some of the files on this page. See EPA's PDF page to learn more.
EPA Publications
Scrap Tires: Handbook on Recycling Applications and Management for the U.S. and Mexico (PDF) (129 pp, 3.75 MB) - November 2010 | en Espaņol (PDF) (132 pp, 3.75 MB)
This handbook provides a resource for federal, state, and local governments along with private industry in developing markets for the valuable resources contained in scrap tires. Specific markets and applications addressed include energy use, tire-derived aggregate, and ground rubber.
Air Emissions From Scrap Tire Combustion (PDF) (117 pp, 650K) – October 1997
This study focuses on (1) examining air emissions related to open tire fires and their potential health impacts, and (2) reporting on emissions data from well designed combustors that have used tires as a fuel.
Buy-Recycled Series: Vehicular Products (PDF) (8 pp, 455K) – October 2007
EPA fact sheet on buying recycled vehicular products-including retreaded tires-through the Comprehensive Procurement Guidelines (CPG) program.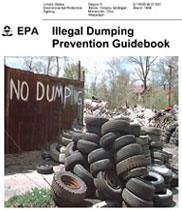 Illegal Dumping Prevention Guidebook (PDF) (33 pp, 1.1MB) – March 1998
This document presents the nature of the illegal dumping problem and summarize lessons learned from collaborative prevention projects across the United States.
Markets for Scrap Tires (PDF) (119 pp, 926K) – October 1991 [Note: Since this report is several years old, several state contacts will be out-of-date]
This report discusses the problems associated with scrap tires and identifies existing and potential source reduction and utilization methods that may be effective in solving the tire problem. Barriers to increased utilization and options for removing the barriers are identified and evaluated.
Profile of the Rubber and Plastics Industry (PDF) (158 pp, 3.7MB, About PDF)
This document contains industry information (economic and geographic); a description of industrial processes, pollution outputs, and pollution prevention opportunities; and compliance history.
State Scrap Tire Programs – A Quick Reference Guide: 1999 Update (PDF) (53 pp, 262K) – August 1999 [Note: Because this report is several years old, several state contacts will be out-of-date]
This guide summarizes each state's scrap tire management legislation and programs in a matrix for each state program. It provides state regulators, as well as members of industry, with a quick reference on state scrap tire programs across the country.
Other Publications
2008 Air Emission Data Summary for Portland Cement Pyroprocessing Operations Firing Tire-Derived Fuels (PDF) (32 pp, 195K) – Portland Cement Association, 2008.
This report highlights data concerning the impact of tire-derived fuel (TDF) firing on air emissions from pyroprocessing operations. The report also features statistical comparison in emission data sets between TDF versus non-TDF firing kilns for a variety of air contaminants.
2008 Tire Derived Fuel Sustainable Manufacturing Fact Sheet (PDF) (4 pp, 914K) – Portland Cement Association, 2008.
This fact sheet highlights the utilization of scrap tires as an alternative fuel source in the manufacture of cement. It also features recent trends in tire derived fuel consumption across US cement plants and includes an overview of the cement making process.
2007 Edition, Scrap Tire Markets in the United States

– Rubber Manufacturers Association, May 2009
This report is the most comprehensive compilation of US scrap tire management status. It gives the status of the various scrap tire markets, discusses trends in scrap tire management, and gives the number of remaining scrap tire piles. The study also details some of the challenges facing future scrap tire clean up and market development.
Environmental Fact Sheet: Scrap Tire Management in New Hampshire (PDF) (3 pp, 48K)

– New Hampshire Department of Environmental Services, Waste Management Division, Solid Waste Management Bureau, 2000
This fact sheet provides a general overview of scrap tire management in the state of New Hampshire.
Illinois EPA Used Tire Program Report

– Illinois EPA, Bureau of Land, Division of Land Pollution Control, January 1999
This report provides a history of Illinois' Used Tire Program, details accomplishments, and outlines future priorities.
Prevention and Management of Scrap Tire Fires (PDF) (37 pp, 90K)

– Scrap Tire Management Council, March 2000
In June of 1992, as part of an effort supported by the International Association of Fire Chiefs and the Scrap Tire Management Council, 17 individuals representing the fire service, government and industry met in Washington, DC to exchange information and experiences on managing tire fires. The recommendations of this group are contained in this document, and can be helpful in the prevention, planning and management of scrap tire fires. This document was updated in March 2000 to reflect changes to National Fire Protections Association guidelines.
Scrap Tire and Rubber Users Directory

– Recycling Research Institute, 2002
Available for ordering through the Scrap Tire News website, this comprehensive directory outlines the activities and services provided by companies servicing the tire and rubber recycling industry. Published and updated yearly, it features an exclusive Market Price Survey which provides current statistical market data and current market prices for materials such as crumb rubber, tire-derived fuel, and buffings.
Scrap Tires: Disposal and Reuse

– Society of Automotive Engineers and Robert H. Snyder, 1998
This comprehensive book describes the overall problem of waste tires, collection and processing issues, and the many innovative uses for scrap tires. The book also summarizes the technical and regulatory issues associated with scrap tire generation, disposal, and recovery.
Tire Recycling Is Fun

– Published by Paul Farber, 1998
Available for ordering through the Scrap Tire News website, this book contains over 50 useful projects for scrap tires and step-by-step guides to making items such as a tire swing, tire garden, and a Sabre saw blade.
Washington State Scrap Tire Report

– Washington Department of Ecology, Solid Waste and Financial Assistance Program, December 2002
This report is provides information on scrap tire management in Washington state and the surrounding region. Many types of scrap tire management programs are highlighted and provide information, examples, and lessons learned.
Additional EPA Publications
The following documents are offered online through EPA's National Service Center for Environmental Publications (NSCEP). To use the system, go to the NSCEP website and search by title of the document, publication number, or general subject (e.g., scrap tires, tire fires).
Environmental Fact Sheet: EPA Guideline for Purchasing Retread Tires. EPA530-SW-91-045. 1991.
Environmental Fact Sheet: Purchasing and Maintaining Retread Passenger Tires. EPA530-F-95-019. 1995.
Guideline For Federal Procurement of Retread Tires; Final Rule. EPAOSW-FR-90-005. 1988.
Scrap Tire Handbook. EPA905-K-001. 1993.
Summary of Markets for Scrap Tires. EPA530-SW-90-074B. 1991.
Any EPA publication may also be ordered from EPA's National Service Center for Environmental Publications (NSCEP). Publications may be ordered online, or by calling 800-490-9198.