Markets/Uses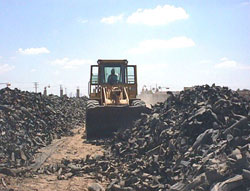 Scrap Tire Markets
The 3 largest scrap tire markets are:
Other applications include:
Both recycling and beneficial use of scrap tires has expanded greatly in the last decade through increased emphasis on recycling and beneficial use by state, local and Federal governments, industry, and other associations.
Unfortunately, even with all of the reuse and recycling efforts underway, not all scrap tires can be used beneficially. More information on scrap tire disposal.
Whole Tires and Cut, Stamped, and Punched Products
Scrap tires may be recycled by cutting, punching, or stamping them into various rubber products after removal of the steel bead. Products include floor mats, belts, gaskets, shoe soles, dock bumpers, seals, muffler hangers, shims, and washers.
Whole tires may be recycled or reused as highway crash barriers, for boat bumpers at marine docks, and for a variety of agricultural purposes.
For additional information on reuse and recycling of scrap tires, see:
Reuse-Retreading
Another market for scrap tires is retreading. Retreading involves removing the outside, or tread, of the tire and adding a new tread. Retreading saves millions of gallons of oil each year, because it takes only seven gallons of oil to retread a used tire compared to 22 gallons to produce a new tire.
Retread tires not only offer considerable environmental and economic benefits, but they also provide quality, comfort, and safety comparable to that of new tires.
The Tire Retread Information Bureau

estimates that about 24 million tires are retread and sold each year in the US and Canada, combined. The Rubber Manufacturing Association estimates that in the US, about 16 million scrap tires were retreaded in 2001. Most are used by the trucking, aircraft, construction, and agriculture industries, and on US government vehicles. Benefits of retreading are that it:
Saves resources by requiring 70% less oil for production.
Contains 75% post-consumer material.
Costs 30% to 70% less than making a new tire.
Saves landfill space.
The 290 million scrap tires generated in 2003 do not include the 16.5 million scrap tires that were retreaded.
Pyrolysis
Background
Pyrolysis is a method to break down tires into potentially usable end products. Called by a variety of names, such as thermal distillation and destructive distillation, pyrolysis is the heating of organic compounds in a low oxygen environment.
Products
Pyrolysis of waste tires generates combustible gases, oil, and char products. The quantity and quality of each product depends on variables including temperature, pressure, and residence time. Outputs for a typical pryolysis process are:
Oil: Usually varies in quality from saleable fuel oil that may need processing to lower-value oil blend stock.
Char: Contains a mixture of carbon black, titanium dioxide, zinc, steel and other trace inorganic compounds present in tires.
Gas: May be used to fuel the pyrolysis process or be combusted in a flare.
Market Trends
Although many attempts have been made over the past several decades, EPA is not aware of any commercial pyrolysis systems operating continuously in the US. According to the US Rubber Manufacturers Association's 2007 Edition, Scrap Tire Markets in the United States

, tire pyrolysis did not play a role in the management of scrap tires in the United States as of late 2007. One reason for this is that the value of the pyrolysis-derived oil, char, and gas has thus far has been lower than the overall cost of the pyrolysis process that produced them. The technology continues to be explored for commercial feasibility, and there are a limited number of pilot operations that have been built.
Practical Considerations
When investigating the pyrolysis process, some of the practical considerations include:
Challenges of operating in an oxygen-limited, high temperature environment with complex equipment and an abrasive feedstock (scrap tires);
Environmental considerations such as the need for air emission control systems and disposal of products or byproducts that may be unmarketable. In addition, zinc and sulfur, both found in tires, are not destroyed or decomposed thermally and may remain in one or more of the pyrolysis products;
It is difficult to optimize quality and yields of the pyrolysis-derived gas, oil, and char since conditions that favor one often have a negative impact on another. Refining end products may add costs if it is necessary to meet customer needs and may require additional pollution controls;
Markets of sufficient size and price that support the pyrolysis operation must be developed for pyrolysis-derived oil, char and gas. The quality and thus value of these end products may be different from the commercially available materials against which they are competing;
Products may have regulatory requirements that need to be met in order to be sold (i.e., Toxic Substance Control Act (TSCA); and
The need to ensure availability of a steady and adequate supply of tires within an affordable haul distance.
Additional Information
The Manufacture of Carbon Black From Oils Derived From Scrap Tires
2007 Edition, Scrap Tire Markets in the United States (US Rubber Manufacturers Association, May 2009)