Ground Rubber Applications
The market for ground rubber, also referred to as sized-reduced rubber or crumb rubber, has been growing over the past several years. In the ground rubber market there are two classes of particle sizes: "ground" rubber (10 mesh and smaller) and "coarse" rubber (larger than 10 mesh, with a maximum size of one-half inch).
Asphalt Rubber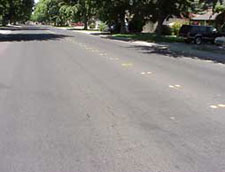 Asphalt rubber is the largest single market for ground rubber, consuming an estimated 220 million pounds, or approximately 12 million tires. California and Arizona use the most asphalt rubber in highway construction (over 80% of asphalt rubber utilized). Florida is the next largest user.
Ground tire rubber can be blended with asphalt to beneficially modify the properties of the asphalt in highway construction. Size-reduced scrap tire rubber can be used either as part of the asphalt rubber binder (alao known as, asphalt rubber), seal coat, cap seal spray or joint and crack sealant, or as an aggregate substitution (rubber modified asphalt concrete).
Benefits of using asphalt rubber include:
Longer lasting road surfaces;
Reduced road maintenance;
Cost effectiveness over the long term;
Lower road noise; and
Shorter breaking distances.
Asphalt rubber is being used in greater amounts by state Departments of Transportation. Arizona and Florida have been leaders in asphalt rubber utilization. Texas and Nebraska are currently using greater amounts of asphalt rubber. South Carolina is also pursuing utilization of asphalt rubber in county and state roads. Other states that have studied and/or used rubberized asphalt include New York and New Mexico.
For additional information, see:
Other Uses
Other uses for ground rubber include:
Molded rubber products (e.g., carpet underlay, flooring material, dock bumpers, patio decks, railroad crossing blocks, livestock mats, roof walkway pads, rubber tiles and bricks, movable speed bumps).
New tire manufacturing.
Brake pads and brake shoes.
Additive to injection molded and extruded plastics.
Automotive parts.
Agricultural and horticultural applications/soil amendments.
Horse arena flooring.