Grants/Funding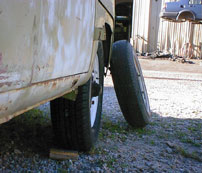 The majority of funding for scrap tire management, recycling programs, and market development is at the state level. However, some Federal research funding is available for small business doing innovative research. EPA does not provide funding for businesses using established technologies.
EPA's Small Business Innovation Research (SBIR) Program is administered by the Agency's National Center for Environmental Research and Quality Assurance (NCERQA) in the Office of Research and Development. The Agency's SBIR Program solicits and funds research proposals that address EPA priority needs including solid waste management techniques. The goal is to promote technology innovation and commercialization. The Program is intended to spawn commercial ventures that improve our environment and quality of life, create jobs, increase productivity and economic growth, and enhance the international competitiveness of the US technology industry. Generally, businesses with fewer than 500 employees are eligible to receive an SBIR award.
State agencies provide the majority of funding for scrap tire management and clean-up. Some states have recycling market development programs that offer financial assistance. Contact your state agency for specific information on grant/funding opportunities.
Examples of scrap tire projects funded at the state level:
The California Department of Resources Recycling and Recovery (CalRecycle) administers a tire grant program to provide opportunities to divert waste tires from landfill disposal, prevent illegal tire dumping, and promote markets for recycled-content tire products. Funds may also be used to fund tire amnesty days.



In 2000, the state of Missouri issued waste tire playground materials grants to schools and municipalities to promote increased usage.



In 2001, the Pennsylvania Department of Environmental Protection issued state grants to develop programs to recycle waste tires. Grants were made available to counties, municipalities, and nonprofit organizations. A variety of applications were pursued by grant recipients including recreational applications (running tracks, walking paths), playground applications, landscaping applications, and construction of a shock absorbent dance floor (Central Pennsylvania Youth Ballet).



In 2002, the Ohio Department of Natural Resources awarded nearly one million dollars scrap tire market development grants to five solid waste management districts and their private sector partners to help fund projects to shred used tires and recycle them as fuel, landscaping materials, and playground surfaces.



To address the scrap tire problem at the design level, the North Carolina Department of Environment and Natural Resources granted Continental General Tire $1.2 million in 1999 to fund research to design a tire that contains 25% recycled rubber without sacrificing tire durability or driving performance (for additional information, see Scrap Tires News ). Other major tire companies are currently using up to 10% recycled content.