EPA Response to BP Spill in the Gulf of Mexico
You are here: EPA Home
Coastal Sediment Sampling
Coastal Sediment Sampling
---
In response to the BP oil spill, EPA monitored air, water, sediment, and waste generated by the cleanup operations. Ongoing response and restoration efforts are posted to RestoreTheGulf.gov.
While emergency response data collection has ended, results continue to be available on this site. Any new data will continue to be posted to this site, and data will continue to be available here for the foreseeable future.
Much of the content of this site continues to be available for historical and information purposes, but we are no longer updating these pages on a regular basis.
---
Sediment samples taken to date indicate that there may be risks to aquatic life from pollutants in sediment at some locations. These levels have a higher potential for serious impacts to sediment-dwelling organisms and are classified as unhealthy. It is unknown whether the sediment contamination resulted from the BP Spill or was already present.
On this page:
---
Understanding EPA's Sediment Data
We are aware that oil is present on some beaches and marshes along the coastline and are collecting samples in or close to these areas. It takes several days from the point of collection to posting the data on the website so data posted may not reflect real-time conditions.
EPA's sediment sampling process includes the collection of the sample, laboratory analyses and data verification (which ensures high quality data). These steps take about 7 days to complete before the data can be posted on EPA's website. As such, the data EPA posts is not representative of current conditions but rather is a snapshot in time for a given location. We continue to take sediment samples and will post data as soon as it becomes available.
Sediment sampling locations are not necessarily representative of widespread coastal conditions.
Visitors and residents should refer to state and local information for beach closure conditions in their area.
EPA contaminant data are compared to technical benchmarks to determine the potential effects of contaminants on human health and aquatic life.
In areas where contaminant levels exceed benchmarks, it is important to remember that historical contamination may exist in some sampling locations and may not be related to the BP spill.
EPA, in partnership with states, oversees the National Coastal Condition Assessment (NCCA). NCCA reports describe the ecological and environmental conditions in U.S. coastal waters. When possible, EPA is comparing data collected during the BP spill response to the NCCA data. Sample results are also being compared to EPA water quality criteria guidelines and State water quality standards.
EPA sampling data is only one tool for examining water quality conditions. Again, we encourage visitors and residents interested in coastal, fishing and beach conditions to contact state and local authorities and websites.
---
Sediment Sampling Results
Assessing Impacts on Aquatic Life
Sediment samples collected to assess potential oil spill impacts on aquatic life near shore were analyzed for 29 chemicals that are components of oil. To reach a level of concern in the table below, only one of the 29 chemicals needed to be present at that level.
Sediment Sampling Locations and Reports:
---
Click here to view exceedance details (This will open in a new window)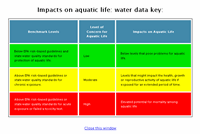 Learn what the data mean to you
The color-coded table "Impacts on aquatic life"; explains what the numbers on the table above mean to your health.
---
Sediment Dat

a

Download sampling and monitoring data.

---
Coastal Conditions in Your Area
For information on coastal conditions and beaches in your area please visit these state sites:
Alabama:
Florida:
Louisiana:
Mississippi:
Texas:
Government Response
Other federal government information:
Connect with us:
Facebook: EPA

Twitter: EPA

Photos: BP Spill | more photos
Get email updates