EPA Response to BP Spill in the Gulf of Mexico
You are here: EPA Home
Community Outreach
Community Outreach
Note: EPA no longer updates this information, but it may be useful as a reference or resource.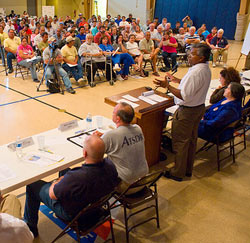 On this page:
On October 5, 2010 President Obama signed the Executive Order officially forming the Gulf Coast Ecosystem Restoration Task Force. He has charged EPA's Administrator Lisa P. Jackson with leading the national transition from emergency response to coastal recovery. This opportunity is very special to the Administrator because it combines her life passion of a healthy environment for our children and grandchildren with the opportunity to give something back to the region she still calls home.
The Task Force has representatives from multiple federal agencies and executive offices as well as a representative from each of the states. State and local governments, the private sector, tribes, scientists, and citizens will also be counted on for collaboration at all levels. The restoration plans will be shaped by the input of Gulf Coast communities, with strong support from Washington.
EPA recognizes the diverse fabric of Gulf Coast communities and is making community engagement a top priority of the task force. The first meeting of the task force was held in Florida on November 8th and was open to the public. There will be multiple meetings in the future. As soon as the schedule is set it will be posted on-line. We look forward to your feedback and comments and encourage you to sign up for our Task Force list serve.
Fact Sheets
These fact sheets contain additional resources for communities in a format that is easy to print for distribution.
You will need Adobe Reader to view some of the files on this page. See EPA's PDF page to learn more.
Odors from the BP spill (PDF) (2pp, 139K) - what you need to know
Waste management (PDF) (2pp, 129K) - oversight of cleanup efforts and waste directive
Waste, Trash & Disposal (PDF) (2pp, 364K) - answers "Where does the oil, oiled waste and trash go?"
Innovative technologies (PDF) (2pp, 74K) - the Interagency Alternative Technology Assessment Program (IATAP)
What are dispersants? (PDF) (2pp, 47K)
More Information - these fact sheets each contain worker safety phone numbers, links to hurricane information, volunteer and out of work claims phone numbers, and additional local phone numbers and web links.
Response Activities
EPA staff have been answering community members' questions on EPA's work in the gulf and distributing fact sheets. In addition:
On October 5th Administrator Jackson traveled to the gulf to meet with community and science leaders to discuss the new task force.
EPA Administrator Lisa P. Jackson has visited the Gulf seven times since mid April, participating in community meetings with fisherman, scientists, community members, business and environmental leaders in Louisiana, Mississippi and Florida.
On July 2nd Administrator Jackson participated in a conversation with the Editor in Chief of Essence Magazine, Angela Burt Murray about the fifth anniversary of Hurricane Katrina and the impact of the oil spill at the Essence Festival.
EPA Deputy Administrator Bob Perciasepe has also traveled to the region to meet with community members.
Assistant Administrator for Air, Gina McCarthy visited the Gulf Region from July 25-27 to discuss air quality with community members and local officials. Over her two-day trip she spent time in Gulfport, Mississippi, Mobile, Alabama, Pritchard, Alabama and Pensacola, Florida.
EPA representatives participated in a series of open houses:

July 28 - 12:00-2:30 PM Orange Beach Town Hall Meeting
Orange Beach Recreation Center, 4849 Wilso Blvd, Orange Beach FL

July 29 - 6:00-8:00 PM City of Gulfport Town Hall Meeting
Katie Patterson Booth Community Center, 502 26th St., just off Hewes Avenue, Gulfport MS

July 29 - 3:00-7:00 PM Orange Beach Wharf Responder Expo
The Wharf Conference Center, 4671 Wharf Parkway West, Orange Beach FL
EPA Speaker: Chris Russell, IC

July 29 - 6:00-8:00 PM St. Mary Parish Open House
AARP Bldg. 4014 Chennault St. Morgan City, LA
Gary Miller, EPA Liaison
July 30 - 8:00-11:00 PM Orange Beach Wharf Responder Expo
The Wharf Conference Center
EPA Speaker: Chris Russell, IC

August 5 - Beverly Banister, EPA Deputy Regional Administrator for Region 4 and other EPA officials toured the Pascagoula, Mississippi staging area with the Gulf Restoration Network, and NAACP.
August 5 - Beverly Banister, EPA's Deputy Regional Administrator for Region 4 and Art Smith, EPA's Incident Commander joined Steps Coalition's quarterly meeting. They discussed EPA's work and answered questions
August 6 - The Incident Commander, Art Smith toured the Theodore, Alabama waste staging area with the NAACP
August 11, at 1:00 PM BISCO (Bayou Interfaith Shared Community Organizations), Community Listening Session with EPA liaison Gary Miller
Montegut Recreation Center
107 Recreation Dr.
Montegut, LA 70377
August 11, at 6:00 PM BISCO (Bayou Interfaith Shared Community Organizations), Community Listening Session with EPA liaison Gary Miller
Ward 7 Recreation Center
5006 highway 56
Chauvin, LA 70344
August 12 - Mathy Stanislaus, Assistant Administrator Office of Solid Waste and Emergency Response lead a video town hall discussion on the BP oil spill. For more information about this Video Town Hall and previous discussions visit: https://www.epa.gov/oswer/videotownhall.htm.
August 19 - 5:00-8:00 PM - St. Bernard Open House will take place at the St Bernard Civic Center located at 3220 Jean Lafitte Parkway, Chalmette, Louisiana.
August 26 - 6:00-8:00 PM - Expo will take place at the Grand Isle Community Center. 3811 Highway 1, Grand Isle, LA 70358
November 8 - 11:30 AM-4:00 PM - First Meeting of the Gulf Coast Ecosystem Restoration Task Force. Pensacola Civic Center, 201 E. Gregory Street, Pensacola, Florida
---
Government Response
Other federal government information:
Connect with us:
Facebook: EPA

Twitter: EPA

Photos: BP Spill | more photos
Get email updates
---