Pacific Southwest, Region 9
Serving: Arizona, California, Hawaii, Nevada, Pacific Islands, 148 Tribes
Environmental Results through Tribal/EPA Partnerships
Safe Water
---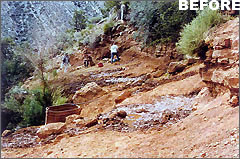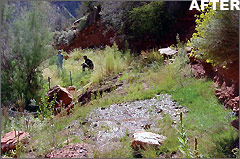 Clean and safe water remains a critical, integral piece of EPA 's partnership with tribes. In the Pacific Southwest, tribes face diverse challenges in providing safe drinking water, sanitation, and protecting watersheds and fisheries. Many tribes in the Region intertwine water with cultural activities and daily life.
Providing Water Safe to Drink
Tribes and EPA are working in partnership to provide safe drinking water for tribal community members. In 2005, EPA awarded $7.3 million in new funding for additional safe drinking water projects at seven tribal communities.
The Fallon Paiute-Shoshone Tribe successfully completed construction of an arsenic removal treatment plant providing safe drinking water for the community.
The Hoopa Valley Tribe used the EPA Drinking Water Tribal Set-Aside program to build a microfiltration plant which treats water from the Trinity River.
Protecting Water Quality
In 2005, 95 tribes received funding from EPA's Pacific Southwest Regional Office to protect rivers, streams and wetlands under the Clean Water Act, and most tribes monitored their water resources.

Several Klamath Basin tribes, including Hoopa, Karuk, Quartz Valley Reservation, Resighini Rancheria and Yurok, responded to toxic blue-green algae conditions on the Klamath River. These tribes demonstrated collaborative partnerships by participating in monitoring efforts with EPA, the State of California, the Salmon River Restoration Council and other local agencies. Together, tribes and agencies warned residents and recreational users of the Klamath River to use caution when near toxic algae blooms.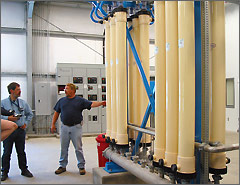 The Hualapai Tribe enacted Water Quality Standards and tribal ordinances which authorized enforcement to modify wildlife management and ranching practices. The tribe restored riparian wetlands by building fences in grazing areas, and removed feral animals around springs.
The Torres-Martinez Desert Cahuilla Indians broke ground in 2005 on an 85-acre, $1.5 million wetland pilot project. The project will improve water quality and enhance local wildlife habitat. EPA, the State of California, U.S. Bureau of Reclamation and the Salton Sea Authority joined the Torres-Martinez Chairman in the groundbreaking ceremony.
The Fallon Paiute-Shoshone Tribe received a grant from the U.S. Fish & Wildlife Service for mechanical removal and piling of invasive, non-indigenous salt cedar on 800 acres within tribal wetlands. Approximately 70 acres of salt cedar were removed from the reservation wetlands.