Pacific Southwest, Region 9
Serving: Arizona, California, Hawaii, Nevada, Pacific Islands, 148 Tribes
You are here: EPA Home
Healthy Tribal Communities
EPA and Tribal Accomplishments 2005
Tribes Get Results!
Healthy Tribal Communities
---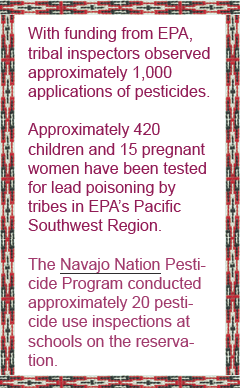 Reducing Pesticide and Toxic Exposures
Pesticide inspections ensure tribal community health and safety. Outreach and education programs alert tribal members about pesticide exposure and usage. In 2005, the Hopi Tribe and Pala Band of Mission Indians continued to implement and oversee Integrated Pest Management Programs at a day care and schools on their reservations, reducing children's exposure to pesticides.
Big Valley Rancheria used their EPA pesticide grant to conduct pesticide exposure assessments for six tribes in Lake County, California. The tribe assessed pathways of pesticide exposure for tribal members, such as use of tule reeds for traditional purposes.
This year alone, 55 children in the Hopland, Yurok, and Fallon Paiute-Shoshone tribes were tested by the Tribal Blood Lead Screening and Outreach program. Tribes provided outreach materials on the hazards of lead to nearly 1,000 tribal members.
U.S./Mexico Border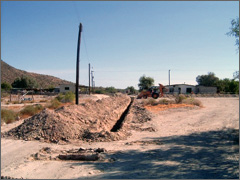 This year marks the first time EPA and tribes have provided safe drinking water to sister indigenous communities in Mexico. In August 2005, the Pala Band of Mission Indians and Aqualink, a California nonprofit organization, completed an assessment of the drinking water systems serving seven indigenous communities in the Baja California border region. Based on Aqualink's report, EPA is providing $66,000 to construct drinking water infrastructure for these communities. Mexico will be providing an unprecedented $900,000 U.S. dollars to provide safe drinking water and extend electricity to Santa Catarina and the Ejido Quilihuas Tribe.
The Tohono O'odham Utility Authority is currently constructing a new drinking water system for the O'odham community of Quitovac in Sonora, Mexico. This project will provide safe drinking water for the village, and for the boarding school of 100 O'odham children.
Conducting Environmental Education & Outreach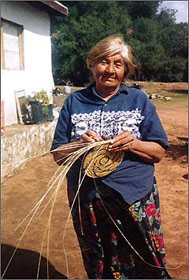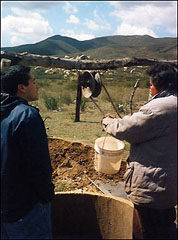 Many tribes use the General Assistance Program to conduct environmental outreach and education. Several tribes hosted Earth Days and sponsored workshops including inter-tribal youth camps and native cultural resource gathering days. The Cortina Indian Rancheria brought together around 300 young people from 11 tribes in Northern California for a series of environmental camps and activities at Lake Berryessa.
Bead work created by Lori Seidner Clark