Pacific Southwest, Region 9
Serving: Arizona, California, Hawaii, Nevada, Pacific Islands, 148 Tribes
You are here: EPA Home
Solid Waste Management
Solid Waste Management: Tribes closed 31 dumps, recycled hundreds of abandoned cars
Note: EPA no longer updates this information, but it may be useful as a reference or resource.
---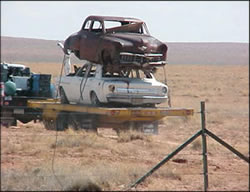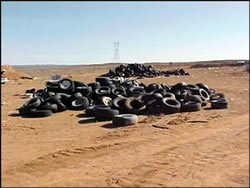 In 2003 EPA helped 15 tribes develop solid waste management programs, and funded 31 dump closures on tribal lands in the Pacific Southwest, and 16 junk auto/scrap metal/tire cleanup projects. Among the successes:
The Hopi Environmental Protection Office removed over 90 abandoned cars and more than 9,000 old tires from their reservation.
The Sherwood Valley Rancheria cleaned up four illegal dumpsites, removing 85 abandoned vehicles, 478 tires, six pickup truck beds, eight camper shells, 165 gallons of hazardous fluids, and 235 cubic yards of household trash.
The Pala Band of Mission Indians removed over 34,000 tires from their reservation, worked with the Bureau of Indian Affairs to issue a cease and desist order to a major junkyard that did not have an approved lease, and started a waste oil recycling program.
The Ak-Chin Indian Community removed over 80 abandoned vehicles, in the course of cleaning up illegal dumpsites.
The Kashia Band of Pomo Indians at Stewarts Point (California) cleaned 12 illegal dump sites, removing eight abandoned vehicles, one mobile home, 110 tires, three engines, 19 appliances, 21 car batteries, 32 tons of scrap metal, and 16 tons of household waste. The tribe also initiated a community education campaign to prevent illegal dumping, established a recycling center, and held three how-to clinics on recycling used motor oil.
Remaining challenges
The Tohono O'odham Tribe, on the U.S.-Mexico Border, started a five-year, $6.2 million project to clean up over 100 small open dumps.
Many more open dumps on tribal lands still await closure, cleanup, and development of better alternative solid waste disposal and recycling facilities.
Plan for 2004: Solid waste management
Using EPA funding, 18 tribes in the Pacific Southwest will close over 60 open dumps; five tribes will clean up abandoned cars, trailers, tires, scrap metal, and appliances. Seven tribes will develop recycling programs.
EPA will work with three tribes in California and Arizona to reduce backyard trash burning, which can emit highly toxic dioxin.
To improve waste management on tribal lands in the U.S./Mexico border area, EPA will fund a pilot project on the Tohono O'odham Nation to recycle materials left behind by illegal immigrants in the border areas.