Pacific Southwest, Region 9
Serving: Arizona, California, Hawaii, Nevada, Pacific Islands, 148 Tribes
You are here: EPA Home
Hazardous Waste Cleanup
Hazardous Waste Cleanup: Tribes, EPA oversee progress at Superfund, other sites in 2003
Note: EPA no longer updates this information, but it may be useful as a reference or resource.
---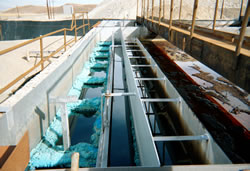 EPA worked with the Yerington Paiute Tribe and the Walker River Paiute Tribe on investigations of the Anaconda Mine Site (see photo). The Nevada Department of Environmental Protection (NDEP) completed the removal of hazardous fluids from this facility, eliminating a significant health hazard.
EPA funded the Elem Pomo Tribe's assessment of the risks of using natural resources that may have been contaminated by the Sulphur Bank Mercury Mine Site.
EPA funded Washoe tribal efforts to document Washoe uses of water, land, plants and animals that may be threatened by hazardous substances from the Leviathon Mine Superfund Site.
EPA worked closely with the Shoshone-Paiute Tribes of Duck Valley and the State of Nevada to investigate groundwater and soil contamination at the Rio Tinto Mine Site. EPA awarded the tribes a $45,000 grant to support their ongoing involvement.
EPA ordered Lawson Brothers Enterprises to stop burning solid waste at its dumpsite in Thermal, CA, which is on the Torres-Martinez Band of Cahuilla Mission Indians Reservation. EPA referred the order to the Department of Justice in July 2003, and a court issued a temporary restraining order.
EPA completed the removal of thousands of gallons of hazardous waste, including almost 100 55-gallon drums of flammable, toxic chemicals and about 3,000 gallons of hydrochloric acid sludge, from the abandoned Electro Treatment Co. Site on the Gila River Indian Community.
EPA and tribes also worked together to conduct Superfund site assessments, which are important preliminaries to cleanup:
EPA conducted environmental sampling and completed an assessment of the American Beauty Mine at the request of the South Fork Band of the Te-Moak Tribe.
EPA conducted environmental sampling and completed an assessment of the Cyprus Tohono Mine at the request of the Tohono O'odham Nation.
EPA and Navajo Nation completed the first phase of a GIS database designed for an inventory and ranking system for abandoned uranium mines.
Superfund and Brownfields Grants
EPA awarded Brownfields and Superfund cleanup capacity grants to five tribes in 2003:
The Salt River Tribe obtained $200,000 in Brownfields assessment funding, and $200,000 to clean up their closed landfill.
The White Mountain Apache Tribe used EPA funding to complete soil sampling at their closed lumber mill in McNary, AZ.
EPA grants helped the Navajo Nation, Gila River Indian Community, and Tohono O'odham Nation establish and enhance their cleanup programs.
EPA sponsored training for 10 Arizona tribes, to help them oversee small-scale underground fuel tank and hazardous substance cleanups.
Leaking Underground Fuel Storage Tanks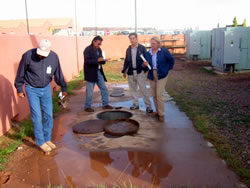 EPA's Pacific Southwest Underground Storage Tank (UST) Program:
completed eight leaking tank cleanups in Indian Country
conducted 75 inspections of underground tank facilities
trained 88 tribal inspectors to conduct UST inspections
proposed a comprehensive cleanup plan for the Tuba City UST site
published a poster and booklet for service station owners/operators, "Preventing Leaks and Spills at Service Stations: A Guide for Facilities"
Emergency Planning
EPA awarded two new emergency planning grants:
The Hopi Tribe received a grant to help them establish a Hopi Emergency Services Office.
Trinidad Rancheria received a grant to update their Emergency Response Plan and to cooperate with six tribes in northwest California on emergency planning and response.
Plan for 2004: Leaking Underground Fuel Storage Tanks
EPA will conduct 70 underground fuel storage tank inspections on tribal lands in the Pacific Southwest.
EPA will approve and carry out cleanup plans for the Tuba City leaking underground storage tank (LUST) site and the Arizona Traders site.
EPA will request funding from the agency's Office of Underground Storage Tanks for at least 10 new LUST cleanups on tribal lands.