Pacific Southwest, Region 9
Serving: Arizona, California, Hawaii, Nevada, Pacific Islands, 148 Tribes
Air Quality: Tribes use EPA Grants to Monitor Air
Note: EPA no longer updates this information, but it may be useful as a reference or resource.
---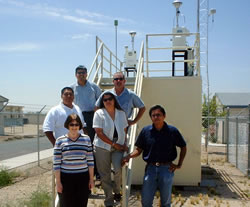 In the Pacific Southwest, 21 tribes used EPA grants to better assess air quality and reduce air pollution. There were over 43 air monitors at tribal sites in the region. The tribes' accomplishments in 2003 included:
Opening a new air monitoring station at the Gila River Indian Community.

The Hoopa Tribe initiated an extensive community outreach and education program that involved training high school students to monitor air quality.

The Walker River Paiute Tribe began developing a National Tribal Air Monitoring Network, working with four other tribes, the Tribal Air Monitoring Support Center, and the Institute for Tribal Environmental Professionals.
Remaining challenges
Of the 146 tribes in the Pacific Southwest, 58 live in areas that do not meet federal clean air standards. Most major air pollution sources in these areas are off-reservation and not subject to tribal jurisdiction. Many tribes still lack air monitoring data and trained air quality staff.
Plan for 2004: Air quality
EPA expects to transfer the Clean Air Act Title V Program (stationary source air emissions permitting) to the Navajo Nation. This will be the first tribal air permit program in the country.