Midwest Clean Diesel Leadership Recognition Program
The Midwest Clean Diesel Leadership Recognition Program raises awareness and recognizes individuals or organizations that have made significant, measurable improvements in air quality through the development and/or implementation of clean diesel actions (i.e. retrofits, replacements, fuels, education, leveraged funding, etc.)
The Midwest Clean Diesel Initiative is a collaborative effort to reduce emissions from the on-road and non-road diesel vehicles in the Midwest (IL, IN, MI, MN, OH, WI). In order to help us achieve our goals, there need to be leaders across the Midwest to take actions that make a real, lasting impact on air quality. So we use the Midwest Clean Diesel Leadership Recognition Program to recognize these leaders, and make sure that their efforts can be seen, learned, and replicated across the Midwest and the nation.
There are many ways to demonstrate leadership. This may include bringing organizations together to identify and implement emissions reduction projects, education and outreach, leveraging of funding, technology development, innovative financing, and other efforts that demonstrate leadership. These awards signify the recipients' commitment to air quality improvement and clean diesel actions.
---
About the Awards
Who is eligible?
Both public and private entities are eligible. Organizations can self-nominate or have others nominate them.
When are entries due?
Entries are due by Friday, December 30, 2011. Awards will be presented at the 2012 Midwest Clean Diesel Initiative Leadership Group meeting in Chicago, IL in early April 2012.
How do I submit my entry?
Applicants need to fill out an application form (PDF) (1 page, 68 K, About PDF) and email it to Anthony Maietta (maietta.anthony@epa.gov) or send it by fax to (312) 886-5824 (put "ATTN: Anthony Maietta" on the coversheet).
Who reviews the entries?
The MCDI Award Coordinators(Cummins, Illinois Environmental Protection Agency, American Lung Association of the Upper Midwest, and United States Environmental Protection Agency Region 5) review and select the awardees.
How will the entries be judged?
Each entry is reviewed on the following general criteria:
The entry directly or indirectly (i.e., by encouraging actions) reduces air pollution through clean diesel actions.
The entry provides a model for others to follow (is replicable) .
The entry's positive outcomes are continuing/sustainable.
The entry demonstrates effective collaboration and partnerships.
The individual or organization submitting the entry has effectively measured/evaluated the outcomes of the project, program, or technology.
The entry uses innovative technology and/or takes an innovative approach to reducing emissions from diesel engines.
How many awards will be given?
The number of awards are contingent upon the quality of nominations submitted.
---
2011/2012 Awards
There will not be MCDI Leadership Awards given out in 2011 because we have restructured the Initiative and moved our annual meeting ahead to the spring of 2012. After we award the recipients at the 2012 Annual Meeting, we will post the winners here.
---
2010 Award Winners
In 2010, four Midwest Clean Diesel Leadership Awards were presented to organizations who have taken outstanding measures or actions to reduce diesel emissions. We also awarded an individual with a Special Recognition Award to recognize his contributions to the Initiative since its inception.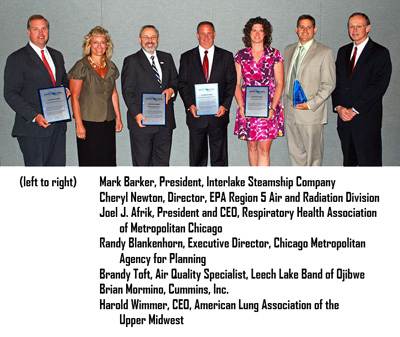 Respiratory Health Association Of Metropolitan Chicago
Joel J. Africk, President and CEO
The Respiratory Health Association of Metropolitan Chicago is a non-profit organization that began its long history of working for cleaner air and human health since 1906, when they started work to address tuberculosis outbreaks in Chicago
In 2007, RHAMC became an independent lung health organization, with the same core missions of addressing issues that affect Chicagoans' respiratory health
RHAMC pulled together and headed up the Illinois Campaign to Clean Up Diesel Pollution group. This preceded the Illinois Clean Diesel Workgroup and was a big part of their advocacy mission to help jump start diesel awareness, funding, and to "get things going" early on before EPA funding came about.
RHAMC projects include:

Successfully urging the Chicago Transit Agency to adopt ultra-low sulfur fuel, three years ahead of schedule (2003)
Successfully urging the City of Chicago to adopt a 5-minute No-Idling policy for its city-owned trucks and cars and the Illinois Department of Transportation to require the use of diesel equipment with cleaner fuel and pollution controls for their construction projects, beginning with the Dan Ryan Expressway Reconstruction (2005)
Helping pass the state's first No Idling Diesel Law. The law limits diesel truck idling in the Metropolitan Chicago and Metro East St. Louis areas to 10 minutes.
Their letters of support have helped many organizations receive Congestion Mitigation and Air Quality funding for important clean diesel projects across Northeast Illinois including the IL EPA clean diesel funds, locomotive projects and various retrofit projects for transit agencies. (ongoing)
RHAMC advocated for and aided in the development of clean diesel contract specifications at the state and county levels, and they are currently involved in the creation of such language for the City of Chicago
RHAMC works closely with the Illinois EPA, and has assisted in implementing over 100 successful clean diesel projects throughout the state.

It is because of these efforts, especially early on, that we have such a robust clean diesel community in IL and without their advocacy and raising expectations on government to take action to protect public health we would not have made the advances to reduce diesel emissions. Brian Urbaszewski and Ashley Collins have been working in diesel issues since before we established the leadership Group and have been valuable advocates to support the program.
Leech Lake Band of Ojibwe
Brandy Toft, Air Quality Specialist
The Leech Lake Band of Ojibwe's Reservation encompasses over 865,000 acres in Northern Minnesota.
For the past nine years, the Leech Lake Band of Ojibwe have taken active steps to reduce air emissions on their lands

In 2006 and 2007, the Tribe held air quality workshops focused on diesel emissions, which were attended by Tribal staff, as well as attendees from other Tribes, local school districts, county highway departments, community members, and local governments.
Relationships made during these two workshops grew into the following clean diesel projects, totaling almost $510,000:

The Tribe partnered with Minnesota Environmental Initiative in 2007 to retrofit 65 school buses in five rural school districts on and off the Reservation that serve the Leech Lake community
In the summer of 2009, Diesel multi-stage filters and DOC's were installed on 8 garbage trucks, pump trucks, and dump trucks through enforcement funds
Partnering again with MEI in 2009 using ARRA funds, the Tribe has installed 10 DOC's on a well rig, vehicle hauler, and 6 municipal vehicles, and have repowered, and are in the process of repowering two municipal trucks.
Using State of Minnesota Clean Diesel Grant funds, the Tribe is just about to complete installation of 8 more DOC's on dump trucks, and a wheel loader, and have repowered a road grader.
The Tribe was recommended for award for an EPA clean diesel grant to repower four dump trucks, which will occur over the next two years.

Through these projects, the Tribe has reduced 1,260 tons of NOx, 18 tons of PM, 61 tons of hydrocarbons, 68 tons of CO, and over 4,500 tons of CO2

The type of leadership and enthusiasm the Leech Lake Band of Ojibwe exhibits is critical for successful implementation of clean diesel projects. They are the most active tribe in Region 5 and a model for other tribes to emulate.
The Interlake Steamship Company
Mark Barker, President
The Interlake Steamship Company has operated shipping vessels on the Great Lakes since 1913, moving bulk cargo across the water system.
Interlake Steamship Company owns and operates the Paul R Tregurtha, the largest vessel operating on the Great Lakes.
At over 1,013 feet in length, the Tregurtha can carry around 70 tons of coal or ore
From mid-2009 until early this spring, Interlake Steamship repowered the main propulsion and auxiliary engines of the Tregurtha, a $14 million dollar project
This project was not undertaken to meet any EPA regulations, instead Interlake realized that the new engines would not only affect air quality, but their bottom line

The newly installed engines use substantially less fuel and produce less emissions than the old engines, all while requiring less maintenance.

In addition, Interlake installed a waste heat recovery economizer and a shaft generator, which provide the vessel with steam and electricity without the need for operating auxiliary boilers or service generators while the vessel is operating on open waters
The new engines and energy efficiency improvements are estimated to reduce 236 tons of NOx, 295 tons of PM, and over 24,000 tons of CO2 from the Tregurtha every year
As we move into more work in the marine sector, we will look for models like the Interlake Steamship Company to encourage others to take these steps.
Chicago Metropolitan Agency for Planning
Randy Blankenhorn, Executive Director
The Chicago Metropolitan Agency for Planning is Chicagoland's metropolitan planning organization, or MPO, and are responsible for programming the Federal Highway Administration's Congestion Mitigation and Air Quality funds throughout the metropolitan area since the CMAQ program started in 1992
CMAQ funds are primarily for addressing air quality issues through traffic flow and road construction projects, but there has always been a means to directly address diesel emissions through this fund
Chicago Metropolitan Agency for Planning, in partnership with the Illinois Department of Transportation, the Illinois EPA, Regional Transportation Authority, Chicago Department of Transportation, and county and municipal governments, has funded direct diesel emissions reduction projects since CMAQ's inception, but over the last several years the agency has consistently and aggressively directed CMAQ projects that directly address diesel engines

Since 2005, CMAP has purposed over $72 million in federal CMAQ funds to clean diesel projects in Northeastern Illinois. The projects have included early implementation of ultra low sulfur fuel, diesel retrofits for transit buses, school buses and municipal vehicles, genset locomotives and support of the Illinois EPA Chicago area diesel retrofit program which funds state coalition projects.
CMAP has increased the amount of CMAQ funding spent on clean diesel activities despite CMAQ allocations to Chicagoland remaining stagnant over that time period

The reductions associated with these projects are estimated to be: over 300 metric tons of particulate matter and over 8 thousand metric tons of NOx
CMAP is being recognized for their accomplishments to support clean diesel actions as well as their program transparency and are a model that we encourage other MPOs to emulate. Ross Patronsky, Senior Planner, has been a participant in the Leadership Group since its inception and has been a valuable resource to the group.
Special Individual Recognition by the MCDI Leadership Group
Brian Mormino, Cummins, Inc.
Brian Mormino is an individual who has made a significant contribution to not just the Midwest Clean Diesel initiative, but to the nation-wide push for voluntary diesel actions. In fact, without his work, there might not even be a Midwest Clean Diesel Initiative! Mr. Mormino, who is now with Cummins, was a founding co-chair for the Midwest Clean Diesel Initiative and also on the National level, one of the people responsible for the existence of a national program to reduce diesel emissions.
On the national level he helped create the National program that we see today through his role in Senator Voinovich's administration. The language he helped craft ultimately became the Diesel Emissions Reduction provisions in the Energy Policy Act of 2005, or DERA. This action created a central funding source at the federal level to support competitive programs and a state allocation to create programs at the state level across the country.
As EPA had created a National Clean Diesel Campaign, the EPA regional offices were beginning for form their own coalitions and create a structure and network to focus on clean diesel actions. Mr. Mormino served as the private sector co-chair from his new role at Cummins. It was through his efforts that private industry became such a strong part of the Midwest Clean Diesel Initiative. He got them on board and convinced them to sign on to collaborative principles to set the direction of MCDI.
He continues as a co-chair of MCDI and provides overall program direction and insight into how we can make improvements to grow the network and implement meaningful projects that support larger goals.
Without his efforts, the National and Regional campaigns to reduce diesel emissions would not have flourished so we thank him or all his work and for getting us all, nationally, to this level of accomplishment.
---
2009 Award Winners
In 2009, two Midwest Clean Diesel Leadership Awards were presented to organizations who have taken outstanding measures or actions to reduce diesel emissions.
Minnesota Environmental Initiative (MEI): Project Green Fleet
Bill Droessler, Director
The Minnesota Environmental Initiative is a non-profit organization started in 1992 with the goal of bringing together nonprofits, businesses, and government agencies to find consensus on critical issues and respond with actions that have measurable, positive environmental outcomes. MEI's Project Green Fleet (which they're winning this award for today) began in 2005, with the goal of retrofitting every eligible school bus in the state with emission reduction devices in order to reduce children's exposure to diesel exhaust.
Project Green Fleet is about halfway toward meeting their goal. 1,200 school buses had been retrofitted by the end of 2008, and the program is on track to have approximately 2,000 retrofitted buses by the end of 2009 with diesel oxidation catalysts and/or closed crankcase ventilation systems

MEI estimates that more than 30,000 children have reduced diesel exhaust exposure as a result of the work done so far

Project Green Fleet utilizes private, foundation, local, state, and federal funding sources. Entities that have committed resources to Project Green Fleet include: Blue Cross Blue Shield Minnesota Foundation, Flint Hills Resources, Braun Intertec, Aggregate Industries, The State of Minnesota, Cemstone, Donaldson Company, and EPA.

Between 2005 and 2008, Project Green Fleet has leveraged nearly $14 for every $1 of MCDI grant funds awarded to support the project.

Project Green Fleet, and MEI's other environmental efforts, have also been incorporated into the Diesel Emission Reduction Strategy for the State Of Minnesota, a document produced with MEI's input.

This creates the long-term strategy necessary to complete the school bus retrofits, as well as allow MEI to address other diesel emission sources across the state

To promote Project Green Fleet, MEI created a web page, utilized various press releases, print and electronic media. Most recently, MEI has partnered with the Minnesota Department of Commerce Waste Wise program to put on a series of "roadshows" across the state which highlight Project Green Fleet and other MEI initiatives
Wisconsin Department of Commerce (WDoC): Idle Reduction Grant Program
Jean Beckwith, Grants Specialist, and Thomas Coogen, Program Manager
The Wisconsin Department of Commerce created the Idling Reduction Grant Program in 2006 with funding authorized by the Wisconsin legislature. WDoC has since been able to leverage other funding sources to increase the effectiveness of the program.
The Idling Reduction Grant Program has awarded more than 1100 idling reduction units (in 339 grant awards) covering fleets across the State of Wisconsin.
Eligible fleets are Wisconsin-based, or have 80% of their payroll paid to employees in Wisconsin
Applicants receive up to 50% of the cost of an idle reduction device, provided that the applicant provide the remaining portion of the cost.

Fleets primarily employ Auxiliary Power Units (APUs)

Applicants also receive information about EPA's SmartWay Transport Partnership program to provide them with information about how they can further their fuel savings and emission reduction goals.
The WDoC sought input on the program from a wide variety of sources, including the Wisconsin Motor Carriers Association and the Owner-Operators Independent Drivers Association, EPA's SmartWay Transport Partnership, and the Midwest Clean Diesel Initiative
To inform the public of the grant program, WDoC created a web page, produced commercial radio spots, and press releases. WDoC also worked with various trade groups to spread the word of the opportunity to Wisconsin truckers.
EPA Region 5 and the Midwest Clean Diesel Initiative provided technical assistance and grant funding.
As a result of the successful execution of the Idling Reduction Grant Program:

The Wisconsin legislature has extended authorization of funds for the Idling Reduction Grant Program through 2015
The Wisconsin Department of Natural Resources and other state diesel grant programs used this program as a model for their Wisconsin Clean Diesel Grant program, which was funded by EPA's American Recovery and Reinvestment Act funds
MCDI "High Horsepower" Award For Individual Excellence
This year, the Midwest Clean Diesel Initiative Leadership Group presented the "High Horsepower" Award for Individual Excellence to a person who demonstrated outstanding leadership and has made an appreciable difference for cleaner air in the Midwest.
Darwin Burkhart, Illinois EPA:
Darwin Burkhart is the manager of the Clean Air Program for the Bureau of Air (but most folks know him as the diesel guy for the State of Illinois). He has been an active participant representing the State of Illinois in EPA's Midwest Clean Diesel Initiative for many years.
Darwin wears many hats at IEPA. In addition to providing technical and programmatic expertise, Darwin serves as chairman to several important workgroups including Partners for Clean Air, the Green Pays Program, and the Illinois Clean Diesel Workgroup. He administers, or helps administer, the Illinois Clean Bus Program, the Illinois Green Fleets Program, the Illinois Alternative Fuel Rebate Program, and the Illinois Clean Diesel Initiative.
Darwin also administers state and federal funds for clean diesel activities in Illinois. In 2008, he administered over $6 million for projects across the state, and when you add in the leveraged funds for these projects, the total adds up to over $15 million.
Over the past year, Darwin's work has resulted in the installation of EPA-verified technologies and other EPA-certified approaches to address emissions from utility trucks, over-the-road trucks, delivery trucks, transit buses, school buses, locomotives, marine engines, mining equipment, and other diesel-powered emission sources.

The implemented technologies include diesel oxidation catalysts, diesel particulate filters, diesel multi-stage filters, closed crankcase ventilation systems, auxiliary power units, direct-fired heaters, engine repowers, and diesel hybrid vehicle replacements.

Not just individual truck owners and trucking companies across Illinois work with Darwin. Across all the initiatives and workgroups, Darwin can count the following organizations as his clean diesel partners: The American Lung Association, Respiratory Health Association of Metropolitan Chicago, Chicago Department of Environment, Chicago Transit Authority, Commonwealth Edison, Cook County Department of Transportation, Forest Park Service of DuPage County, Illinois Department of Transportation, the Metropolitan Mayor's Caucus, PACE, the Regional Transportation Authority, and various industry organizations, like Cummins, Caterpillar, and more.
---
2008 Award Winners
Roehl Transport: Wisconsin-based Roehl Transport is a truck carrier with over 4,000 trailers and 1,650 power units, placing them among the top 100 trucking companies in the nation. Roehl Transport is committed to improving their environmental performance, and has done so by incentivizing clean diesel activities and through participation in EPA's SmartWay Transport Partnership. To date, 15% of Roehl's fleet is equipped with auxiliary power units (APUs), and the company anticipates that their entire fleet will be APU-equipped by 2010. Additionally, Roehl's trucks have been governed to a maximum speed of 63 mph, with a maximum cruise control speed of 61 mph (these speeds were reduced from 65 mph). Roehl creates an incentive for its drivers to reduce idling by setting an idle standard for them each month. Top drivers receive an additional bonus from the company. Through these actions, Roehl drivers have reduced unnecessary idling by 41% over the last year.
The Ohio Environmental Protection Agency: In 2005, the Ohio Environmental Protection Agency sought legislative authority to collect civil penalties for pollution violators, and use that money to fund grants to school districts for reducing diesel emissions. The Ohio Clean Diesel School Bus Fund has since awarded $1,643,813 to install pollution control equipment on 642 school buses in 33 districts across Ohio. Priority is given to school districts in PM2.5 nonattainment areas and to school districts that have an idle-reduction policy in place. Schools can choose to install diesel oxidation catalysts (DOCs), diesel particulate filters (DPFs), closed crankcase filtration systems, or any other technology that is on EPA's or CARB's verified technology lists. Ohio EPA partnered with multiple organizations to secure legislative approval and implement the program. Partner organizations include local air and regional planning agencies, fuel and equipment vendors, the Ohio Environmental Council, and the Ohio Department of Education's Pupil Transportation Division. The City of Broadview Heights, Columbus Public Schools, Hamilton County Department of Environmental Services, and the Ohio Department of Transportation hosted information sessions to roll out the program. EPA Region 5 and the Midwest Clean Diesel Initiative provided benchmarking assistance, while the Ohio State Highway Patrol helped ensure that retrofits did not interfere with mandatory school bus inspections each summer. Finally, the University of Cincinnati's Childhood Allergy and Air Pollution Study served as a resource for related health issues. The program was so successful that the Ohio General Assembly voted to reauthorize the program at a funding level of $600,000 each year through 2009. Ohio EPA seeks to increase funding and continue the program for the foreseeable future.
City of Chicago Department of Fleet Management: The City of Chicago's Department of Fleet Management (DFM) has implemented an array of clean diesel actions under its Diesel Vehicle Emissions Reduction Program. The program takes a multi-pronged approach to address its legacy diesel fleet which includes the purchase of pollution control retrofit technologies (including DOCs and DPFs), idle reduction technologies and policies, purchase and use of alternatively-fueled vehicles, creation of alternative fuel stations, and the purchase of hybrid vehicles. Through this combination of approaches, the City of Chicago DFM has, to date:
Retrofitted 511 vehicles (refuse trucks, utility trucks, street sweepers, front end loaders) with DOCs
Retrofitted 4 sweepers and 4 refuse trucks with DPFs
Purchased 346 alternatively-fueled vehicles (272 E-85 flex-fuel vehicles and 74 compressed natural gas-powered (CNG) vehicles)
Purchased 232 hybrid vehicles (38 Priuses, 194 Escapes, 1 shuttle bus, and 1 aerial bucket truck)
Added CNG to 5 fueling stations and built a sixth
Added E-85 fuel to 5 stations
Installed idle-shutdown devices on 611 medium- and heavy-duty trucks (750 to be completed by year-end)

The DFM will soon have GPS monitoring ability for these vehicles
The City of Chicago DFM has utilized multiple funding sources to augment the costs of these activities. Funding sources include EPA and state supplemental environmental projects, Congestion Mitigation and Air Quality (CMAQ) funds, MCDI funding, and local matches.
MCDI "High Horsepower" Awards for Individual Excellence
Jessica Lawent, Wisconsin Department of Natural Resources/Wisconsin Clean Diesel Coalition: Jessica Lawent has been an active participant in EPA's Midwest Clean Diesel Initiative representing the State of Wisconsin on clean diesel efforts for many years. Over the past year, Jessica was responsible for the creation of the Wisconsin Clean Diesel Coalition (WiCDC) and for guiding this effort into a cohesive, effective multi-stakeholder group that has, as one of its goals, an ambitious target of affecting 50,000 legacy diesel engines in Wisconsin by 2010. The WiCDC is primarily focused on educational outreach and the development of funding mechanisms to accelerate emission reductions from diesel fleets. The group meets regularly in Madison, and has its own web site (to visit the Wisconsin Clean Diesel Coalition web site, click here

). MCDI staff and EPA management certainly recognize the effort and dedication needed to create a State coalition from the ground up. It takes a person to direct the effort with dedication, leadership, organizational skills, and a drive to make it happen. Jessica exhibited all these skills and more by building the WiCDC to what it is today.
Joe Koncelik, Frantz Ward LLP: Joe Koncelik has been an integral part of Ohio's clean diesel activities. First, as Director of the Ohio Environmental Protection Agency, Joe created the Ohio Clean Diesel School Bus Fund by focussing the efforts of the Agency's enforcement program to create a sustained program to reduce pollution impacting children and targeting particulate matter hot spots. Later, Joe brought a diverse group of stakeholders together and demonstrated the need for in-state funding for clean diesel activities. As a result, Ohio's Diesel Emissions Reduction Grant (DERG) program was developed and funded at $20 million. Joe continues to push for the full implementation of DERG and future, sustainable funding sources to address Ohio's air quality concerns. He has been instrumental not only in clean diesel actions but also in making strides to find practical solutions to Ohio's air quality issues.
---
2007 Award Winners
In 2007, three Midwest Clean Diesel Leadership Awards were presented to groups who represent diverse backgrounds and interests. In no particular order, here are this year's winners:
Hamilton County, Ohio, Department of Environmental Services serves as a model for what local communities can do to affect voluntary emission reductions and clean the air in their communities. The department started the Southwest Ohio Clean Diesel Campaign in 2003, which continues today. It has partnered with public and private sector organizations, and since 2004 the department has retrofitted 265 buses and is on its way to meeting its goal of retrofitting 800 school buses.
South Shore Clean Cities, Inc. was recognized for demonstrating leadership by creating and implementing clean diesel programs in Northwest Indiana and beyond. SSCC is a nonprofit organization that has forged many partnerships in the area. It has organized and contributed to more than 30 outreach events, retrofitted 35 school buses and seven other locally owned vehicles, and created a Web site and an anti-idling print, radio, and Web campaign that reached thousands of Indiana residents.
Marten Transport, Ltd. is a trucking company with a fleet of about 2,200 vehicles. The company's goal is to retrofit its entire fleet with auxiliary power units to reduce whole-engine idling in 18 months starting in June 2007. The project will save more than four million gallons of fuel a year and cut air pollution. So far, 800 vehicles have been retrofitted.
Special Recognition Award:
The Midwest Clean Diesel Initiative Leadership Group also presented a special recognition award to the Ohio Environmental Council, a founding member of the MCDI Leadership Group, for its efforts in helping to create the group as well as its leadership in reducing diesel emissions in Ohio. Across the state, OEC is working with school districts to secure funding and to implement retrofit, refueling, repowering, replacement, and idle-redcution projects. So far OEC has helped bring more than $1.5 million to reduce Ohio school bus emissions. It is working with 17 school districts in the Canton-Massillon areas and with eight school districts in the Columbus area.