Greenacres Links
---
Landscaping Resources
---

(About PDF)
Remember, we will not post any information intended to directly benefit for-profit enterprises
Green Landscaping: Greenacres
Wild Ones Handbook
WHAT EVERY WILD ONE SHOULD KNOW
---
"We need natural areas to bring people and Nature together. We need a place for youth to be wowed by 10-foot-tall prairie grasses." -
Marlin Johnson
PLANTING POLICIES
FROM THE WILD
With property owner permission, you may collect seeds and plants from the wild -- with the understanding that Nature needs you to leave the greater portion behind to rejuvenate herself.
You may also rescue great numbers of plants that would otherwise be lost to land development. Watch for indications of impending bulldozer activity, such as real estate signs or surveyor markers. Again with permission, you and other Wild Ones members may be able to take home trunk-loads of flowers, grasses, mosses, sedges, rushes, shrubs, and small trees.
Plant Rescue Procedures:
Seek out the property owner or real estate developer for permission to trespass.
Survey the site for indigenous species (ask your chapter president for help).
Contact your chapter's rescue coordinator. If you do not have a coordinator,

you may call the developer, explaining that: you are a member of a non-profit organization that promotes the use of native American plants in home landscapes
plant rescuers take responsibility for their own safety and are willing to sign release waivers, protecting the property owner from any liability rescuers are willing to dig during whatever hours are convenient to
the developer the developer can generate good publicity out of their generosity in helping to preserve some native habitat

Inform fellow Wild Ones members about the exact location of the site, its boundaries, growing conditions and types of plant communities present, and any restrictions imposed by the owner.
Dig and transplant, cutting back the top third of each forb to reduce transplant shock.
Express your gratitude. (By maintaining an upbeat, professional manner and honoring the developer's restrictions, you may be treated to additional
dig sites in the future by the same developer!)

Beware: If you take plants under any other circumstances, you risk criminal prosecution.
SOWING FARTHER A FIELD
Wild Ones members often branch out with their natural landscaping, taking it to their house of worship or place of business. Oftentimes teachers initiate prairie plantings at schools. An aid to anyone around the country is the University of Wisconsin-Madison Arboretum book-and-binder combination called Prairie Restoration for Wisconsin Schools. It covers every subject you would hope -- cultural history, definitions, climate and weather, grasses, insects, birds, mammals, ecosystems, food webs, soil analysis, biodiversity, restoration, land ownership, mapping skills, plant immigrants, pollution, site preparation, observation and keeping a journal, research, and more! Anyone may order Prairie Restoration for Wisconsin Schools for $20 plus $3 shipping charges (Wisconsin residents add $1.10 to cover sales tax; schools should send their tax exemption number). Order from and make checks payable to:
UW-Madison Arboretum
1207 Seminole Hwy.
Madison, WI 53711

Prices are subject to change, so it would be wise to check the price by calling (608) 262-2746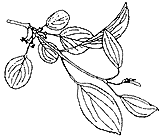 PLANT CHOICE
Experienced natural landscapers recognize that alien grasses, flowers, vines, shrubs and trees have come to dominate dwindling societies of native species. And you will notice as you go on yard tours that many Wild Ones members have chosen to eliminate all alien species from their properties. This does not mean that you must give up Aunt Eva's heirloom hollyhocks, your vintage asparagus patch, or your teenager's athletic turf. Indeed, good landscaping takes into account such thoughtful considerations. Wild Ones disparages only mindless and environmentally irresponsible land practices. To that end, we not only recommend you get to know the beautiful native plants of America, but that you make yourself familiar with some of the marauding bullies of the vegetative world.