Greenacres Links
---
Landscaping Resources
---

(About PDF)
Remember, we will not post any information intended to directly benefit for-profit enterprises
Green Landscaping: Greenacres
Wild Ones Handbook
WHAT EVERY WILD ONE SHOULD KNOW
---
"Coexistence is
part of the very
foundation of
Nature." -
Robert Masello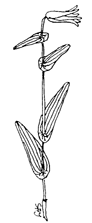 Important Causes of Hayfever
People often wonder if native landscaping contributes to allergies. You'll see from the list below that the real culprits are rather a select group of trees, non-native grasses, and 'weeds' (plants no one would choose to add to their landscape).
This information was collected from That the Patient May Know by Harry F. Dowling, M.D. and Tom Jones, M.D. and The International Textbook of Allergy edited by J.M. Jamar, M.D. Annotations by Lorrie Otto.

TREES Birches (Betula) Hickories (Carya) Ashes (Fraxinus) Walnuts (Juglans) Oaks (Quercus) [Although many trees are important sources of allergenic pollens, no one would suggest that woods be destroyed for that reason.]

GRASSES Redtop Grass (Agrostis albia) Bermuda Grass (Cynodon dactylon) Orchard Grass (Dactylis glomerata) Timothy (Phleum pratense) Kentucky Blue Grass (Poa pratense) [None of the grasses above is native to the U.S.]
Many grasses bloom in May and June when ground-nesting birds need cover. To mow at that time destroys both cover and nests. Ironically, though it is against the law to shoot songbirds, it is not illegal to destroy their nests. Mowing grasses from mid-July to frost is counter-productive for the following reasons:
Many grasses are in seed at this time. Thus mowing does nothing to remove pollen.
Mowing eliminates a good filter that removes dust and other particulates which are health hazards that pose problems for the entire population.
Cutting removes good food and cover for wildlife. (This does not include rats, which do not gather grass seeds, but depend on grain cribs, garbage, and pet food. Rats are not native to the U.S. They arrived in America with settlers and are dependent on people.)
Mowing maintains the landscape at weed level. Annual weeds germinate and thrive in disturbed soil.
Frequent mowing retards the growth of perennial native flowers and prevents their seeding.
[Note: Plants with colored flowers, including white, are all insect-pollinated (vs. wind-pollinated). Often white flowers are pollinated by moths at night.]