Greenacres Links
---
Landscaping Resources
---

(About PDF)
Remember, we will not post any information intended to directly benefit for-profit enterprises
Green Landscaping: Greenacres
Wild Ones Handbook
WHAT EVERY WILD ONE SHOULD KNOW
---
""If nothing moves
in your landscape
but a lawnmower,
it's time to think of
designing a natural
yard." -
Rochelle Whiteman

Landscaping for Wildlife
PROVIDE...
A diversity of plant species
Shelter (brush and wood piles, thickets)
Water and mud puddles
Stones for sunbathing
DO NOT USE...
Toxic chemicals
Electronic bug-zappers
Aerial sprinklers (they wash pollen and nectar from the flowers)
A lawnmower
PROVIDE...
A home for insects (follow advice above)
Shelter (especially evergreen trees for winter wind breaks)
Nesting sites (a variety of shrubs, trees, deadwood and birdhouses)
Birdfeeders
Birdbath
Bare ground for dustbaths
Confine All Cats.
IN PRAISE OF ROCK WALLS
I had gathered rocks as a boy, cataloging them by type -- sedimentary, metamorphic, and my favorite, igneous. My adult collection, however, was different. I searched for certain shapes and for colors. I had begun accumulating lumpy detritus that would one day be a backyard rock wall.
From the perspective of a newt or toad, the jumbled bulwark that now frames almost a quarter of my lot is home sweet home. Dark damp crevices provide food, a moist environment, stable temperatures, and secure hiding places from predators. Shrubs and trees play off its curves, providing food and solace for songbirds and butterflies. Leaves fill up its harsh abutments, softening the angles while nurturing small, crawling creatures. Lichens and mosses colonize its sunny surfaces. In years to come, their gray and green tones will further soften and enhance the wall.
- Craig Tufts
"Good neighbors come in all species." -- Sally Wasowsk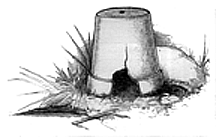 ..AND GRAVEL DRIVEWAYS
Others make more use of my gravel driveway than I do. After a rain, a puddle serves as a bathtub for a Redwing Blackbird and a drinking fountain for a Robin. Butterflies congregate at the edge, sucking water and minerals through their soda-straw mouths; Muddauber Wasps gather mud to construct a nursery for their young; Painted Turtles use the moist sand along the shoulder to incubate their eggs, and Barn Swallows pick up wads of mud to build their earthy nests. When the gravel dries, Chipping Sparrows stop for a dust bath, and Flickers lap up ants with their long tongues. In winter, birds find the grit they need to grind the seeds they take from my feeder (my gravel grit doesn't have salt like that on the shoulders of public roads). If I would cover this gravel with tar or concrete, I'd be forcing this wildlife to go elsewhere (if indeed there is an elsewhere) and I would lose those priceless glimpses into their world.
- Marlin Johnson
TO MAKE A TOAD HOME:
Cut a small arch in the rim of a clay pot for an entrance. Invert the pot amongst vegetation in a secluded, shady spot near water and a rock pile.
- Naturescape British Columbia