Engage the Community
Promoting voluntary actions and encouraging behavior change, even if the changes are small, can have a big impact on mitigating climate change, saving energy, and building sustainable communities. For example, according to ENERGY STAR, if every American household switched just one inefficient light bulb to a different one certified by ENERGY STAR, the amount of saved energy could light 2 million homes for a year, save about $460 million in annual energy costs, and prevent 6 billion pounds of greenhouse gas emissions per year.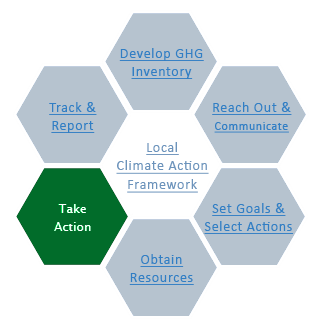 The guidelines presented here are intended to assist local entities such as municipalities, non-profits, and community groups in designing and implementing efforts to promote such actions and change. Programs to encourage voluntary actions and behavior change could include:
Promoting residential and commercial energy efficiency (e.g., conducting a small business energy efficiency challenge, encouraging residents to adopt pledges to reduce energy use, providing financial and technical assistance for residential energy audits and retrofits, promoting participation in ENERGY STAR's National Building Competition).
Increasing community renewable energy production or consumption (e.g., conducting outreach to encourage voluntary purchases of renewable energy, providing rebates for solar energy installation, encouraging residents and businesses to invest in community solar projects).
Reducing community waste (e.g., offering a curbside recycling service, conducting outreach and training to initiate a composting program, organizing a community-wide paper-shredding day to promote paper recycling)
Encouraging alternate transportation (e.g., distributing resources on alternate transportation such as walking and biking maps or bus schedules and a few free bus passes, promoting a community-wide bike-to-work challenge).
Promoting sustainable land use (e.g., hosting a forum to promote the use of smart growth, transit-oriented development, and Leadership in Energy & Environmental Design (LEED), neighborhood development principles in parcel or neighborhood design, providing financial incentives for more compact development, conducting outreach and training on green gardening practices to conserve water and protect the soil).
Promoting community resilience (e.g., conducting demonstration projects of strategies that reduce the urban heat island effect such as green roofs, cool roofs, cool pavements, permeable pavements, and urban forestry; setting up a neighborhood check-in system during extreme weather events).
The following key steps focus on developing programs to encourage the adoption of voluntary actions and behavior change by a community's residents, businesses, and visitors. Information on adopting a policy in the form of a plan, ordinance, regulation, or other mechanism to mandate sustainable actions is covered under Adopt a Policy. Information on projects or programs to make changes to government operations is covered under Promote Green Government Operations.
The key steps presented here describe how to design and roll out voluntary programs, including crafting effective outreach campaigns and continually monitoring and adjusting the activity based on feedback from stakeholders and measured outcomes.
To be connected with a local representative with experience implementing these types of programs, contact us.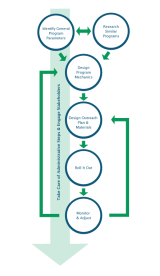 View Diagram
Key Steps

Printable Checklist
Here we discuss the key steps in designing and implementing a voluntary program. The steps in the process are not necessarily intended to be pursued in linear order, as illustrated in the diagram. For example, engaging stakeholders and taking care of administrative steps will likely occur throughout the process, and the design of program mechanics, the outreach plan, and outreach materials may change based on stakeholder feedback and measured outcomes.
Tools and Templates
ENERGY STAR® Portfolio Manager
An energy management tool that allows tracking of energy and water consumption across an entire portfolio of buildings.
ENERGY STAR® Challenge Toolkit
Communication materials that provide information on energy efficiency and how to get involved with ENERGY STAR, including sample event ideas and promotional items to set up an ENERGY STAR Challenge.
ENERGY STAR® Home Energy Yardstick
Tool that provides a simple assessment of one home's annual energy use compared to similar homes in the country. 
EPA's Green Power Partnership Publications and Resources
Information on green power purchasing and how to get involved in the Green Power Partnership, a voluntary program that encourages organizations to use renewable energy.
Acknowledgements:
EPA would like to acknowledge Justin Lehrer (StopWaste, Alameda County, California), Tobin Freid (Sustainability Division, Durham County, North Carolina), and Andrew Kreider (U.S. EPA Region 3) for their valuable input and feedback as stakeholder reviewers for this page, as well as Lindsay Selser (City of Eugene, Oregon) for her contributions to the SmartTrips case study.