Promote Green Government Operations
Local governments have an opportunity to achieve substantial cost savings, demonstrate energy and environmental leadership, develop local municipal capacity and expertise, and raise public awareness by promoting green government operations. "Green" government operations are operations that minimize an entity's environmental impact, including its energy use, water use, waste and pollution generation, and greenhouse gas emissions. While municipalities and counties across the country face tight budgets, smart investments can reduce operational costs and demonstrate how to implement climate-friendly, green activities.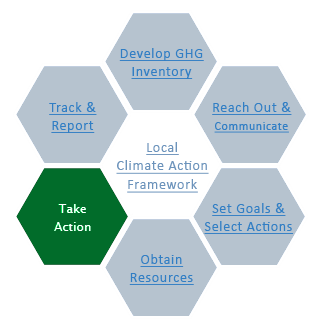 These guidelines below provide local governments with information on how to make their operations greener and then use those examples to inspire and promote community action. Promoting green government operations might include:
Increasing energy efficiency (e.g., conducting an energy audit and efficiency upgrades at city hall, building city facilities to Leadership in Energy & Environmental Design (LEED) standards, installing a revolving door in high traffic entrances).
Using alternative energy (e.g., using solar panels to power electronic parking meters, installing a wind turbine to power government buildings).
Reducing waste (e.g., replacing single-use water bottles with pitchers and reusable glasses at meetings, introducing composting receptacles in staff kitchens, replacing individual trash bins with desk-side recycling bins).
Encouraging greener transportation choices (e.g., providing bike racks, showers, and locker rooms for city employees who ride to work; incentivizing staff use of public transportation or carpools; purchasing electric or hybrid vehicles for the city fleet).
Implementing sustainable land use decisions (e.g., locating public services near transit options, limiting the number of parking spots required for public buildings).
Increasing the resilience of government assets and reducing the heat island effect through government infrastructure (e.g., installing green infrastructure at government facilities, such as green and cool roofs, rain gardens, cool and permeable pavements; paving roads with resilient materials).
The following key steps describe how to effectively design and implement green upgrades, with a focus on government facilities. Steps include convening decision-makers, understanding existing efforts, and publicizing stories that demonstrate success. Information on adopting a policy in the form of a plan, ordinance, regulation, or other mechanism to mandate sustainable actions is covered under Adopt a Policy. Programs related to incentivizing or otherwise encouraging behavior changes in the community are covered under Engage the Community.
To be connected with a local representative with experience implementing these types of programs, contact us.

View Diagram
Key Steps

Printable Checklist
Here we discuss the key steps in designing and implementing green government upgrades. The steps in this process are not necessarily intended to be pursued in linear order, as illustrated in the diagram. For example, establishing goals and identifying obstacles, surveying local efforts and researching similar programs, developing program/project details, and developing an outreach plan may all happen simultaneously. Alternatively, earlier steps may be revisited after subsequent steps are explored. In addition, engaging stakeholders occurs throughout all steps of the process and is integrated into each of the step descriptions.
Case Studies
Portland, Oregon: Sustainability City Government PartnershipExit
A collaborative effort to integrate sustainable practices and resource efficiency into municipal operations.
Arlington County, Virginia: Energy Efficiency in Local Government Facilities and Operations
Arlington County's Fresh AIRE (Arlington Initiative to Reduce Emissions) Program launched to improve the energy efficiency of county buildings and operations (highlighted on page 47 of document).
King County, Washington: Energy-Efficient Product Procurement
An environmental purchasing program that started as an initiative to promote recycled materials and is now a comprehensive purchasing program with several energy-related and environmental goals.
Phoenix, Arizona: Energy Conservation Program
An energy conservation program that has evolved into a broader sustainability program that involves land use, recycling, transportation, and water conservation in addition to energy efficiency (highlighted on page 47 of document).
Los Angeles, California: Good Practices in City Energy Efficiency (11 pp, 243 K, About PDF) Exit
A project to replace 140,000 inefficient street lights with energy-efficient alternatives.
Tools and Templates
Alameda County, California: Model Civic Green Building OrdinanceExit
StopWaste.org, which provides model policies, ordinances, and contract specifications for county residents, businesses, and local governments.
EPA's Energy Efficiency in Government Operations and Facilities
Resources and tools on building energy efficiency, including relevant ENGERY STAR® publications.
Delaware Valley Regional Planning CommissionExit
Program website that includes a suite of tools that local governments can use to promote green operations, including a baseline analysis tool, a regional GHG inventory tool, and an electric vehicle ownership tool.
New York State Climate Smart CommunitiesExit
A collection of resources that provides an overview of climate change, a thorough guide for local climate change responses, and other resources, including land use and wind energy toolkits.
ENERGY STAR® Portfolio Manager
An interactive energy management tool to help local governments and businesses track energy and water consumption at the building level.
Further Reading
EPA's Clean Energy Lead by Example Guide
Strategies, resources, and action steps for state programs, including information relevant for promoting green local government operations.
ENERGY STAR® Strategies for Buildings and Plants
Proven energy management strategies and no-cost tools for local and state governments.
DOE SunShot Initiative: Solar on Municipal Facilities WebinarExit
An hour-long webinar that shares the experience and lessons learned of three cities that have successfully installed solar on city-owned facilities.
Baton Rouge Sustainable Government Operations Plan  (63 pp, 1.15 M, About PDF) Exit
From the Parish of East Baton Rouge, a plan that provides a framework for integrating energy efficiency and resource sustainability into government services, facilities, and daily operations.
Green Illinois: Green Governments Coordinating CouncilExit
Created in 2008 to help state agencies, boards, and commissions adopt a greener way of delivering services.
Acknowledgements:
EPA would like to acknowledge Liz Compitello (Delaware Valley Regional Planning Commission) and Peter Ludwig (Elevate Energy, Illinois) for their valuable input and feedback as stakeholder reviewers for this page, as well as Chris Carrick, Sam Gordon, and Brian Pincelli (Central New York Regional Planning and Development Board) for their contributions to the Preble, New York, case study.