Adopt a Policy
These guidelines are intended to assist local entities that want to drive change in their community by adopting an ordinance, plan, or other type of policy. By setting a policy, local entities can require specific actions to achieve concrete objectives, affect the behavior of local residents and businesses, and drive change. Projects to adopt a policy might include: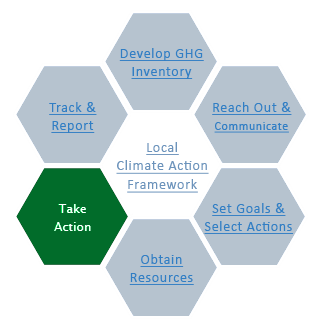 Adopting policies to improve energy efficiency in residential or commercial buildings (e.g., building codes, time of sale ordinances, expedited review of green buildings).
Adopting policies to promote renewable energy production or consumption (e.g., removing obstacles to renewable energy siting, green power purchasing, solar panel permitting standards, wind siting polices, solar access policies).
Adopting sustainable land use policies (e.g., parking maximums, conservation districts, mixed-use districts, agriculture protection districts, green space requirements, permeable pavements).
Adopting policies to reduce waste (e.g., mandatory recycling or composting, construction and demolition waste recycling ordinance, environmentally preferable purchasing policies, permit rain gardens, water recycling standards).
Adopting policies to promote greener transportation (e.g., anti-idling restrictions, "complete streets" policies, low sulfur diesel fuel requirements for construction vehicles, establishing bicycle parking, density bonuses for high-quality bicycle facilities).
Adopting policies to promote infrastructure resilience (e.g., freeboard requirements that take into account anticipated changes in flood frequency, cool-roof ordinances).
The following key steps describe how to put in place a new or updated policy and how to ensure compliance with the new policy, including best practices and key questions to consider. Information on adopting policies that apply only to internal government operations is covered under Promote Green Government Operations. Programs related to incentivizing or otherwise encouraging behavior changes in the community are covered under Engage the Community; however, to the extent that any rulemaking or other policy-enacting action is required to initiate these programs, that material is covered here.
To be connected with a local representative with experience adopting climate, energy, or sustainability policies, contact us.

View Diagram
Key Steps

Printable Checklist
Exact processes for adopting new policies will vary by entity and topic. However, some general guidance applies, regardless of the exact policy-adopting protocol. The following guidance outlines the general steps involved in adopting and enforcing a new climate, energy, or sustainability policy in your community.
The steps in this process are not necessarily intended to be pursued in linear order, as illustrated in the diagram. For example, engaging stakeholders and reaching out to experts may occur throughout the process of adopting a policy, which may go through several iterations before policies are implemented. Additionally, several steps in the process are fluid; you may find yourself moving back and forth between them, as indicated by the double-sided and curved arrows in the diagram.
Tools and Templates
Minnesota Model Ordinance for Transit-Oriented DevelopmentExit
Clearinghouse of model ordinances related to sustainable development, transportation, and land use.
DOE's Building Energy Codes Program, Adoption ProcessExit
From the U.S. Department of Energy, information on how to adopt building energy codes, including technical assistance and information on state energy codes.
Smart Growth Implementation ToolkitExit
From Smart Growth America, a tool for local governments looking to adopt smart growth land use planning and community design policies; includes a policy audit that could support Step 2.
Alameda County, California: Construction & Demolition Debris Recycling Model OrdinanceExit
Model ordinance from the StopWaste.org clearinghouse that requires recycling of construction and demolition debris.
Columbia Law School Model Municipal Wind Siting OrdinanceExit
Model ordinance for siting wind energy, including provisions for permits, approvals, operation, and oversight of wind energy conversion systems.
Further Reading
Acknowledgements:
EPA would like to acknowledge Garrett Fitzgerald (City of Oakland, California) and Jeff Perlman (North Jersey Transportation Planning Authority) for their valuable input and feedback as stakeholder reviewers for this page, as well as Dianne Herrin (BLUER) for her contributions to the case study.