Gila River Indian Community Climate Coordination
Gila River Indian Community, Arizona
Federal Funding: $262,124
Project Timeline: February 2010 – December 2012
The Gila River Indian Community (GRIC) had many ideas for projects that would reduce greenhouse gas (GHG) emissions. These efforts, however, were uncoordinated, unfunded, and in need of grant-writing support and technical assistance to succeed. GRIC used its Climate Showcase Community grant funding to complete these projects by:
establishing a Climate Projects Specialist in the community's Department of Environmental Quality,
completing a community–wide GHG Inventory,
implementing a curb-side recycling program,
implementing a compact fluorescent (CFL) lighting and Green Building program, and
developing options for reducing industrial facilities' GHG emissions.
To provide staff support for GHG emission reduction projects, the Gila River Department of Environmental Quality established a Climate Projects Specialist position. One of the Climate Projects Specialist's duties is to implement a demonstration curb-side recycling program. Through presentations and outreach materials, she is educating community members about the program, and she will evaluate the program to determine how to expand the program throughout the community.
GRIC continues to implement multiple recycling, clean energy, and green building projects. Between May 2011 and December 2012, the Community collected 124 tons of recyclable material. GRIC also received 3,500 indoor recycling containers and distributed them to current recycling program participants. Additionally, GRIC has completed the GRIC Community Renewable Energy Plan, as well as their baseline GHG emissions inventory.
The GRIC Green Building Guidelines are now being used in new commercial and residential building construction plans, and GRIC has continued to develop LEED practices and efforts through site visits, energy assessments, and LEED building plans. Additionally, GRIC's Environmental Quality Project Associate has received LEED Accredited Professional status. GRIC has conducted numerous energy-efficiency outreach events that promote energy-efficiency by distributing compact fluorescent light bulbs, and will continue to seek out opportunities to develop renewable energy projects.
Population                                   22,000
Area                                          640 square miles
Government Type:                       Tribal
Community Type:                        Rural
Median household income:           $34,000
| | Final Results | Projected Cumulative Results   |
| --- | --- | --- |
| Annual GHG Reductions | 121.7 mt CO2e | 3,317 mt CO2e |
| Households with Recycling Service | 841 | 1,000 |
| Materials Reduced or Recycled (tons/yr) | 42 | |
Continuous and effective outreach is crucial for the expansion and success of the GRIC Recycling Program. Regular outreach to the Districts without service provides a forum to assure residents that they have not been forgotten.
Special events such as health fairs and celebrations are helpful when reaching out to an audience that includes all ages.
An audit of recycled materials revealed that 11% of the material collected was non-recyclable. The facility allows for a maximum level of 15%. Continued education has the potential to reduce the percentage of material taken to the facility that cannot be recycled.
Develop a detailed project plan prior to applying for funding.
Conduct energy-efficiency outreach events that promote energy-efficiency by distributing compact fluorescent light bulbs.
The success of this project depended, in part, on the community's ability to hire a Climate Projects Specialist, who worked to ensure that the project stayed on track and educated the community about curb-side recycling.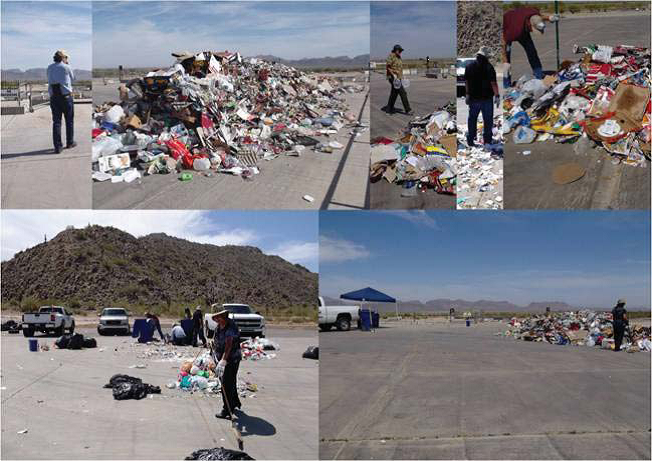 Staff during a recycling audit conducted in April 2012.